One of the best things about the modern world and all of our electronic devices is that we can work and communicate from just about anywhere, the only thing we need is power. If you like to keep all your devices well-charged, but also like to go on adventures where electrical outlets are scarce, then we have the perfect solution for you: solar laptop chargers.
Solar laptop chargers are powerful enough to charge your laptop, but can also be used to charge all your other electronic devices such as your phone, camera, or GoPro. These are great for travel because they are extremely portable and require nothing but the sun to power your devices.
Solar chargers are also a fabulous eco-friendly option for keeping your devices charged up at home. Intrigued? Then keep reading! There are many solar chargers to choose from, so we have compiled a list of our five favorites to help narrow down your search. We have also gathered some helpful information that will assist you in your search for the best solar laptop charger.
Top 5 Best Solar Laptop Chargers of 2021
---
Reviews of the Best Solar Laptop Chargers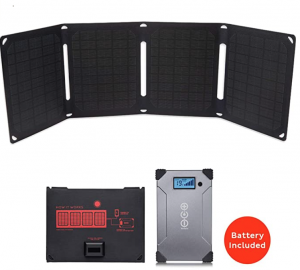 Quick Look: 20w Solar Panels. 24,000mAh battery bank. High efficiency monocrystalline solar panels. Comes with 2-year warranty.
Check Price at Amazon
Many of us depend on our laptops and phones for work and play. Knowing that you have easy access to a powerful charger that will keep your devices going wherever you are is vital to our peace of mind. With the Voltaic Systems Arc 20, you never have to worry about how you're going to recharge. With four high-efficiency monocrystalline solar panels, this charger will keep your devices going all day.
Worried about the inconsistent power offered by solar charging on cloudy days? Don't be. This charger comes with a powerful rapid charging battery pack that provides consistent charging for electronic devices without overcharging. It comes with a built-in USB-C port and a USB QC port for dual charging.
This charger is lightweight, only 3.25lb, and foldable, so you can easily toss it in your backpack or suitcase for bulk-free travel. Once you get where you're going, you just attach the solar panels to your tent, backpack, or even a tree using the reinforced rings right on the solar panels.
Learn More and Buy Now at Amazon
---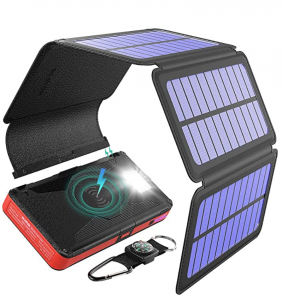 Quick Look: 20,000mAh. Comes with one built-in solar panel and four detachable panels. Includes micro-USB cable. Has Type C port for compatible laptops. Compatible with Qi charging. Comes with 12-month warranty.
Check Price at Amazon
Does your laptop require a Type C charger? If so, you may be worried that you have to purchase a large expensive solar charger, but not to worry! Check out this budget-friendly option from Blavor. The Blavor Solar Battery Bank Charger comes with five solar panels and a 20,000mAh battery pack that will keep your laptop and other devices well-charged.
This unit is compact and built for travel. You can bring along all five solar panels for more powerful charging, or you can remove the four detachable panels for an even more compact charger. It comes with multiple charging ports, plus it is compatible with Qi wireless charging. No matter what device you're charging, the battery has an automatic sensor to ensure that your device does not overcharge.
Blavor designed this charger to be an extremely helpful traveling companion. Not only can it charge your devices with nothing but the sun, but it also comes with a compass and an LED flashlight with multiple light settings, meaning that you get three tools in one.
Learn More and Buy Now at Amazon
---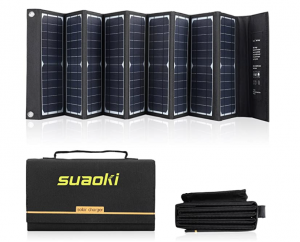 Quick Look: 60W. Four high-efficiency solar panels. Foldable, rugged design. Comes with ten adapters for laptop charging. Compatible with multiple power stations. Comes with 2-year warranty..
Check Price at Amazon
Just because you love to camp or travel to remote areas does not mean that you have to live without the comfort of knowing that all your electronic devices are charged and ready for use. With this powerful CHOOCHEER 60W Solar Charger, you can feel comfortable bringing all your electronics out to the campsite.
With four high-efficiency solar panels, this is the perfect choice for charging up your solar power station. Don't have a power station? No problem, you can also use this unit to directly charge your laptop and other devices. You also won't have to worry about purchasing a special adapter for your laptop because this charger comes with ten options, almost guaranteeing that you will be able to charge up without any extra accessories.
Speaking of accessories, it also comes with a wide variety of other charging cables so you can use this charger for much more than just your phone and laptop. You can even use it to charge your car battery in a pinch, making this the perfect choice for those who enjoy having multipurpose tools instead of having a different tool for each situation.
Learn More and Buy Now at Amazon
---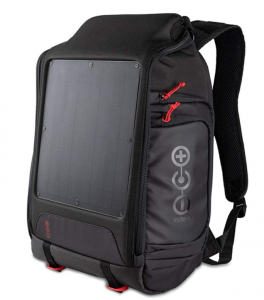 Quick Look: 24,000mAh battery bank. Solar backpack made out of recycled materials. High-performance monocrystalline solar panel. Water-resistant backpack includes padded laptop sleeve. Comes with 2-year warranty.
Check Price at Amazon
For those of us who are always on the go, stopping to set up your solar charger may not be a convenient option. For situations like this, we present the Voltaic Systems Array Rapid Solar Backpack. This backpack has a built-in monocrystalline solar panel that charges your battery pack while you're on the move.
The included battery pack offers 24,000mAh of power and has multiple charging ports for your laptop and other devices. The attached solar panel provides enough charging power that you can charge both the battery pack and your laptop at the same time.
The backpack itself is made out of recycled plastic bottles and is water-resistant. It comes with a designated padded laptop pocket and 25L of storage space for your other gear. This backpack is a great option for camping or biking trips.
Learn More and Buy Now at Amazon
---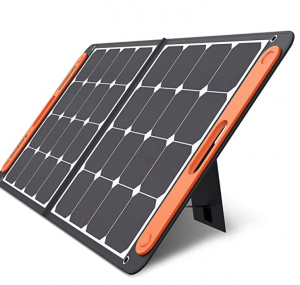 Quick Look: 100W foldable solar panels. Include Type C and USB-A ports. Works in temperatures of -10℃ to 65℃. Comes with kickstand and accessory pouch. Comes with a 2-year warranty.
Check Price at Amazon
For your more serious solar charging needs, look no further than this foldable solar panel from Jackery. The Jackery SolarSaga offers highly durable solar panel with 100W of charging power, making it perfect for use around the house or while you're traveling in your RV.
This charger comes with two charging ports, one Type C and one USB-A port to charge your different devices. It also comes with a convenient hardcover accessory pouch on the back of the panel to store your connector cables. There are also two sturdy kickstands on the back to help you easily place the panels upright for maximum sun exposure.
Although this panel works great on its own, it is a little too powerful for just laptop charging. To get the most out of this unit you should use it with a solar power station. This will allow you to store up all that power to charge other devices or to run your laptop after dark.
Learn More and Buy Now at Amazon
---
How We Chose The Best Solar Laptop Chargers
In our search for the best solar laptop chargers, we chose to focus on a few simple elements including power output, versatility, and ease of use.
Power Output
When it comes to choosing a solar charger of any kind, the most obvious place to start is to look at the power output. That is why we chose chargers with powerful high-efficiency solar panels and strong power outputs. For the chargers that included battery packs, we looked for batteries that were capable of charging multiple devices at once without overcharging.
Versatility
Not everyone needs the same type of charger and some people need chargers that are capable of more than one function. That is why we chose a variety of versatile chargers so that there would be something for everyone. All of the products on our list are designed to work at home and on the road, so no matter where you are, you never have to worry about your devices running out of juice.
Ease of Use
If there is one thing that all portable solar chargers have in common it is easy set-up and operation. None of the models on our list take more than a minute or two to set up and they all begin working the minute the sun hits them.
Just to ensure that all of our picks were extra user-friendly, we looked extra features that would make your life even easier. These features include things like overcharge protection, compact lightweight designs, and multiple charging ports.
What You Need To Know About Solar Laptop Chargers
Although solar laptop chargers are pretty straightforward, there are a few things that you should know before making your purchase.
Battery Not Included
One of the most important things to be aware of when purchasing a solar charger is that some come with battery packs and some do not. As you probably know, the battery pack is designed to store the power collected by the solar panels until you need to charge a device. Models without battery packs will charge your device directly.
Both designs have their benefits, but when it comes to laptop charging, it may be more convenient to choose a model that has a battery pack or is compatible with a battery or power station. The reason for this is that a battery can provide more consistent charging and can be used after dark where direct chargers will only charge your device during the day. This is especially inconvenient if you are traveling during the day and want to use your laptop at night.
Adaptors
Unlike most cell phones which have only a few types of chargers, laptop chargers come in all different shapes and sizes. Many new models have switched over to Type C ports for easier charging, but if your laptop is a little older, you may have to purchase an adapter to make it compatible with a solar charger.
Portability
Many of the smaller solar USB chargers are built for rugged travel such as camping and hiking, but that is not the case with solar laptop chargers. Some models are designed to be durable and weather-resistant, but others are not as tough, so if you're planning on going off-roading, make sure you double-check that the specifications will meet your needs.
Another thing to remember about these chargers is that they are often bigger than the ones you would choose for charging your phone. The reason for this is that laptops require more power which means bigger solar panels. Although many of the smaller chargers do put out enough power to eventually charge your laptop, it could take a very long time. Charging your laptop would also consume all the available power, leaving little for your other devices.
How to Choose The Best Solar Laptop Charger For You
Now we can move on to the section you've been waiting for: how to choose the best solar laptop charger for you. You can easily do this using the same criteria that we used, only tailoring it to your personal needs.
Power
The first thing you have to determine is how much power you are going to need. Do you need a backup charger just in case your battery runs a little low while you're out and about or do you need a consistent charger that can keep you going all day? If you only plan on using your solar charger occasionally, then you can get away with choosing a smaller and possibly less expensive model. On the other hand, if you are on your laptop a lot and often find yourself in areas without easy access to electricity, you will want to purchase a model with higher power output and a battery bank, as we mentioned in the Buyer's Guide section.
Versatility
Next is versatility. Are you only looking for a laptop charger or do you need a charger that can handle multiple devices at once? If you plan on using this charger for travel, we highly recommend choosing one that is powerful enough to charge multiple devices and capable of charging them simultaneously. This will save you from having to purchase and carry a separate charger for each device.
Style
Depending on where and how you want to use your solar charger, the style can make a big difference. If you want to use your solar charger for your next hiking expedition, then you will want to choose a model that is lightweight, durable, and foldable. If you're taking it along in your RV or using it at home, maybe you'll want a bigger, more powerful model. Need a charger to take along on a family camping trip? Perhaps you should choose a model that can connect to a power station so you can charge your laptop and power your lights and fans at the same time.
These chargers can be a bit pricey, so it is important to consider all the ways you want to use your charger before choosing one. This will save you from buying an expensive piece of equipment that doesn't meet your needs.
How To Get The Most Out of Your Solar Laptop Charger
As we mentioned earlier, these chargers are ultra user-friendly, so they do not require any maintenance. That being said, there are a few things that you can do to ensure that you get the most out of your new charger.
1. Have A Plan: The most important thing you can do to ensure that you get the most out of your purchase is to plan ahead. Take your time and determine exactly how you intend to use your charger. Once you know how you want to use it, follow the tips above to ensure that you get a charger that fits your style and needs. Having a plan from the beginning will save you from purchasing a charger that won't meet your needs.
2. Keep It Cool: This tip only applies to the chargers with battery packs, so if you're leaning toward purchasing a battery pack, listen up! Excessive heat will wreak havoc on your battery's lifespan. Do not leave your battery pack in a hot car or in a place where there isn't enough ventilation. If it's too hot for you, it's too hot for your battery pack!
3. Keep It Clean: Solar panels require direct sunlight to generate power. If your panel is dirty, the light will not be able to penetrate the panel. As you can guess, this leads to little or no power being generated. Be sure to keep your solar panel clear of all dirt, dust, and debris. If your panel does get dirty, simply wash it off with a mild detergent and a soft cloth. Be careful not to scratch the panel while cleaning. Scratches will refract the light, decreasing your panel's efficiency.
Bottom Line
With all the rechargeable devices that we use every day, it only makes sense that we would need quality chargers that can go the distance. Since many of us depend on our laptops for work and school, finding a dependable portable laptop charger is even more important. Thankfully, these solar chargers have what it takes to keep your laptop going no matter where you choose to work or study.
You can't go wrong with any of our top solar laptop chargers. However, we do recommend Voltaic Systems Rapid Solar Laptop Charger for its power output and ease of use.
Top 5 Best Solar Laptop Chargers of 2021