One detail that will greatly add to the beauty of your lawn as well as give your yard that finished professional look: perfectly edged sidewalks and garden beds. Choosing an electric edger is great for the environment.
We have compiled a list of some of the best electric edgers on the market. Once you have looked through our picks, we will tell you about how we chose our favorites as well as give you some tips on how to choose the perfect electric-powered edger for you.
Top 4 Best Electric Edgers of 2021
---
Reviews of the Best Electric Edgers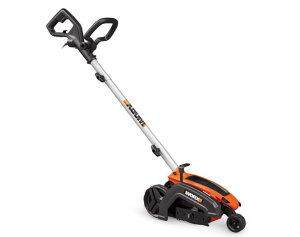 Quick Look: 12amp, 7.5" Double-ended blade, and adjustable handle. Works as an edger and a trencher. Simple to assemble. Comes with a 3-year warranty.
Check Price at Amazon
This Worx edger has everything you need to keep the edges around your lawn looking crisp and clean. The 12amp motor combined with the double-ended blade means that this edger cuts through grass and weeds without any resistance.
The WG896 is fully adjustable to fit any user and edging project. The height of the handle, as well as the handle itself, are both adjustable to fit your needs. This means that you will be able to work comfortably and efficiently with this edger. The blade has three height adjustments, 1", 1.25", and 1.5", to fit your preferences.
With simple assembly and multiple easy to use features, this is a great edger for landscaping beginners as well as professionals. The easy-grip dual-handles and simple start-up make this model easy to operate. It weighs only 14lb and rides on three sturdy, easy to maneuver wheels. The line indicator helps to keep your sidewalk and garden edges clean and straight for that professional look. Finally, the blade has a wear line so that you know when to change it out. It cannot get much easier than that.
Learn More and Buy Now at Amazon
---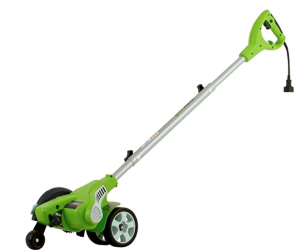 Quick Look: Spring-assist front wheel, 12 amp motor, 7.5" blade, and adjustable handle. Weighs 17.82lb and comes with 4-year warranty.
Check Price at Amazon
Greenworks can always be relied on to make dependable and straightforward electric lawn tools and this edger is no exception. With a solid 12amp motor and double-edged ultra-durable blade, this edger will power through your toughest edging jobs.
This model has some great safety features as well, such as an integrated cord lock, a trigger lock, and a solid blade guard. It also has an adjustable handle so that you can set the length to fit your height.
This edger comes with a spring-assist front wheel, to help you easily adjust the edging depth, and two larger back wheels for simple maneuvering. Greenworks also offers a 4-year warranty on this edger, which is twice as long as the industry standard.
Learn More and Buy Now at Amazon
---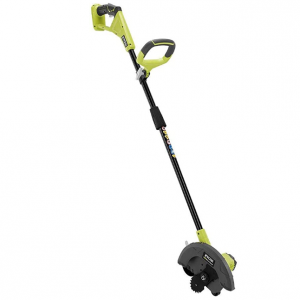 Quick Look: Dual-handled, 18v motor, and 9" double-edged serrated blade. Works with all Ryobi 18v batteries.
Check Price at Amazon
If you have more ground to cover and do not want to be tied down by a cord, then check out this cordless edger from Ryobi. This tool is part of the Ryobi 18v family of cordless yard tools, so if you already have a few of their tools you can purchase this model without the battery and charger, saving you some money.
The One+ comes with a 9" double-edged serrated blade, meaning that it can cut through even thicker, tougher edges around your yard. It's lightweight, only 10lb, so it is easy to maneuver. Speaking of maneuvering, the comfort-grip D-handle is fully adjustable to ensure that you can operate your edger comfortably.
This edger comes with four depth settings which are easy to select using a small handle on the back of the edger. With a heavy-duty blade cover and trigger lock, this edger also has the safety features you need.
Learn More and Buy Now at Amazon
---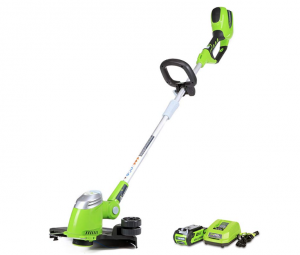 Quick Look: 40v battery-powered trimmer and edger. Lightweight, easy to use, 13" path, and 60-minute battery life. Comes with 4-year warranty.
Check Price at Amazon
If you do not have a lot of edging to do and do not want to buy a tool that is strictly dedicated to edging, perhaps you should choose a multi-use tool like this Greenworks combination trimmer and edger. With this tool, you can do all your trimming and edging too.
Many people choose to do their edging with their trimmer, but this can be challenging due to odd angles. With this trimmer, the head pivots, giving you four different trimming angles. These different angles give you the ability to trim even the most difficult edges with ease.
If you want those deep ridges along your sidewalks and driveway, this may not be the one for you, but if you just want to trim up the edges for a more natural clean look, then give this model a try. It is lightweight, 9.26lb, and easy to maneuver. The battery lasts for about 60 minutes on a single charge, which is the perfect amount of time for those smaller yard projects.
You can buy this model with or without the battery and charger, so if you already own a few of the Greenworks 40v yard tools, you can save a little money and just buy the trimmer by itself.
Learn More and Buy Now at Amazon
---
How We Chose The Best Electric Edgers
With such a wide market for lawn tools, finding the best ones can be difficult. We used some simple criteria to make our selections for the best electric edgers.
Power
When it comes to choosing power tools of any kind, one of the most important things to look for is sufficient power to complete the task at hand. There is no sense in choosing an edger that doesn't have the power to cut through tough grass and weeds. That is why we looked for models that had the power you need to keep your walkways and garden edges looking clean and professional, no matter how tough your grass is.
Safety Features
Even if you are the most experienced lawn professional in the world, you still need to look for tools with quality safety features. When it comes to edgers, they should always have blade guards, both to shield the blade when in operation as well as to protect you from debris that can be kicked up while edging. Another important feature to look for is a trigger lock to protect you from accidental starts.
On corded edgers, you should also look for built-in cord retention. This is usually a small hook near the handle that you can hang the extension cord on. This hook serves to attach your extension cord to the edger, saving you from accidentally disconnecting the power while you're working.
Ease of Use
As always, ease of use is a big feature we were looking for in our picks. With powered lawn tools like these, ease of use is extremely important because it adds to your safety. That is why we looked for things like adjustable handles, well-balanced wheels, and varying depth settings. These features allow you to adjust the tool to fit your needs while still being able to operate it safely. We also looked for models that were easy to assemble and simple to use overall. We all know that yard work is a chore and no one wants to buy tools that make it more challenging, so we always choose tools that add convenience, not more work.
What You Need To Know About Electric Edgers
Now that you know the criteria that we used to choose our favorite electric edgers, let's talk about what you should know and consider when purchasing your perfect electric edger.
Why Choose Electric?
As we mentioned in the beginning, choosing electric is a great choice for both you and the environment. Gas-powered edgers are heavier, much louder, and produce harmful emissions. Not to say that gas-powered is always a bad choice. If you have a very large amount of edging to do and it is not close enough to an electrical source for an extension cord, you may want to look into a gas-powered model.
If you have an average-sized yard with outdoor outlets, then electric is the way to go. Electric edgers are a lot easier to start and maintain. Gas-powered edgers often require operating a choke as well as priming and pull-cords, just to get started. All you have to do with your electric edger is connect the power source, hold down the trigger lock, squeeze the trigger, and away you go. You also never have to worry about blocked carburetors and filters or mixing fuel when you choose an electric-powered edger. If electric sounds like the option for you, then now is the time to choose between corded or cordless.
Corded
Corded edgers require an extension cord and an electrical source. This may sound limiting, but if you have a smaller yard, this may be the best option for you. The main benefit of using a corded edger is unlimited power. You never have to worry about recharging batteries or having the battery die in the middle of your project. Corded edgers are also lighter, easier to maneuver, and often less expensive, so if you have a smaller lawn this is a very good option.
Cordless
Cordless edgers are a great choice for those who have slightly bigger lawns or simply do not want to mess with an extension cord. These models can be a bit heavier, but the extra portability makes up for the extra weight of the battery. If you have a long driveway or walkways that are too far from the house to have a power source, then cordless is the way to go. One of the big benefits of cordless is that many companies make their lawn tool batteries interchangeable so that if you own other power tools in the same line, you can swap batteries between tools. The one shortcoming of battery-powered edgers is that edgers require a lot of power to be effective, so most batteries do not last very long. If you want to go cordless, just make sure you have extra charged batteries on hand so that your edging project won't be interrupted by a dead battery.
How to Choose The Right Electric-Powered Edger
Now that you know the main features of a quality edger, all you have to consider when choosing the right one for you are your yard and your preferences.
Your Yard
Your yard and the amount of edging you need to do are, by far, the most important elements when choosing an edger. If you have an exceptionally long driveway or walkways that are more than 100' from a power outlet, then you will want to go cordless. If all the edging that you need to do is within 100' of your power source, then choose corded. Also, consider the depth and thickness of the edges you want. If you have particularly thick grass, then you should choose a model with higher power so that the edger will be able to handle the job.
Preferences
This is the part that is all up to you. You know how you want your yard to look. Do you want sharp dug-in edges along your sidewalks and driveway or would you prefer more of a natural transition between the walk and the lawn? If you want those deep, defined lines then you would want to choose an edger with good depth settings and a heavy-duty blade. If you want softer edges then you should choose a 2-in-1 trimmer and edger.
Bottom Line
It's hard to go wrong with any of our top electric edger picks, but we recommend the Worx WG896 for its ease of use, durability and performance. Compare all of your options before making a final decision, though, to make sure that you're choosing the right model for your circumstances.
Top 4 Best Electric Edgers of 2021