Shiny new green labels are spurring developers to reach higher than they otherwise would when they design and build sustainable buildings, according to a new study.
The research, published in the journal Environmental Science & Technology and explored in Chemical & Engineering News, was aimed at uncovering what role "green signaling mechanisms" – that is, things beyond benefits like lower operating costs – played in dictating the level of performance developers went after.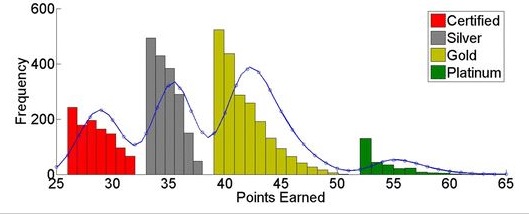 Their conclusion: "Marketing benefits due to LEED certification drives organizations to build 'greener' buildings by upgrading buildings at the thresholds to reach certification levels."
The researchers from Georgia Tech and Indiana University Purdue University analyzed thousands of LEED buildings. A key to their argument that marketing advantages were motivating developers to higher performance ratings was the way buildings clustered just above the various certification levels – Certified, Silver, Gold and Platinum. If performance alone was the consideration, the distribution would be more evenly distributed.
"The green signaling mechanism that occurs at the certification thresholds shifts building patterns from just below to just above the threshold level, and motivates builders to cluster buildings just above each threshold," the researchers reported.
In her piece about the research for C&EN, Jane Pelley talked to Harvey Mudd College professor Paul F. Steinberg for an outside opinion. He agreed with the conclusion that LEED's success as a marketing tool – or at least, its perceived success – was having a big impact on the vast building industry. The study "shows that the LEED thresholds change behavior because people are stretching to gain points to make the threshold," Steinberg said.
The study's authors added that their finding were "consistent across subsamples, though nonprofit organizations appear to build greener buildings and engage in more green signaling than for-profit entities."