The best outdoor solar lights for 2021 balance durability, cost, and ease of installation, and enjoy several benefits over their wired cousins.

Running extension cords through the yard is a pain, and there's always that danger of forgetting about them when it comes time to mow the lawn. You might even need to hire an electrician to run wire to add lights to a detached garage or shed, adding serious cost and time.

However, there is a low-cost alternative that does not require wiring, only takes a few minutes to install, and runs off free electricity.

Seems almost too good to be true, right? Well, it's not! Whether you need to increase security around your home, create a relaxing ambiance on your porch, or simply light up your sidewalk, there is a solar light to fit the bill.

We have chosen six types of outdoor lighting – from spotlights to fairy lights and everything in between – and have found the best outdoor solar light for each category.

Each product that we have chosen is cost-competitive, enjoys great reviews, and can withstand all that nature throws its way.

Here's a look at our picks for the top 6 best outdoor solar lights for 2021.
Top 6 Best Outdoor Solar Lights for 2021
---
Outdoor Solar Light Reviews
Read our in-depth reviews of the best outdoor solar lights below to find the best solar lights for you.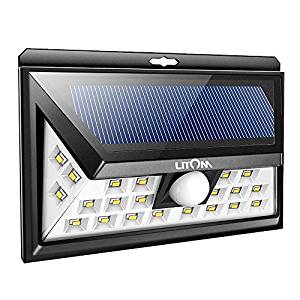 Best Wide Angle Outdoor Solar Light
Quick Look: These easy to install solar lights offer a bright, wide angle light, perfect for general purpose outdoor lighting.
Check Price at Amazon
If you're looking for solar lighting for your driveway, garage, or side of the house, Hmcity's outdoor solar light is a well-priced and well-reviewed option.

Each light contains 120 LEDs, divided into three angles sections, to provide 270° of illumination around the fixture. Just one of these lights can cover over 320 square feet, meaning that with this 2-pack, you'll have over 640 square feet of lighting for your yard or driveway.

These lights also include the added security of a PIR motion sensor that can detect movement up to 26.4 feet in a 120° range. The supremely sensitive motion sensor will turn the lights to the brightest setting for 30 seconds to ensure that you are made aware of any and all activity in your yard.

The Hmcity Solar Light has three modes:
Security Mode – The light remains off until the motion sensor detects movement.
Permanent On – The light comes on at dusk and stays on all night.
Smart Brightness Mode – The light stays on all night but on a dimmer setting until motion is detected then it will switch to full brightness.
Hmcity's outdoor solar lights are also water and weather-proof. They have an IP65 rating meaning that you don't have to worry about wind or rain. They are also heat resistant, making them a great option for those who live in hot climates.

Homeowners who've purchased the Hmcity Solar Lights praise the product's brightness –especially considering the fixture's small size and price – as well as the quality of the lithium-ion batteries.

If you're looking for a general-purpose solar light to brighten up your driveway or walkway while you fumble for your keys, these lights are one of the best-reviewed, cost-conscious options out there.
Learn More & Buy Now at Amazon
---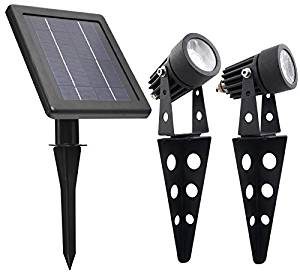 Best Solar Spotlight
Quick Look: These solar spotlights include a separate solar panel, sturdy aluminum components, and a beautiful warm white color temperature.
Check Price at Amazon
Are you particularly proud of the beautiful tree in your yard or the front of your house? Maybe you've got a gazebo in your backyard that you want to draw attention to?
Installing a solar spotlight is the perfect option! These small, powerful lights shoot a concentrated beam of light into a single area. And unlike a 'standard' spotlight, with solar lights you don't have the headache of running extension cords to that perfect installation spot in your yard!
Solar Light Mart's MINI Solar Spotlight is discrete, powerful, and sturdy. The kit includes two individual mini spotlights, each rated at 60 to 100 lumens (depending on the mode), connected to a single solar panel. The spotlights are connected to each other by a 16-foot cable, with a single 16-foot cable connected to the solar panel.
With the solar panel independent from the actual lights, this allows you to place the lights in the perfect spot, regardless of whether it's perpetually shaded or not, and install the solar panel in a nice, sunny area.
You can choose between three brightness levels (low, medium, high) and the lights will run 5 to 15 hours depending on your setting.
Unlike many yard lights with flimsy plastic stakes, the MINI Solar Spotlights are made of sturdy aluminum, so you don't have to worry so much about breaking one with a misplaced footstep. Each light can be rotated 45° on its axis, allowing you to raise or lower the beam as needed.
You might've noticed that some of the cheaper LED lights give off a bluish-white hue, but not so with the MINI. Instead, these spotlights have a nice warm white color – 3,000 K on the Kelvin scale (a measure of light color).
Check out our best solar spotlights guide for more details an options.
Customers are continually surprised by the MINI's beautiful, warm light, with many noting that they don't look like 'typical' solar lights (ie the bluish-white hue that is so common). Several homeowners also praise the extreme durability of the aluminum housing and spikes, in stark contrast to the cheap, flimsy equipment of the 'one season' plastic solar lights that break immediately when they meet the weed wacker.
While these aren't the cheapest solar spotlights on the market, they're still well-priced, especially considering the excellent quality and great reviews. If you're looking for solar spotlights that can withstand several years of use, you've found them.
Learn More & Buy Now at Amazon
---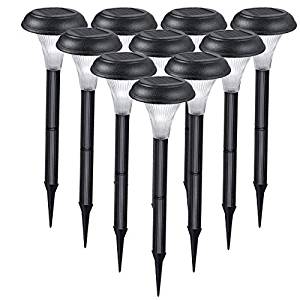 Best Solar Path Lights
Quick Look: A sleek, low-cost solar pathway light with a warm white hue.
Check Price at Amazon
Path or walkway lights mix functionality with style. Sure, they light up your sidewalk, but they also need to look good in your yard. With that in mind, the 'best' solar pathway light is really more of a personal decision.
Still, we took a crack at it and have chosen GardenBliss Solar Pathway Lights as the best in class, thanks to their excellent price point and overwhelmingly perfect reviews. Their aesthetic is simple, sleek, and unassuming, so you'd be able to add them to your yard without drawing too much attention.
This set of 10 solar path lights is height-adjustable from 8 to 12 inches and GardenBliss offers a 30,000-hour guarantee on these solar lights.
Instead of the typical bluish-white hue common among cheaper LEDs, these solar pathway lights offer a pleasant, warm white that buyers find inviting. Homeowners also report the lights are long-lasting and offer the perfect amount of light – bright enough to see by but low enough to create a pleasant aesthetic in the yard.
Great quality and a decent price? If you're looking for a whole set of solar pathway lights, you can't go wrong with GardenBliss.
Learn More & Buy Now at Amazon
---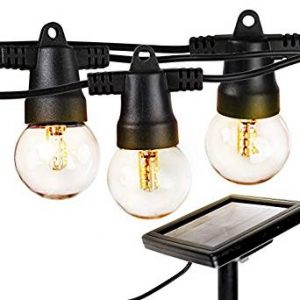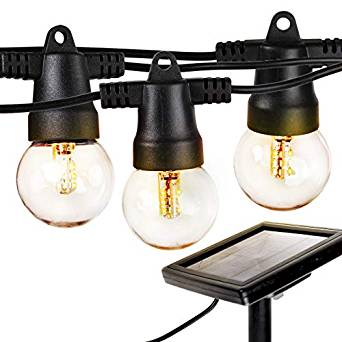 Best Outdoor Solar String Lights
Quick Look: Durable outdoor solar string lights with extra-large bulbs to turn your patio into a classy cafe.
Check Price at Amazon
Patio lights. Some say they're overused and cheesy. We say they bring instant class and warmth to any setting.
If you want to spruce up your patio without the hassle of running extension cords outside, Brightech's solar patio lights can help out. Each strand is 27 feet long and includes 1 bulb every 20 inches, for a total of 12 bulbs (there's 6 feet between the solar panel and the first bulb, and 3 feet at the other end to help hang the wire).
Each LED is wrapped in silicon and each 2" bulb is made of strong, waterproof plastic. The small solar panel comes with both a stake and a clip so you can easily set up and remove the lights when needed.
Check out our best solar string lights guide for more.
At 3,000 Kelvins (a measurement of the color of light), the light provides a warm white hue, not a bluish-white like so many LEDs. Charge time is 6 hours, but Brightech warns that the switch needs to be in the on position for the battery to charge. (In the on position, the photosensor will automatically turn the lights on at dusk.)
Customers report that Brightech's lights are heavy and sturdy and that the solar panel and clip, while plastic, is quite durable. Set them up in the backyard and leave them out year around.
Learn More & Buy Now at Amazon
---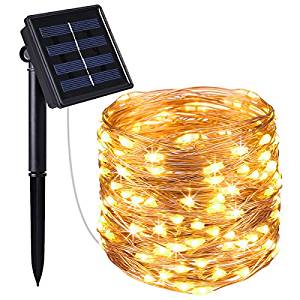 Best Solar Fairy Lights
Quick Look: A well-reviewed solar version of the low-cost outdoor fairy light.
Check Price at Amazon
Fairy lights are similar to the standard string lights above, but with one important difference: these are all about ambiance. They give off virtually no usable light. Instead, they lend a fairy-like appearance to your backyard.
Because they're purely aesthetic, manufacturers can use very small LEDs, so most fairy lights are pretty cheap compared to other solar lights.
If you're wondering which ones to order, take a look at AMIR's Copper String Lights. Each strand is 33 feet long and includes 100 LEDs along the flexible copper wire. You can choose between a white hue or warm white (more like an incandescent bulb). At the end of the wire is a small solar panel with stake to easily install it in the sun.
Since the wire copper will hold shape, you can easily wrap it around deck posts and umbrellas, or along railings. And since it's completely waterproof (like all the lights on this list), you don't need to worry about bringing it inside when you're ready to go to bed.
Learn More & Buy Now at Amazon
---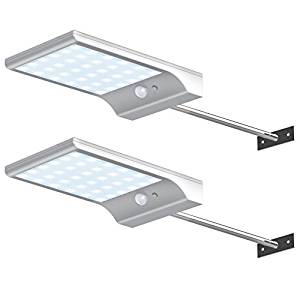 Best Outdoor Solar Sconces
Quick Look: A physically large, waterproof solar charger that comes in three sizes, from 5 to 15 watts, built-in controller and diode.
Check Price at Amazon
InnoGear's Solar Gutter Lights are a sleek, modern take on the outdoor solar light. Attaching directly to the wall with two screws via an aluminum mounting pole, these solar lights can be used where other solar lights that sit closer to the wall would be shaded by the roof eaves.
Each order comes with two lights, each of which produces 450 lumens with the 36 super bright LEDs. In full sun, the battery will charge in 8 hours and provide 10 hours of light. The motion sensor, which is discretely placed on the underside of the fixture, can detect motion up to 26 feet.
Installed at the recommended 8 to 10 feet high, InnoGear's light will provide 270° of light, which will turn on automatically depending on which of the four modes you choose:
At dusk, auto-on to ¼ brightness
At dusk, auto-on to ½ brightness
At dusk, auto-on to dim mode, then full brightness when motion is detected
At dusk, does not turn on automatically, but full brightness when motion is detected
The color temperature of the lights is 6,500 Kelvins, so expect a clear, whitish-blue hue akin to daylight.
Customers frequently install these lights on garages and barns thanks to the brightness of the light, high build quality, and the ease of installation. If you like the style of the lights, but don't need the aluminum pole, Innogear also sells them without the extension.
Learn More & Buy Now at Amazon
---
Tips for Buying the Best Outdoor Solar Light for Your Home
Here are a few tips to help you out when choosing and installing outdoor solar lights.
Know How Much Light You Need
If you're looking for a light to brighten up your driveway, yard, or pool you'll need to make sure your light is powerful enough to illuminate the entire area. Solar lights usually aren't as powerful as their 'standard' cousins, so read up on the light's brightness before purchasing. Most manufacturers publish the light's lumen count (ie, how strong the light is) and some publish the square footage of illumination that you can expect from each model.

Standard 'general purpose' solar lights are usually around 450 lumens and can illuminate around 200 square feet of space. If there's no info from the manufacturer, previous buyers will often note how bright the light is and often upload photos of the lights in action, so take a few minutes to look over the reviews for more first-hand details.

Here's another quick tip: If you're worried your driveway is too big, you can easily go and find the approximate size of the area. The average stride is about 2 1/2 feet, so just take a walk across each side and multiply!

Taking a couple of minutes to plan before you purchase your light can save you time down the line. Who wants to wait for an order, install the light, then realize the light's not bright enough? Plan ahead, you'll be glad you did!
Know The Features You Need
Once you know how much light you need, you'll want to determine the types of features you're looking for. For example, is this light just for decoration or is it going to function as added security?

Take time to consider what type of functions you need such as motion sensors, dimmers, or multiple lighting modes. If you're just using the light to enhance your decor then string lights or a spotlight will probably do the trick. If you just want to make sure you can see your keys when you reach the door, then a standard solar light is the way to go. For the security conscious, choose an ultra-bright motion sensor solar light and you'll be sure to love your purchase.
Built-in Or Separate Panel?
This should go without saying, but solar lights need sun to run! You'll want to install your lighting solar panel in an area where it can enjoy max sunlight throughout the day – at least 5 to 6 hours.

If you are lighting a pathway or driveway that receives a good amount of sun throughout the day then you can choose lights with the solar panels built right into the lights. If the area you want to light does not receive a lot of light then you will want to choose a model that has a separate solar panel that can be placed in direct sunlight a small distance from your lights.
How To Get The Most Out Of Your Solar Lights
Once you have gone over all your options and know just what kind of light you need, there are only two more things you need to consider: placement and maintenance.
Panel Placement
As we mentioned, most of these lights need a minimum of 5 to 6 hours of direct sunlight to properly charge, some need even more. This means that solar panel placement is key to ensuring that you get the most out of your lights.
Make sure that the solar panel is not shaded in any way. This is where having the panel separate from the light can really come in handy. Even partial shade on the panel can cause it to lose efficiency, leaving you in the dark. Once you have found a sunny spot, angle the panel to the south to ensure maximum sun exposure.
Maintenance
Don't let the word 'maintenance' scare you off. These lights do not require much work, but there is one thing you can do to help your light burn brighter and last longer and that is keeping the solar panel clean. Solar panels are typically protected by a glass front which can collect dirt and dust over time. A quick wipe now and then with a soft cloth will allow the light through meaning more solar power for your lights!
What We Learned About Outdoor Solar Lights
There are many options when it comes to outdoor solar lights, and many different categories depending on your needs. We tried to pick a variety of options for the most universal use cases. Here is more detail on solar light categories we did not touch on in this post but that you may want to explore further:
All of the solar-powered lights that we reviewed in these guides are cost-effective, well-made, and have many happy customers. Lighting up your outdoor space with solar lights is the way of the future. Adding outdoor solar lights to your home bypasses messy outdoor wiring, and the best part is it can save you money and time!
Compare the Best Outdoor Solar Lights
---
Image Credit: CC license via Flickr and Amazon.