Solar rope lights are a stylish way to light up your patio or garden in an eco-friendly way that won't increase your electricity bill. There are a number of different models and styles available, some are elegant and decorative while others are more utilitarian and rugged.
We found that the BINZET Solar String Lights struck the best balance between the two while also being affordable and easy to use. But just in case those aren't your style, we chose four of the best solar string lights to review so that you can get a good idea of what's out there.
Click on the links below to explore each style or keep reading for our in-depth reviews on the top 4 best solar rope lights for 2021.
Top 4 Best Solar Rope Lights for 2021
---
Solar Rope Light Reviews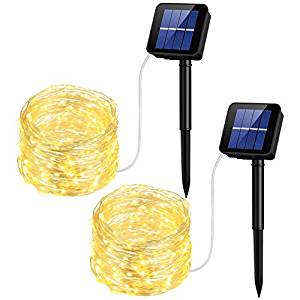 The BINZET Solar String Lights were the obvious choice for the best solar rope lights because they've received an overwhelming number of positive reviews from over 2,200 customers on Amazon. Users were pleased with how easy they were to set up and install and how bright they were despite their seemingly small size.
What truly sets them apart is their elegance. Unlike most rope lights, which contain a number of LEDs inside of plastic tubing, the BINZET Solar String Lights are connected by a flexible copper wire. This gives it a certain beauty and versatility that are missing in many other solar rope lights. The flexibility and unique look of these lights are what make them such a popular choice for gardens and holiday decorations.
Solar rope lights aren't typically expensive, but few can match the value of the BINZET Solar String Lights. You receive 66 feet of lights, 200 LEDs in total, and a high-quality solar panel for the cost of many smaller sets. The battery on this set of lights is designed to last up to 18 hours on a single charge, meaning they will likely outlast any party you're likely to have.
Learn More & Buy Now at Amazon
---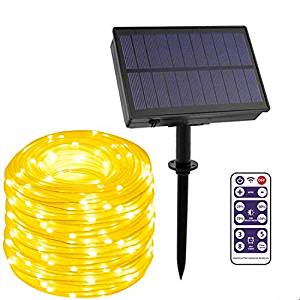 The LEOHOME Outdoor Solar String Lights with Timer stood out because it has a timer and a dimmer. These features aren't difficult to find among traditional rope lights, but they're rare among solar rope lights. These features are nice because they give you more freedom to control your lights. The option to limit when it turns on or to dim its brightness is especially valuable if you live in an area that doesn't get a lot of sun every day. Operating the lights at a lower level can keep them running longer so you have more time to enjoy the ambiance.
You can control the light through the included remote control, which also lets you cycle through eight light effects. The light strand has a built-in memory chip so it remembers the last setting you had on. It will return to that setting automatically the next time the light starts up until you change it again.
The strand is water- and heat-resistant, like all the best solar rope lights, and the solar panel is lightweight and adjustable, so it can be angled to catch the most sunlight throughout the day. Users report that the strand is easy to set up and durable enough to be used at home or even on camping trips.
Learn More & Buy Now at Amazon
---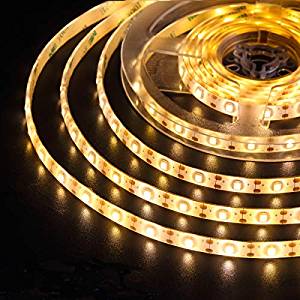 The AMIR LED Solar Strip Light is not a solar rope light per se, but it shares many of its features. It includes a solar panel that attaches to an almost 10-foot strip containing 90 LED lights. But unlike traditional rope lights, solar strip lights are flat and include an adhesive on the back that you can use to stick it directly to a surface. You can also cut the strand if you only need a small section of it without damaging it.
The AMIR strip light is a great choice when you want a lot of light in a small area and you need lights that will last for hours. It can run for up to 15 hours on a full charge, according to the manufacturer, which is significantly longer than most similar models. It includes eight lighting modes and a compact remote so you can adjust the setting from inside the house or across the lawn.
Users are pleased overall with how easy it is to put up the lights and use them, but a few people have said that the adhesive doesn't stick as well in hot temperatures, so if you live in a hot, humid climate, you may be better off going with one of the other solar rope light options mentioned on this list.
Learn More & Buy Now at Amazon
---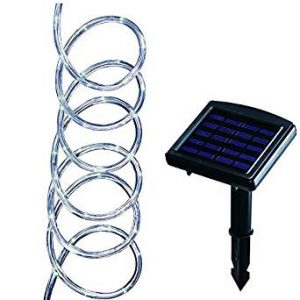 The Hampton Bay Solar Rope Light is worth considering if you live in an area prone to extreme weather or if you want a light that's tough enough to leave up all year round. It contains 76 bright LED bulbs inside a thick, clear PVC housing. This helps prevent water or snow from seeping into the light strand and damaging the internal components. It also keeps the light strand from breaking or tearing if it snags on something or is tossed around by the wind.
This light doesn't have all the fancy settings that many of the other solar rope lights on this list offer. It has a steady light mode and a flashing mode, but no other settings and no remote to control the lights. That said, it's an especially bright rope light and so it's still a great option for those interested in a rope light that will actually serve as a light source and not as mere decoration.
The Hampton Bay Solar Rope Light is only 16 feet long — about half the length of many of the other solar rope lights on this list. So if you need to cover a large area, you may have to purchase more than one. These lights are also slightly more expensive, but worth the extra money if you're looking for lights that will last.
Learn More & Buy Now at Amazon
---
How We Chose the Best Solar Rope Lights
We found the best solar rope lights by evaluating all of the top products based on their durability, length, brightness and ease of use.
Durability
Solar rope lights are typically used outdoors, so they need to be tough enough to stand up to the elements they may encounter like hot sun, rain, wind, or even hail. The best rope lights have a flexible, yet tough exterior that fully protects the lights inside, and many are also waterproof or at least water-resistant to prevent the lights from being damaged by rain.
Heat resistance is also key because too much heat can be bad for your solar panel and the lights themselves. The top solar rope lights are heat-resistant to ensure optimal performance in all types of weather conditions.
Length
Solar rope lights tend to be about 33 feet in length. It's difficult to find many that are much longer than this because the solar panels can only power so much and provide so much light. The length you'll need depends on your space and 33 feet is more than enough for most backyards or gardens. If you need more, you may have to purchase a second rope light.
Another option is to go with a solar strip light. These aren't rope lights in the traditional sense. They're flat lights that adhere to a wall or another surface and have small solar panels to power the lights. One of the advantages of this type of light is that you can cut it at the appropriate length without damaging the light itself so it's easy to customize it to your space.
Brightness
Like all solar lights, solar rope light brightness depends in part on how much sun it's getting and how long the solar battery lasts. In order to perform optimally, the solar panel should receive full sun for most of the day. On cloudy days, it may not be as bright or may not work for as long.
You can determine brightness in part by looking at the number of lights in the solar string light. A typical 33-foot solar rope light contains about 100 LEDs on average. More lights on a smaller strand means they'll be more densely packed together, which can affect the appearance of the light but may also provide more light in a single area.
A few solar rope lights include lighting effects or a dimming feature, though these options aren't as common as they are with traditional electric rope lights. These effects make it easier to create the type of atmosphere you are going for.
Ease of Use
Solar rope lights should be easy to unravel and install without getting hung up on themselves or the solar panel. Some models that have multiple lighting effects or options also include a remote so you can change the light setting or the color without having to take light down to mess with it. This is a useful feature, provided you don't lose the remote or forget to leave it outside, as it may not be as durable as the lights itself.
What You Need to Know About Solar Rope Lights
Here are a few things you should know before investing in solar rope lights for your home or yard.
More Sun Equals More Light
Rope lights are popular for wrapping around trees and deck railings or lining the roof of your home. You can use solar lights for this as well, but you may not get the performance you expected if your solar panel is in a shaded area.
Most solar rope lights have a detachable solar panel that you can place up to a few feet away from the rope light. Some only include a stake for ground-mounting while others may include equipment so it can be attached to a wall or roof. Think about where you'd like to put your solar rope lights and how far away the solar panel must be in order to get full sun. This will determine what style is best for you.
Watch Out For Bad Weather
While most solar rope lights are designed to withstand your average thunderstorm, severe storms or cold winters may push them too far. If you don't want to risk your solar rope lights dying after a single season, consider bringing them inside before a major storm or as winter sets in.
Wrap them up gently and store them somewhere safe where they cannot be stepped on or where they won't be exposed to extreme heat, cold, moisture, or other elements that could damage the electrical components.
LEDs Are The Way To Go
Most solar rope lights use LEDs and there's a good reason for that. LEDs are more energy-efficient than traditional incandescent bulbs and this is crucial if you want your lights to last as long as possible.
LED lights are also much smaller than the incandescent bulbs found in traditional string lights. This makes the lights more space-efficient and often more versatile. A win-win for everyone!
How To Get The Most Out Of Your Solar Rope Lights
As you can guess, these lights are very similar to traditional rope lights. They are fairly sturdy, easy to use, and fun to look at. Just like your old school Christmas lights that you have had for years, these lights can last a long time too, you just have to know how to get the most out of them.
Proper Care
We have already shared a few tips about properly caring for your rope lights, such as taking them down in extreme weather and storing them in a cool dry place. Another thing to consider with solar lights is caring for the solar panel. The panel can only work at peak efficiency if it is clear of all dirt, dust, and debris.
Periodically clean the solar panel with a soft damp cloth. Never use harsh chemicals or abrasive cleaners because this can scratch the panel, rendering it useless.
Proper Exposure
Remember what we said about getting enough sun? Your lights will work best if the solar panel receives a lot of direct sunlight throughout the entire day. The best way to do this is to face your panel toward the south and mount it at a 45 to 65-degree angle, depending on where you live. This will allow the panel to absorb light from morning until evening. Be sure there isn't any shade covering the panel. Even a small amount of shade can significantly decrease efficiency.
Tone It Down
If you need lights that will last long into the night, consider purchasing lights with a dimmer. Just decreasing the brightness by 25% can give you a couple of extra hours of run time, ensuring that your decorations don't go out before the party ends.
What We Learned About Solar Rope Lighting Overall
Solar rope lights are a great way to brighten your space without raising your electricity bill.
After comparing dozens of the top models on the market, we felt the BINZET Solar String Lights offered the best combination of durability, brightness, and elegance at a price that fits easily into anyone's budget.
No matter which type of solar rope lights you're into, there is sure to be a style here for you.
Compare the 4 Best Solar Rope Lights for 2021