Solar lanterns are versatile. They can be your best friend on a camping trip, or the perfect option to accent your backyard evening. You don't have to worry about batteries dying, they're cost-effective, and they run off an endless supply of free clean energy.
Below, we review the 10 best solar lanterns on the market. Whether you need to set the mood on your patio, add some pizzazz to your backyard, or light up your tent on your next camping trip, you'll find something below that fits your needs.
We've done the hard work for you by sifting through all the trash out there. The lights we've chosen below have both excellent customer reviews and are well-priced. On top of that, many include special features, like hand cranks or USB ports, that place them a step ahead of the competition.
Top 10 Best Solar Lanterns for 2020
Before we dive into each lantern, here's a quick run-down of our top picks:
---
Solar Lantern Reviews
Best All-Around: TomCare Dancing Flame Lights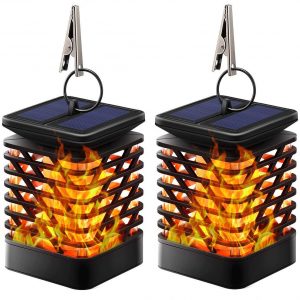 Buyers love TomCare Dancing Flame Lights for their decent price point and realistic flame styling. These solar lanterns are about the size of an iPhone and while other solar lanterns simply have a basic LED inside, TomCare's lights are designed to look like a moving, flickering flame. While these aren't really designed as usable light, buyers absolutely love the flame effect and say they certainly bring a relaxed mood to backyard settings. In fact, it's one of the highest rated solar lanterns on our list!
Durability also seems great. They're made from ABS plastic, so they aren't prone to breaking like a glass case. The lamp is also IP55 waterproof, so you can safely leave it outside all year without worry.
Charging takes about 6 hours and the light should last about 10 hours once fully charged. It also comes with a ring and clamp so you can easily install it wherever you'd like (just make sure it has enough sunlight during the day).
TomCare makes all manner of solar 'flame' lights, including path lights and tiki torches, so if lanterns aren't you're thing, you've got other options.
Bottom Line: Overall, a trustworthy and elegant solar lantern that's perfect for giving your backyard a warm, welcoming appeal.
Learn More – Check Price on Amazon
---
Best Mason Jar Lanterns: CHBKT 4-Pack Solar-Powered Mason Jar Lights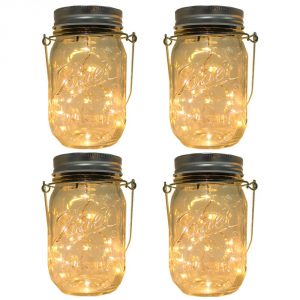 CHBKT's 4-Pack of Mason Jar Lights takes our pick for best warranty for any decorative garden light. It comes with a full 12-month warranty as well as a 30-day money back guarantee. Of course, a handful of other solar lights, like the MPOWERED Luci also come with a one year warranty, but none beat CHBKT's great price point.
CHBKT's solar lanterns are actually mason jars filled with 20 warm white fairy lights. Each mason jar includes a secure lid for the glass jar and the whole kit is IP65 waterproof, so you can leave it outside 24/7.
The lights last 8 to 12 hours on a full charge and you can expect about 5 to 8 hours to fully charge the battery. If the sky's cloudy and your lights can't recharge, you can also run the lights off a AA battery – a nice feature no other light in our list includes.
CHBKT also sells a multi-colored version as well as the solar panel/lights/top alone if you already have some mason jars (though it doesn't include the handle for hanging).
Bottom Line: CHBKT's fairy light-filled mason jars come with a long-term 12-month warranty and are fully waterproof, so you can buy them and leave them outside with little worry.
Learn More – Check Price on Amazon
---
Best Vintage Solar Lantern: Obell Hanging Solar Lights 2-Pack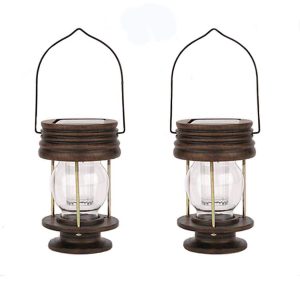 If you're decorating a large space where you need more than just one or two lights, it can be hard to find quality lights at a good price. In these situations, buying a multi-pack makes sense, as you can purchase several lanterns at a more reasonable price.
If this is your situation, Obell's Hanging Solar Lights are just right. They come in packs of two and customers praise the lights' durability and old-school charm. These lights are about the same size as our pick for Best Deal, the ANDEFINE Hanging Lanterns above, but are much different in style, as these look like classic 'camping' lanterns your grandparents used in the 1940s.
These lights are built from iron and plastic with a copper finish and last about 8 hours once fully charged, which takes about 6 hours. Customers like the style and size of the lights, but a handful note that if you're looking to light up a larger area, you'll need to buy several sets.
Bottom Line: This 2-pack of solar lights brings an old-school camping style to your backyard, updated with safe and efficient solar power.
Learn More – Check Price on Amazon
---
Best Solar Lantern for Camping: SUAOKI LED Camping Lantern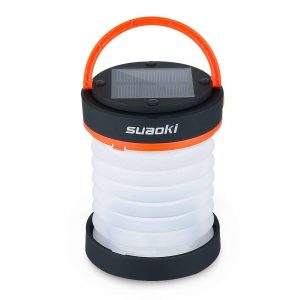 Looking to light up your camp site while you're out in the woods? SUAOKI's LED Camping Lantern can cover all your needs, as it's ultra-compact, water-resistant, and can even charge your smartphone with the built-in USB port.
This light comes with a bunch of features perfect for camping. It collapses for easy transport. Includes a hook to hang nearby when you're at camp. The charge indicator tells you how much battery you have. The USB ports allow you to charge up your small electronics. And of course, it's powered by the sun so you don't have to worry about batteries.
The lantern includes three lighting modes – high, low, and flashing – and it takes about five hours to charge the battery, which lasts 10 hours in low mode and 5 hours in high mode.
This light is actually pretty similar to the inflatable MPOWERD Luci below, so what sets this one apart? First off, it comes in at a lower price point. Secondly, this base model comes with a USB port, which only the more expensive MPOWERD lights include.
On the flip side, this light isn't as durable or as waterproof as the MPOWERD light, so if you think you'll put your light through the ringer, you should probably go for the more expensive MPOWERD. Even still, this is a well-reviewed light, with great specs, at a good price.
Bottom Line: It's bright, compact, and loaded with extras like USB charging and a charge indicator. Perfect to light up your camp site for a couple nights.
Learn More – Check Price on Amazon
---
Best Emergency Lantern: AGPTEK Hand-Crank Solar Lantern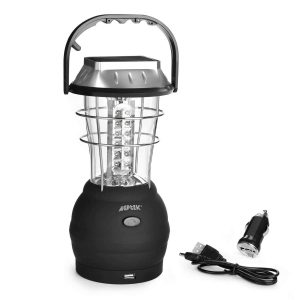 Emergency equipment needs to be tough, versatile, and easy to operate. Thankfully, AGPTEK's Hand-Crank Solar Lantern is all those things.
First off, this lantern has five methods of charging, so you're never left in the dark. It can be charged via solar, hand crank, car adaptor, USB, or 3 AA batteries.
Secondly, you can also charge your phone or other small gadgets with the 5 V USB output, so you're never without a means of communication. One buyer evented reported that they can get a 100% charge on their phone and still have power to still use the lantern.
Lastly, this light is very durable, with a steel ring to protect the lantern housing and a hard plastic case. The battery lasts over 20 hours on the low setting (there's two brightness levels, low and high). Unfortunately, the light isn't waterproof, so you'll need to bring it inside if it starts raining. (If you want a fully waterproof lantern, take a look at the MPOWERD Luci above.)
As you'd hope from an emergency light, users report the light is very bright. In fact, the manual says it can be seen from 10 miles away when in high mode and 5 miles away in low mode. Just what you need when the apocalypse starts.
Bottom Line: The AGPTEK solar lantern is extremely bright, includes a USB charging output port, and can be charged via five different methods, making it the perfect option for emergency situations.
Learn More – Check Price on Amazon
---
Most Durable: MPOWERD Luci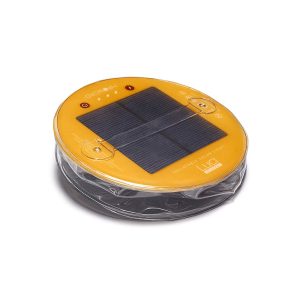 If you're looking for a high quality lantern from a respected company, with a good warranty to back it up, take a look at the inflatable MPOWERD Luci lantern.
This sweet little gadget is exactly what it sounds like.  A ring of LEDs is integrated into the base. When you need some illumination, just blow up the rubber housing around the LEDs to create the lantern. It's a great option for camping, backpacking, or if you're just looking for something a little alternative.
MPOWERD is the originator of the blow-up lantern and as such, they've got thousands of great reviews on Amazon. On top of that, their products also include a 12 month warranty – much longer than many of the other products on our list.
One last bonus about the Luci: it's IP67 waterproof – the highest rating of any lantern on our list. In fact, items rated IP67 can be safely submerged in water for up to 30 minutes. You can't do that with any other product on our list! The light needs about 7 hours to fully charge and should last up to 12 hours.
If you want to get a little crazy, MPOWERD also sells colored versions, emergency versions, and one that can charge your smartphone.
Bottom Line: MPOWERED's Luci inflatable light is extremely well-built product that's lightweight, durable, and fully waterproof.
Learn More – Check Price on Amazon
---
Best Deal: ANDEFINE Hanging Solar Lantern 4-Pack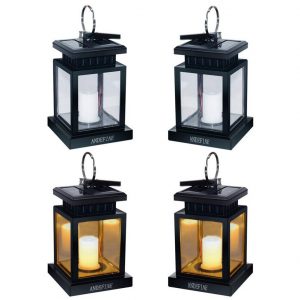 Our award for 'best deal' must certainly go to ANDEFINE's 4-Pack of Hanging Solar Lanterns. These small lights – each one measures just 3.4" x 5.5" – are IP44 weatherproof and come with replaceable batteries for longer lifespans. They also come with a 12 month warranty – much longer than most solar lanterns found on Amazon.
As each light is just 7 lumens, consider these more like ambience, not for actual useful light. They emit a soft, yellow glow that gently illuminates your backyard. At this price, you can buy several sets to illuminate your entire backyard. Some customers even note they purchased 16 or more!
These lights take about 4.5 hours to fully charge the battery – a little less than most – and should last between 6 to 9 hours.
Bottom Line: If you're looking for an economical set of solar lanterns, ANDEFINE's hanging lanterns are exactly what the doctor ordered. Their mission-style casing adds class to any backyard and they're cheap enough you could buy a couple sets without breaking the bank.
Learn More – Check Price on Amazon
---
Most Trendy Lantern: SUNWIND 2-Pack Solar Lights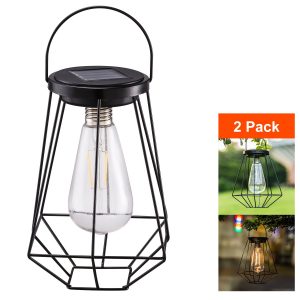 This is the light that would likely hang inside the sleek coffee shop near your house.
SUNWIND's Edison Bulbs Hanging Solar Lights are styled like old-school Edison bulbs wrapped in a geometric cage of wiring. All this is for looks though, as there's nothing old school about these lights. They're warm white LEDs powered by a discrete solar panel directly on top of the hanging light.
Customers report the lights are lightweight, yet durable (they're stainless steel) and add a pleasant – and surprisingly strong – light to any space. Each light is 11" tall and 5" wide. With an IP44 rating, these lights are water-resistant (not waterproof), so you should probably take them inside while not in use. At 6 lumens, each light is bright enough to provide a warm, gentle glow on your patio.
Charging time is eight hours. If you don't like the look of the longer bulbs, SUNWIND also offers the same light with a smaller A60 bulb (the 'conventional' light bulb size). As the bulbs aren't replaceable, make sure you get the right one!
Bottom Line: This 2-pack of sleek, modern lights is well-priced and constantly surprises buyers with its durability and brightness.
Learn More – Check Price on Amazon
---
Best Amazon Reviews: MAGGIFT 2-Pack Retro Hanging Solar Lights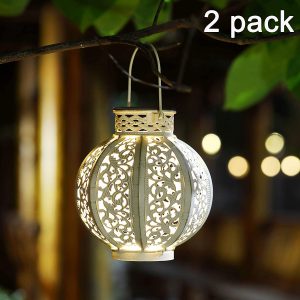 Obviously we all want the best quality we can find, but it can be hard to sift through all the products and reviews to figure out which products are worth buying. The MPOWERED Luci light is far and away the best reviewed light on our list, but it's very utilitarian in style. If you're looking for a more refined design, take a look at the MAGGIFT 2-Pack Retro Hanging Solar Lights.
These shabby-chic lanterns are wrapped in an iron fixture with cut floral designs. With only 4 lumens of brightness, the LEDs inside produce a soft, warm white glow. The solar panel needs 6 to 8 hours of full sun to fully charge the battery, which lasts 8 to 10 hours into the night.
Not only is the light beautiful and cost-effective, but it's also the best reviewed decorative solar lantern on our list. Customers love the design and there's virtually no mention of defective buttons, lights, or batteries like most products on Amazon. If you're buying this light, you can rest assured you're getting a quality product that should last many seasons.
Bottom Line: A shabby-chic iron lantern with hundreds of excellent reviews.
Learn More – Check Price on Amazon
---
Best Large Lantern: Homeimpro Solar Big Metal Lantern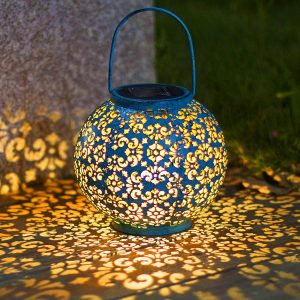 Metal lanterns obviously come in all shapes, sizes, and styles, but the Homeimpro Solar Big Metal Lantern is our top pick if you're looking for a large, elegant lantern that gives off a pleasant glow. The stainless steel globe is just under 8" wide and is perforated with patterns that give a slightly Moroccan-French Rococo vibe to your backyard.
Customers love the intricate pattern, which casts a beautiful pattern on the surrounding area. One user reported the globe seemed thin, but noted it was still quite sturdy and well-made. On top of that, Homeimpro provides excellent customer service if the light stops working, which gives a sense of relief considering the huge variety of quality seen in Amazon products.
The light is water-resistant (IP44), so you'd probably want to bring it inside when not using it outdoors (though many customers seem to leave it outside 24/7 without issues). At 7 lumens, this isn't going to light up a whole backyard. Instead, it will give a soft glow to your table or seating area – enough brightness to see furniture, friends, and your glass of wine, but not bright enough to read Jane Austen under the stars.
The light gives a pleasant warm white light and, once fully charged, the battery lasts 8 hours.
Bottom Line: This light is a bit more expensive than others on our list, but considering the large size and great reviews, we're happy to recommend it if you're looking for a large solar lantern.
Learn More – Check Price on Amazon
---
What You Need to Know About Solar Lanterns
You're probably wondering what you need to know, after all they're just lights, right? However, here's a couple things that'll help you find the perfect solar lantern for you.
Solar lanterns need sun!
Most of the lights above need between 5 and 8 hours of sunlight to fully charge the batteries. When you're deciding where to install your lights, you'll need to make sure they have sunlight available for most of the day, so watch out for bushes, trees, or buildings that could block the sunlight in the afternoon or morning.
Waterproof vs Water-Resistant
If you're planning to use your solar lanterns outside (and you probably are!), take a second to read up on the solar lantern's waterproofness.
You'll see a lot of talk about this light or that being waterproof, weatherproof, or water-resistant, but those are very general terms. Instead, try to find each light's IP rating, which tells you exactly how much water the light can handle. In each rating, there are two numbers, with the latter telling you the item's waterproofness.
For example, the Homeimpro light above, our pick for best large solar lantern, is IP44 water-resistant, meaning it can handle light rains. On the other side, the MPOWERED Luci is rated IP67 and can be fully submerged in water for up to 30 minutes without damage. Most solar lanterns are IP65, meaning they can handle routine heavy rain and snow and are safe to leave outside 24/7.
Lumen Count
Lumens are simply a measure of how bright a light is. A good-quality headlamp is around 200 lumens, while a security spotlight can be 1,000 lumens or higher. A lantern designed for ambient light typically will produce around 7 lumens, while other more utilitarian lanterns can jump up to 50 or 75 lumens. It pays to take a second and do a quick search for a lights lumen count before purchasing, as you'll then know exactly how bright it is. Where available, we've noted the lumen count of different solar lanterns above.
The Best Solar Lanterns
Solar lanterns are all about style and function. Price, durability, and reviews are all important and, of course, you'll want to consider all these factors before making any purchase. However, the main goal of a solar lantern is your own enjoyment. You want one that looks good and makes you happy when it turns on in the evening.
That might be our top pick the TomCare Dancing Flame Light or might be the inflatable Luci light or even the emergency light with the hand crank. For our list above, we've already checked the prices, reviews, and quality, so just choose the one that fits your lifestyle and go for it!