Solar lights can give your garden that peaceful, ethereal glow without those ugly power cords or a high electricity bill.
These garden lights are available in a variety of shapes, sizes and quality, which makes it challenging to find the best but we did the hard work for you in this guide.
We singled out the top 5 best solar garden lights that stood above the pack.
We chose these five solar garden lights as our favorites after evaluating dozens of solar garden lights on their durability, brightness, longevity, style, and more.

Top 5 Best Solar Garden Lights for 2021

---
Solar Garden Light Reviews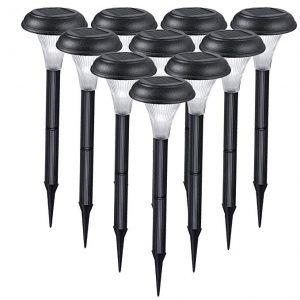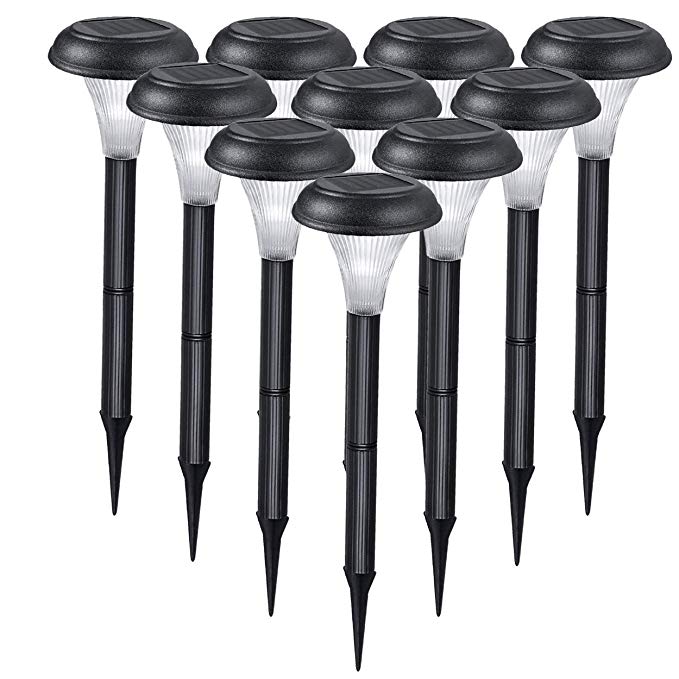 Our favorite solar garden light was the GardenBliss Solar Pathway Lights because they're extremely bright and durable and their sleek design will look at home in any garden or outdoor space. These well-built stake lights come in a package of 10 and adjust from 8 to 12 inches in height so you can choose the height that works best for your space. The frosted glass creates a soft, natural glow that illuminates the surrounding area without appearing too harsh.
The solar panels are built into the top of the lights, so you don't have to worry about placing a solar panel nearby. According to the manufacturer, the lights are guaranteed to last for 30,000 hours or more before you need to change the battery and it can run for several hours even on cloudy days. The GardenBliss lights have built-in sensors to recognize when the sun is going down. When the light dims to a certain point, the lights automatically turn on so you don't have to remember to turn them on and off yourself.
Customers are pleased with how simple the lights are to set up and the size of the space they illuminate. Most had no issues with the lights, but the few that did were pleased with the prompt and understanding customer service they received. The GardenBliss Solar Pathway Lights are backed by a money-back guarantee in case your lights break or you are unsatisfied with their performance.
Learn More & Buy Now at Amazon
---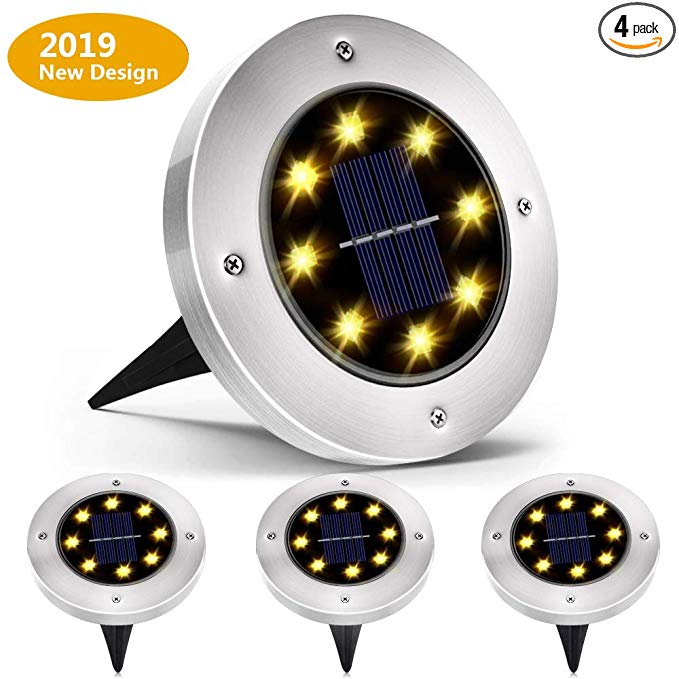 The Biling Solar Ground Lights contain 8 powerful LEDs to provide 360-degree illumination of your space. The LEDs are attached to a small, flat disk with a solar panel in the middle and a stake on the back so you can stick them into the ground. You can also use them without the stakes if you'd like to set them on a deck or stone surface. Their low profile makes them a great alternative to our top pick for those who want a sleek, modern solar light to illuminate their garden pathways.
The pack includes four solar lights, each with a durable stainless steel body and a waterproof housing to prevent snow, rain or other inclement weather from damaging the internal components. Each light can run for six to eight hours at a time after being fully charged. Users say the lights are simple to install and they like how the lights sit flush to the ground. After trying out their first set, many go on to purchase a second set of these lights so they can illuminate more of their garden.
Few other solar garden lights can match the Biling Solar Ground Lights in terms of durability, but if you do run into issues, Biling offers a one-year warranty, so you can get replacements or a full refund if you're not happy with the lights for any reason.
Learn More & Buy Now at Amazon
---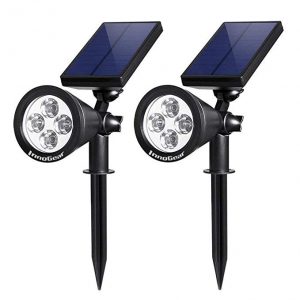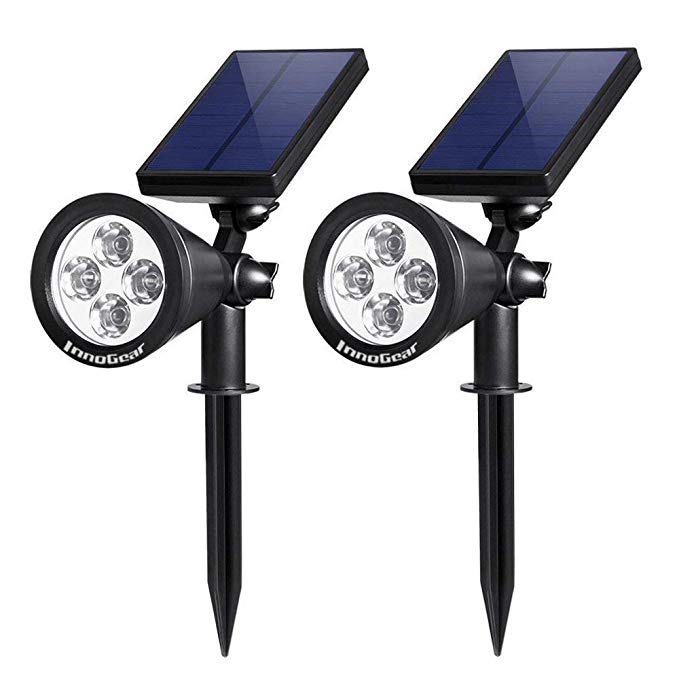 The InnoGear Outdoor Solar Spotlight has garnered some of the highest praise of any solar light on Amazon, and with good reason. These bright floodlights put out 200 lumens of light and have an anti-rotational design so you don't have to worry about the wind blowing the light off course. The large solar panel helps the light charge more efficiently and its sturdy plastic stake will hold the light in the ground even amid strong winds. You can also forgo the stake and mount the light to a wall or fence post if there's one nearby.
Both the light and the solar panel are adjustable, so you can position them at the ideal angle. This makes the InnoGear solar spotlights a great choice for highlighting a particular feature of your garden. They're also a nice option if you want a bright light that provides more illumination than your standard garden pathway lights.
The InnoGear lights are IP-65 waterproof and heatproof and users say that they hold up well in all weather and last a long time before the batteries need replacing. Many are surprised by how bright these lights actually are, with many saying they never thought solar lights could complete with traditional electric spotlights until they tried this one.
Learn More & Buy Now at Amazon
---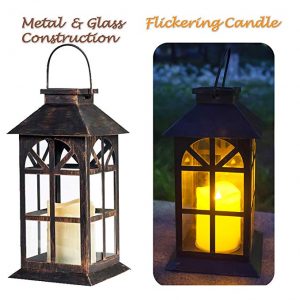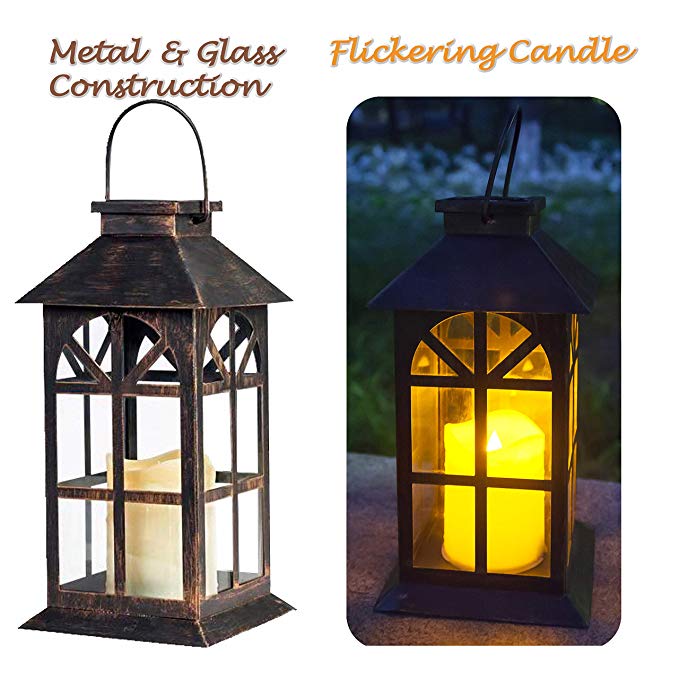 The SteadyDoggie Outdoor Solar Lantern adds a rustic touch to your garden. The antique bronze lantern contains real glass panels and a solar flickering candle light that appears almost indistinguishable from a real candle. The solar panel is hidden in the top of the lantern so it can get the most sun without ruining the look of the light. There's also a folding handle on the top, which you can use to hang the light from a wire, post or tree. Alternatively, you can set it on a table or on the ground.
The sturdy metal and glass exterior protects the solar light inside from exposure to the elements, so you don't need to worry about leaving it out in the rain or heat. Many users are pleased with the quality craftsmanship of the light, but these lanterns are a bit more expensive than some of the other solar lights listed here, so they're not a great option if you're on a budget and you need several lights to cover your garden. You also have to be careful with the lantern's glass because a few people have reported theirs breaking.
A single AA lithium ion battery powers the solar light, and while the manufacturer doesn't disclose exactly how long the battery lasts, users report that it holds a charge for a long time. When you do need to replace the battery, it's simple to change out. Just open up the bottom, remove the old battery, insert a new one and close it back up again.
Learn More & Buy Now at Amazon
---

The Sterno Home Solar LED Street Light is a high-end solar light that works well in large gardens or as the centerpiece in smaller gardens. While this light doesn't come cheap, you do get what you pay for. The 80-inch-tall light has four large solar panels on the top and a large bulb that provides 50 lumens of soft, white light. This isn't as bright as some of the other solar garden lights on this list, but most users report that it is plenty of illumination for their needs.
The vintage lamp post-style light is made of a sturdy cast aluminum and comes in several pieces, though the installation is relatively straightforward. It has a glass housing to protect the light from the elements and the pole itself is rustproof. The light's sensors automatically trigger it to turn on when the surrounding light grows dim so you don't have to remember to turn it on or off. It can remain on all evening with a single full charge.
This light is worth considering if you have a lot of tall vegetation or shrubbery that would obscure the solar panels on smaller solar garden lights. But given the high price tag, it may not be your best option if money is tight or if you need to purchase several lights for your space.
Learn More & Buy Now at Amazon
---
How We Chose the Best Solar Garden Lights
When choosing the best solar lights for garden use, we focused primarily on the lights' durability, illumination, expected lifespan and style.
Durability
Solar garden lights, like virtually all solar-powered lights, are exposed to the elements. Depending on where you live, this may include heavy winds, rain, hail, snow or high heat. All can prove potentially damaging to solar lights built with subpar materials. The best solar lights are waterproof or water-resistant to prevent rain from damaging the internal components and some also have heat-resistant features to stop the light from overheating.
We also focused on the materials the light was made from. The best solar garden lights are made out of metal or a durable plastic that won't break or chip if you bump into the light or if the wind blows it over.
Illumination
In order to purchase the right type and amount of solar lights for your garden, you need to understand how well the light you're interested in illuminates the area and the range it covers. Solar light brightness is typically measured in lumens. The higher the lumens, the brighter the light. The manufacturer may share this information on the product page, or you can reach out to the company directly and ask if it doesn't.
The manufacturer may also share details about the space the light can illuminate. This is usually given in square feet. Keep in mind that if your garden has a lot of taller vegetation and the lights you're interested in are low to the ground, the surrounding plants may prevent the light from reaching as far as it could.
Lifespan
Solar lights do not last forever. Light enters the solar panel and is converted to electricity, which is stored in a lithium ion battery until it's needed. But these batteries typically only have a lifespan of a few years, so you'll have to either replace the battery or purchase a new solar light. The manufacturer may give you some idea of how long the battery will last, so you can use this as your baseline.
You should also make a note of how long the solar garden light can run at a time. Most solar lights have sensors so they automatically turn on when the ambient light grows dim, and they typically run for several hours after a full charge, but the actual lifespan will vary from one light to the next.
Style
You want your garden lights to blend in with and highlight your beautiful surroundings, so we focused our attention on lights that would fit in well with any type of garden. Everyone's personal preferences will be slightly different, but most people should be able to find something suitable among our top five picks.
Tips for Buying the Best Solar Garden Lights for Your Needs
Keep these important things in mind when choosing the best solar lights for your garden.
Get adjustable solar panels if you do not have adequate sunlight around your garden.
Most solar garden lights have the solar panels built right in, so you have to think carefully about where you place them to make sure they're getting an adequate amount of sunlight. Without that, they may not be able to store enough electricity to run all night.
A few solar garden lights have adjustable solar panels so you can position them at the angle that will best capture the sun, but most have the solar panel in the top of the light, so be sure that the area directly overhead isn't obscured by tree or plant leaves.
If you have tall vegetation that could shade your solar garden lights, consider investing in a taller solar post light or in a lantern that you can place on a hook up high where it can have unobstructed access to the sun's rays.
Why do you want to illuminate your garden? form vs. function
People have different motives in purchasing solar garden lights and this can dictate the type of light that best suits their needs. If you'd like to be out in the garden at night, garden path lights or a large post light that covers a lot of ground will suit you the best.
On the other hand, if you want to highlight certain aspects of your garden so you can see them from the street or inside your home, a spotlight or a few well-placed stake lights may suit you better. Lantern lights are a versatile option that can sit on the ground, on a surface or hang from a wire, so these may be the way to go if you want the flexibility to move your lights around as needed.
There may be more than one type of solar garden light that suits your needs. In that case, choose the style that you like the best or the one you feel blends in the best with your existing garden decor.
Get the right amount of lights.
You'll probably need more than one light to illuminate your garden. That's why many solar garden lights are available in packs ranging from two to 10 lights. If you're on a budget, one of these options may be a better choice. If you do purchase lights individually, you can expect to pay more overall.
Come up with an amount of how much you're willing to spend on solar garden lights and then walk through your garden and estimate how many lights you need to deliver the coverage and illumination you want. Use this information to help narrow down your options.
If you're unsure how well a solar light will work, consider purchasing a single, smaller pack until you see how well they illuminate the area. Then, you can purchase more if you like them or swap them out for different lights if you don't.
Recapping the Best Solar Lights for Your Garden
Whether you are gardening in the cool evening breezes, or you just want to accentuate your home garden for dinner party guests, solar lights are the way to go. You can pick up cheap accent lights, and add or subtract as you please, because you don't need to worry about cords or your electric bill.
Here's a look at our top picks one more time:
Compare the Best Solar Garden Lights for 2021