Let's look at some of the best solar generators on the market today. Whether you want to bring it camping, use it in your home, prepare for an emergency, or all three, these sweet little packages can cover all your needs.
Solar generators come in all sizes, from little 150 Wh babies to keep your phone charged on a weekend camping trip, to 1,500+ Wh that can run larger appliances.
We highlighted seven of our favorites, three smaller options (150 – 500 Wh) and four large options (1000+ Wh) to compile our top list of the top 7 best solar generators for 2021.
Top 4 Best Solar Generators for 2021
Let's dig into each of these generators a bit more, starting with the smallest capacity and moving up to the largest capacity.
Solar Generator Reviews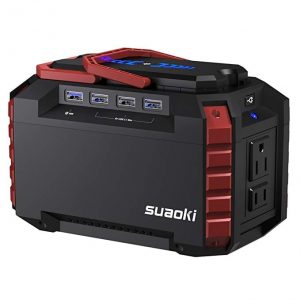 Quick Look: 150 Wh capacity, 150 W peak, Lithium-ion battery, 2 AC outlets, 4 DC ports, 4 USB ports, 18-month warranty
Check Price at Amazon
Suaoki's 150 Wh portable generator is the most portable option on our list. At just 150 watt-hours of capacity from its lightweight lithium-ion battery, this generator weighs just 2.9 pounds and measures 7"X4"x5", making it small enough to throw in your backpack for an all-day picnic in the park.
With 2 AC outlets (one with 3 prongs and one 2 with prongs), 4 DC ports, and 4 USB ports, you and your friends can keep your phones, speakers, and other small items charged. The 150 watt-hour capacity is more than enough to charge up a few phones and a tablet each day, but not much more than that.
The generator can be charged at home, in the car, or via a solar panel. Suaoki recommends a 60 to a 100-watt panel to efficiently charge the battery and they also claim that, in full sun, a 60-watt solar panel will charge the battery bank in 6 to 10 hours. The generator actually includes an MC4 to DC port adapter, so you can just buy a solar panel and plug it in without purchasing any extra equipment.
Suaoki provides an 18-month warranty for the generator and customers report that the company is quite easy to work with if something goes wrong. People use these little generators for all sorts of situations: road trips, car camping, and emergency power outages.
Some users have complained it doesn't power a CPAP for more than a few hours, but that's just because they more than likely don't fully understand the power needs of CPAP machines, which need much more electricity than this small unit can provide. Again, this generator is for small gadgets, not larger equipment.
Most customers though love the convenience of backup generator you can simply throw in a backpack, and praise the build quality and styling.
Bottom Line: A well-priced and extremely portable backup generator perfect for keeping phones and tablets charged up. However, if you're looking to power a real energy-hogger, you'll need to move up in capacity.
Learn More & Buy Now at Amazon
---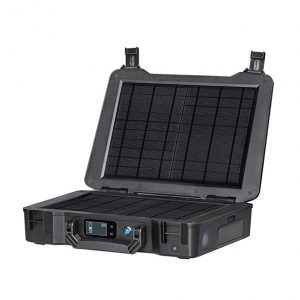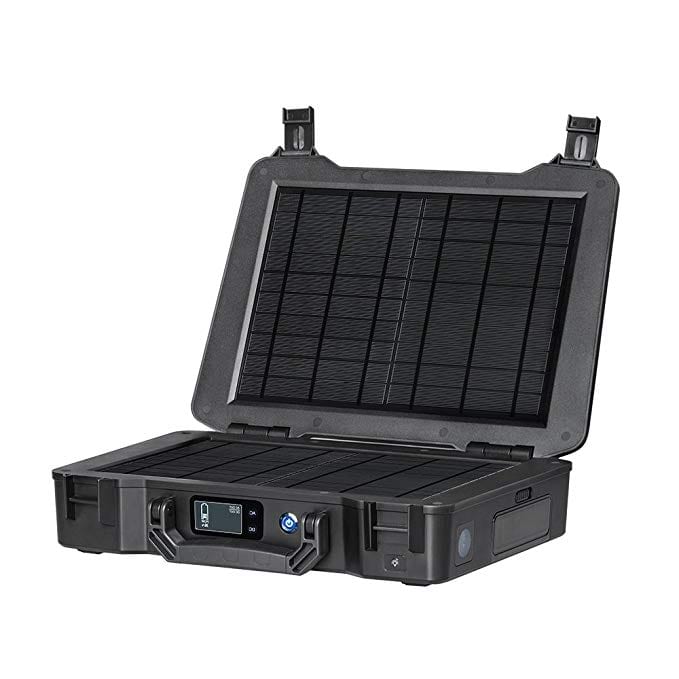 Quick Look: 210 Wh capacity, 150 W peak, Lithium-ion battery, 1 AC outlet, 2 DC ports, 4 USB ports, 12-month warranty
Check Price at Amazon
One of the coolest solar generators out there. If you want to impress friends and feel like a spy all at one time, check out Renogy's 210 Wh Solar Generator Suitcase. When closed, it looks like any other hard-sided plastic case used by a musician or cameraman. Upon opening, however, you find a 20-watt solar panel with a hidden lithium-ion battery tucked inside!
While more expensive than other similarly-sized generators, the Renogy Phoenix is intelligently designed and well-built and is one of the most-loved products on our list.
The 210 Wh battery is enough to charge up your phones, tablets, DSLR cameras, laptops, and other gadgets, but with a peak power rating of 150 watts, there's not enough juice to keep energy hogs like a coffee maker or blender going.
The integrated 20-watt solar panel can certainly keep the small battery charged up, but be prepared for a wait, as one customer reported it took 10 hours for the solar panel to fully charge the battery under decent sunlight. If you want to speed that process up, you can also connect an auxiliary solar panel – up to 120 watts – to slash that charge time to just a few hours.
A small LCD screen just under the handles shows the sun exposure level, so you can find that perfect spot for the fastest charge, as well as the current battery level. You can also charge the unit at home or in the car with the included AC and DC inputs.
Out of all the solar generators on our list, customers probably love the Renogy Phoenix the most! It's sleek, lightweight, and easy to use. On top of that, users appreciate the rugged build quality and use the unit for natural disasters, emergencies, and just a weekend out camping.
Bottom Line: You'll have to dish out a bit more cash for this all-in-one unit, but you're getting one of the coolest – and most well-built – products on our list.
Learn More & Buy Now at Amazon
---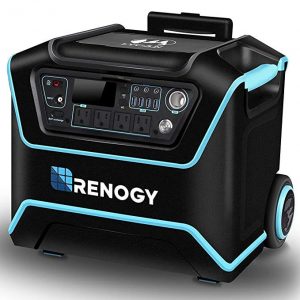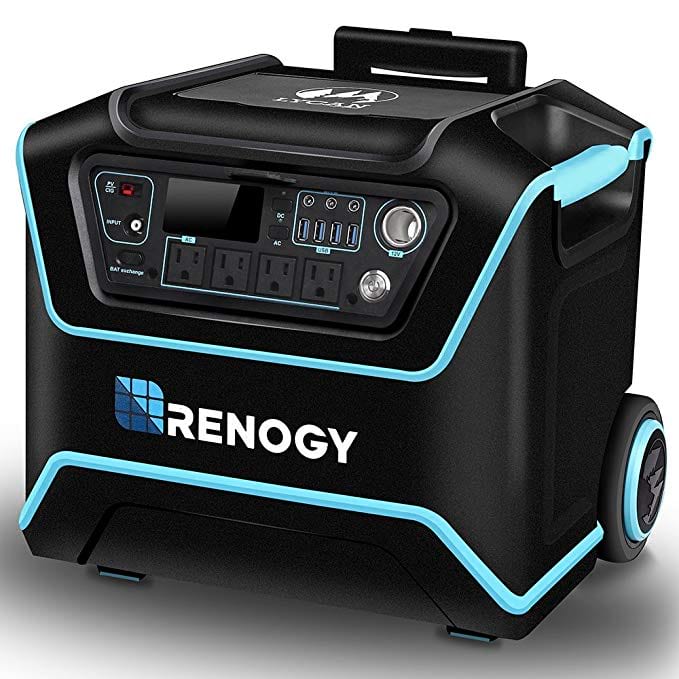 Quick Look: 1075 Wh capacity, 1200 W peak, Lithium-ion battery, 4 AC outlets, 4 DC ports (including 1 car port), 4 USB ports, 12-month warranty
Check Price at Amazon
Renogy is a well-known manufacturer of small-scale solar and battery equipment, so it makes sense they're on our list of best solar generators. Their Lycan Powerbox is a modern, well-designed product with two wheels and a suitcase handle to pull it along after you. And at 60 pounds, you're going to want wheels.
With 1,075 watt-hours of energy capacity and 1200 watts of peak power, the Lycan Powerbox can power just about anything you can throw at it. Of course, it'll power all the usual gadgets like phones and tablets, but it's also powerful enough for hair dryers, toasters, and other high energy use devices. At 1,075 Wh of electricity storage, you'd be able to use that 1,000-watt toaster for over an hour straight!
The high capacity paired with the pure sine wave inverter (as opposed to cheaper modified sine wave inverters) also means CPAP machines and other sensitive electronics aren't an issue at all for this thing.
The inputs and outputs are easily accessible right on the front of the box, with 4 AC outlets (the most of any generator yet!), 4 USB outlets, and 4 DC ports. On the input side, there's a shared solar/car port (Powerpole) and an AC port. The LCD screen gives you a battery reading and notes whether you're outputting AC or DC electricity.
Solar panels can be connected in series, up to 36 volts to allow for faster charging. The Lycan also includes an MPPT controller (aka Maximum Power Point Tracking), which allows even more efficient charging – a huge plus for this unit.
Customers have generally favorable comments on Renogy products and the Lycan Powerbox is no different. Users praise the Lycan's value, fast charging capabilities, and performance, but some warn that the integrated cooling fan can be loud and at least two customers have complained that their units unexpectedly turn off sometimes.
That's not something you want to hear, but the Lycan's still a great option, especially with Renogy's well-known excellent customer service.
Bottom Line: Renogy's Lycan Powerbox is a well-designed solar generator. The wheels and collapsible handle make for easy transport and the capacity is high enough to power almost any gadget you could need on a camping trip or in an emergency.
Learn More & Buy Now at Amazon
---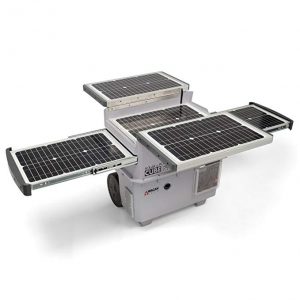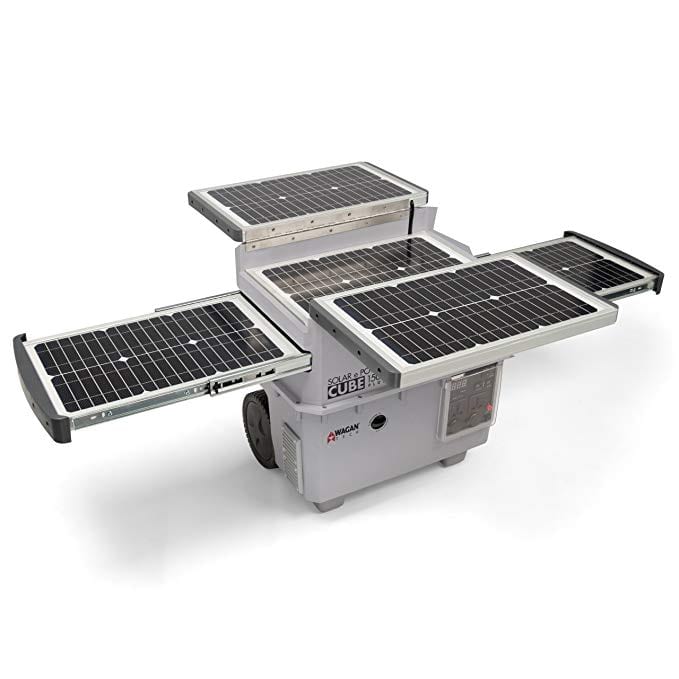 Quick Look: 1200 Wh capacity, 1500 W peak, Lead-acid battery, 2 AC outlets, 2 DC ports (car ports), 2 USB ports, 24-month warranty (6 months for battery), 80 watts of integrated solar panels.
Check Price at Amazon
Wagan's ePower Cube is probably the most unique product on our list. Similar to the briefcases, it's an all-in-one solar generator, complete with 80 watts of integrated solar panels that slide and fold out of the top of the generator. Unlike the other solar briefcases though, this generator uses lead-acid batteries instead of the more expensive lithium-ion, so the price is much lower out of the box.
In fact, every other solar generator on our list uses lithium-ion batteries instead of lead-acid, and this is the biggest difference between the Wagan ePower Cube and all the others. Lead-acid is cheaper, but manufacturers consistently choose lithium-ion for portable solar generators because they weigh about 2/3 less than similarly-sized lead-acid batteries, have more usable energy, recharge more quickly, and last longer. As you can see, there are a lot of benefits to lithium-ion!
Because of the lead-acid battery, the Wagan weighs a full 122 pounds, by far the heaviest generator on our list and about 2x as heavy as the simarly-sized Renogy generator above. Since it's built like a cooler, replete with wheels and a collapsible handle, moving the generator around isn't a huge hassle, but lifting it in and out of cars is certainly going to get annoying.
One buyer warned the generator must be on a flat, smooth surface for the wheels to work and if you're not careful, the handle can snap from the heavyweight. As such, consider the Wagan ePower Cube more for emergency power around the home and maybe the occasional camping trip.
Weight aside, the real benefit of the lead-acid battery is the low cost, and this solar generator comes in hundreds of dollars less than other products here. If you're looking for a larger solar generator at the lowest price point, the Wagan is probably your best bet.
The integrated solar panels provide 80 watts of solar power, which should be enough to efficiently recharge on a sunny day, but you can also add additional solar panels as well as batteries for greater capacity.
Like the other large generators we review, the Wagan's 1200 Wh capacity and 1500 watt peak power is more than enough to run appliances like hair dryers and blenders, laptops, and all your gadgets, but with just a modified sine wave inverter, as opposed to the more expensive pure sine wave inverter, some sensitive electronic gadgets – especially older models – simply won't work with this device.
Bottom Line: While it certainly has a few design flaws, namely the heavyweight, the Wagan ePower Cube is a convenient, all-in-one solar generator that comes in at a much lower price point than any of the others on our list.
Learn More & Buy Now at Amazon
What You Need To Know About Solar Generators
What Is a Solar Generator?
A solar generator is simply a box that contains a battery and an inverter, sleekly designed so you can charge appliances directly off the box. Unlike gas generators, solar generators are quiet, easy to handle and transport, and safe to bring indoors. They're the perfect option for a week of camping or to simply include in your emergency cabinet.
Inside the generator, the battery stores the electricity and the inverter converts that electricity into AC for your appliances. These solar generators typically have several outlets for different equipment: AC outlets (just like wall outlets in your home) as well as a few USB outlets for your phone and tablet, and finally a few DC outlets for gadgets designed for travel or camping.
You can typically charge your generator via a solar panel (which can be integrated into the generator but is usually sold separately), a wall outlet at home, or while driving.
If you want to prepare for long-term emergencies or a week of camping, a solar panel allows you to continue using solar generator without any other power source, but usually isn't as fast as simply plugging it in at home.
Solar Generators vs Gas Generators
Now that we've gone through our list of the best solar generators, let's answer a few questions that we all have, starting with the benefits and drawbacks of solar generators over gas generators.
Benefits
Quiet: Because solar generators are actually just batteries, there's no noisy engine, so you can use your solar generator at any time of the day or night without bothering your neighbors camping next door.
Emissions-free: Solar generators produce absolutely zero emissions, so they're safe to use in your home, tent, or any other enclosed space without worrying about fumes. Gas generators, on the other hand, can not be safely used indoors due to carbon monoxide emissions. The EPA recommends keeping generators 15 feet from open windows or doors.
Free, limitless fuel: Say goodbye to buying gas! With solar panels connected to your solar generator, as long as the sun's out, you've got available fuel.
Little maintenance: Just like any small engine, gas generators can be a real pain. Oil changes, new air filters, new gas filters, winterizing. With solar generators, you don't have those maintenance hassles. Just charge it up and you're good to go.
Of course, solar generators also have their downsides.
Downsides
Higher cost: Solar generators are more expensive than similarly-sized gas generators.
Don't come in larger sizes: Portable solar generators cap out around 2,000 watts. Any larger than that and the weight of the batteries is just too much for portability. Gas generators, on the other hand, can generate 4,000 or more watts and still be quite portable.
Both gas and solar generators have their places. If you just want a power source in emergencies or for week-long camping trips, a solar generator is perfect for your needs, as they're quiet and safe to bring inside. If you're looking to run power tools directly off your generator while you build your off-grid cabin though, a gas generator probably makes more sense.
What Size Generator Do I Need?
You should base the size of your solar generator on your energy needs. If you just want to keep your smartphone and tablet charged during an emergency, a generator that is 500 Wh or less should do just fine. If you're looking to actually power appliances, like a CPAP or coffee maker, you'll probably want something 1,000 Wh or more.
Actually figuring out your exact energy needs is an easy, fun problem. Just make a list of everything you want the generator to power, their wattage, and how long you expect to use them on a single charge from the generator. Your list will likely look something like this:
Smartphone: 15 watts @ 5 hours: 75 Wh
Tablet: 15 watts @ 2 hours: 30 Wh
LED light: 9 watts @ 3 hours: 27 Wh
CPAP machine: 30 watts @ 8 hours: 240 Wh
Total: 372 Wh
Most manufacturers recommend only using 80% of a lithium battery's full capacity, so let's account for that as well:
Generator Size: 372 Wh / 80% = 465 Wh
So for the example above, you'd need at least a 465 Wh generator, so the Suaoki G500 above would be the perfect option.
And if you can't find your gadget's wattage, the EPA publishes a handy online tool to help you estimate your appliances' and gadgets' energy use.
What's the Difference Between Watt-Hours and Watts?
Manufacturers always note their generators' watt-hour capacity as well as their peak power, measured in watts. While they sound similar, they actually measure two very different facets of the generator. The EIA has published an in-depth comparison of watts vs watt-hours, but let's take a quick peek:
Watt-hours (or Wh) is a measure of the battery's capacity. If your battery is a bucket, this tells you how large the bucket is. A 1,200 Wh battery stores more than a 120 Wh battery, and as such could run a gadget 10x longer than the latter.
Watts is a measure of the inverter's peak power. If watt-hours are the bucket, consider watts as the diameter of the bucket's opening. In other words, how much electricity it can provide at one time. A 1500-watt generator can provide 3x more electricity at one time than a 500-watt generator. High-energy items like hair dryers and coffee makers require anywhere from 1,000 to 2000 watts just to turn on, while laptops and smartphones only need 15 to 60 watts.
Both your capacity (watt-hours) and peak power (watts) are determined by your energy needs, so take a look at your gadgets and make the call.
Should I Go With Lithium or Lead-Acid Batteries?
Most solar generator use lithium-ion batteries to store electricity. While they're much more expensive than lead-acid batteries, their unique benefits make them the perfect choice for portable solar generators.
First, they're extremely compact and lightweight. Lithium batteries are typically 1/2 to 1/3 the weight of similarly-sized lead-acid batteries. Needless to say, this is quite nice when you're lugging your generator in and out of cars all weekend.
Second, lithium-batteries can be discharged down to 80% more of their total capacity, compared to lead-acid's recommended 50%. This gives you more usable energy than a lead-acid battery with a similar capacity.
Third, they're able to charge much more quickly than lead-acid batteries, a nice feature while driving or running late to that tail-gating event.
Lastly, lithium batteries don't produce noxious fumes like lead-acid and don't use any caustic components inside, so they're generally a safer option.
The downside to lithium, of course, is its high sticker price. However, considering all the benefits above, we think it's an easy choice to make.
Do I Need to Buy Solar Panels As Well?
All solar generators above can be charged via solar panels or a normal AC outlet like you have in your home, and most can be charged via a DC car charger as well. If you're going on a weekend camping trip, simply charging your generator before leaving the house should be enough, depending on the size of the generator and your energy needs while out in the wild.
If you'll be out for an extended trip, a solar panel is a good investment. A few of the solar generators above include solar panels integrated into the generator, but most require you to connect a separate solar panel.
The size of the panel depends on how large your generator is and how quickly you want to recharge the batteries. The larger the generator, the more solar panel you need, but 60 to 80 watts for the smaller generators and 120 to 180 watts for the larger units should let you recharge fairly efficiently. Manufacturers will typically recommend a specific panel size, so take a look at the product manual before making any purchases.
Recap of the Best Solar Power Generators We Found
Remember, solar generators are typically divided into two categories: small capacity and large capacity. Small capacity are generally portable and are perfect for camping or emergency preparedness. Large capacity solar generators can be use for larger scale use cases like home backup.
Compare the Best Solar Power Generators for 2021
In an emergency or while camping, these generators really do pull their weight, as they're powerful, quiet, and easy to use. Now all you need to do is calculate your energy needs and pick the best solar generator for you!
Image Credit: Product Images via Amazon – CC license via Flickr