The California wildfires and East coast hurricanes have shown us that we don't realize how much we rely on electricity until we don't have it anymore.
People used to have no choice but to wait for their electrical company to repair the issue, but now, thanks to generators, you can restore power to your home — or at least some of your devices — within minutes.
It's a simple idea, but with so many different models on the market, choosing the best generator for you isn't always easy.
That's why we put together this comprehensive guide to the best generators, including our top 4 picks for the best generators in 2021.
Top 4 Best Generators for 2021
---
Read through our full guide and reviews below to help you decide which generator is right for your home.
The Best Generator Reviews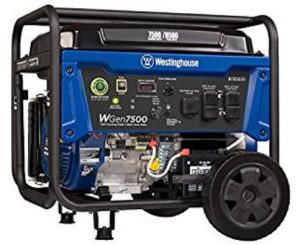 The Westinghouse WGen7500 Portable Generator stood out from the crowd because it offers up to 7,500 running watts and 9,500 peak watts at a reasonable price. This is one of the larger-capacity units on the list and it should be enough to power your major home appliances all at once. It is a gasoline-powered generator, so it's not the most energy-efficient model out there, but it is Environmental Protection Agency (EPA), California Air Resources Board (CARB) and Canadian Standards Association (CSA) compliant, which should set some minds at ease.
It's easy to get up and running, even if you've never used a generator before. There's an instruction booklet to explain all the features of the machine and a push-button start, which many top generators now offer to save you the arduous task of pull-starting it. There's even a remote key fob so you can start and stop it from a distance.
Customers appreciate how easy it is to set up the generator and to maneuver it to where you need it to be. The unit is backed by a three-year manufacturer warranty and while few customers appear to have had issues with their Westinghouse generators, those that have have had largely positive things to say about the company's technical support. This is not to be overlooked as it's something you won't find with many other generators, especially within this price range.
Learn More & Buy Now at Amazon
---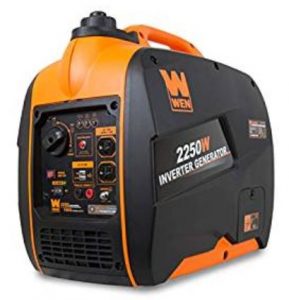 The WEN 56225i 2,2500-Watt Portable Inverter Generator is a nice alternative to our top pick if you're looking for a smaller and quieter unit to power a few important devices or appliances during a power outage. Its sound output is only 53 decibels, which is far below average compared to the rest of the industry and the other generators on this list. Users back up the manufacturers claims about its quiet operation.
Perhaps its most commented-upon feature is its eco mode. This enables the unit to automatically adjust its fuel consumption based on how many devices are connected to it at a given time. This rare feature helps each tank of fuel last longer while reducing the generator's emissions. The unit is also EPA and CARB compliant.
It seems a little pricey for its wattage, especially compared to the Westinghouse model, but this is not out of the ordinary for inverter generators. The unit is backed by a two-year warranty, which is a little shorter than our top pick, but you probably won't need to rely upon it at all because few people have reported technical issues with the WEN generator.
Learn More & Buy Now at Amazon
---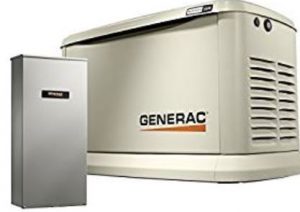 Those subject to frequent power outages should look no further than the Generac 7043 Home Standby Generator. This generator offers 22,000 kilowatts of power, so it's big enough to power just about any sized home, and it connects to your existing liquid propane or natural gas lines so you don't have to worry about storing additional fuel or refilling any tanks. Natural gas and propane are cleaner-burning than gas or diesel, so while there are still some fuel emissions, they're not as much as they are from some of the other generators on this list.
There's no getting around the pretty significant price tag on this unit, but once that's out of the way, the unit is easy to use. It automatically kicks in when your power goes out and it has indicator lights on the unit to notify you when it needs maintenance or if it detects utility power. But while it is far and away the most expensive generator on this list, users still say that it is a great value for the money and they're happy with their purchase.
The unit is backed by a five-year manufacturer's warranty and the durable, aluminum housing holds up well in all weather conditions so you don't have to worry about a bad storm damaging your generator. For additional peace of mind, Generac offers a remote monitoring app for your smartphone so you can check the status of your generator even when you're not at home.
Learn More & Buy Now at Amazon
---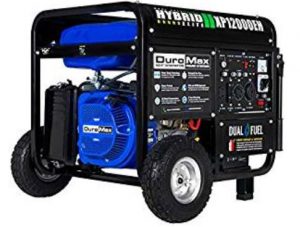 The DuroMax XP12000EH Dual Fuel Electric Start Portable Generator is one of the rare generators that lets users choose between powering it via gasoline or propane, so you can use whichever you have on hand or whichever is most convenient for you. This is a smart option for those who live in cold climates where gasoline-powered generators might have trouble starting in the cold. While not as environmentally-friendly as the Goal Zero Yeti generator, the DuroMax generator is EPA and CARB approved for use in all 50 states.
It outputs 9,500 running watts, so it's versatile enough for many applications and can power an entire home if need be. Users report that it's simple to start up thanks to its electric push-button switch. Its handle and wheels make it easily maneuverable as well, so it's easy to take in and out of storage as needed.
Its price is pretty reasonable considering how many devices it can power and the dual-fuel technology. Mechanical issues appear to be a rarity with this unit, but on the off chance that you experience some, you'll be glad to know that this unit comes with a three-year manufacturer's warranty.
Learn More & Buy Now at Amazon
---
How We Chose the Best Generator
As you can see, each type of generator has its pros and cons and one isn't inherently better than the other. It all depends on where and how often you intend to use it. We aimed for a variety of the generator types listed above when choosing our top picks, but within each category, we focused on the following features which matter to most generators.
Wattage
The wattage of your generator is the most important factor to consider because it dictates how many devices you're able to power. If you'd like to power your entire home, plan to use at least 5,000 watts. But if you only want to power a few appliances, you can get by with less. Think about what you might want to power in an outage and then look up its wattage. Write this down for each item and then total up the wattage to see what you might need. It doesn't hurt to purchase a generator with a higher wattage than you think you'll need just in case you need to power a few extra devices.
Your required wattage may dictate the type of generator you need. Some smaller portable or inverter generators may provide less than 2,000 watts while some larger units may provide as much as 8,000 watts. Standby generators offer the most power. The smallest units should offer at least 5,000 watts while the largest may offer up to 20,000.
Run Time
A generator's run time is how long it can operate on a single tank of fuel. Manufacturers usually measure this if the generator is running at 25% or 50% load. Obviously, if you are using more of the generator's capacity than this, it won't last for as long. You can use your wattage estimates and the manufacturer's run time estimates to decide which size generator is right for you.
Run time also dictates how much fuel your generator will go through and by extension, how much fuel emissions it puts out. If your unit requires you to add fuel frequently, you'll need to have plenty of it on hand because you might not be able to pump more gas or diesel when the electricity is out in your area. That means you'll need to find a way to safely store this flammable fuel. A generator with a longer run time makes things easier because you won't need to add new fuel as often.
Size
The size of the unit is a factor in terms of storage and portability. If you want a portable generator, it needs to be light and ideally, it should have wheels so you can push it from one place to another. Portable units typically have smaller fuel tanks and lower wattages, though, so you must consider this tradeoff. Larger units can power more devices and run for longer, but they also take up more room in your garage, basement, or wherever you're storing the generator.
Cost
Generators have a large upfront cost. Even the most affordable units will run you at least $400 to $500 and some home standby generators can cost in excess of $10,000. Then, there's the less predictable long-term cost that depends on how often you need to use your generator and how expensive its fuel is.
Everyone has different budgets and needs, so it's up to you to decide which is right for you. In any case, a generator is a substantial investment, so make sure that yours is backed by a warranty so you don't have to pay out of pocket if you run into any issues within the first few months or years following your purchase.
What You Need to Know When Buying A Generator for Your Home
Before you purchase any type of generator, here are a few things you ought to know.
Only solar generators are safe to run inside your home.
Solar generators produce no emissions, so they're safe to have inside. This isn't the case for gasoline-, diesel-, propane- and natural gas-powered generators. They generate poisonous gas, which can be lethal if they build up in significant quantity inside of your home.
Your manufacturer should provide you with safety guidelines about how to properly use your generator, but some basic rules include keeping your generator at least 20 feet away from your home and facing the exhaust away from your home. Some units are now designed with built-in carbon monoxide sensors that will automatically shut off the unit if they detects that carbon monoxide is building up in an area, so this is another feature you can consider if you're worried about safety. But most generators are safe to use as long as you follow the manufacturer's instructions.
You'll probably need a transfer switch if you want to power your whole home.
A transfer switch is a device that connects your generator to your home's circuit panel and switches you over from utility power to generator power when your power goes out. Manual switches require you to flip the switch yourself before the generator will begin powering your home while automatic switches kick in when they detect a loss of utility power. These are usually only used with standby generators.
Without a transfer switch, you won't be able to power hard-wired appliances like your water heater, but more than that, it's a safety issue. Transfer switches isolate the power produced by your generator from the rest of the electrical grid to help avoid back feed. This is where power starts going from your generator back down the power lines and it can pose a serious threat to individuals working on the power lines.
Some generators include a transfer switch with your purchase while others do not. If yours doesn't, you'll have to purchase one of these separately and you will likely need an electrician to come and install it for you to ensure it's done properly.
Your fuel only lasts for a certain amount of time.
Gasoline typically lasts less than one year when stored. After a few months, it begins to degrade and if you try to use it in your generator — or any other device for that matter — it can be hard on your engine and may shorten its life. Diesel lasts a little longer, but shouldn't be stored for more than two years at a time. Propane is your best option if you don't want to worry about your fuel going bad because it can last for several decades.
While you might be tempted to stockpile a bunch of gasoline or diesel in case you aren't able to get it when your power goes out, think about your storage space and try to periodically replace the fuel you have on hand. Make a note of how old the fuel is and if you've had it for a few months, put it in your vehicle, lawnmower or another device and replace it with new fuel.
How to Decide Which Type of Generator Is Best for Your Home
When it comes to generators, there are many options to choose from.
Here's a brief overview of each.
Generator Type
Generators come in four main types: portable generator, inverter generator, standby generator and solar generator.
Portable Generators
Portable generators are the most popular because they are among the most affordable. They're also not attached to your home so you're not limited in where you can take the generator. Because they're designed to be portable, they're also usually fairly compact and easy to maneuver. Many come with wheels so you can easily push them around.
Inverter Generator
Inverter generators are similar to portable generators, but they have a more complex engine that operates in a different way. The end result is that they run more efficiently and are quieter than traditional portable generators, but because of their increased complexity, they tend to be a little more expensive.
Standby Generator
Standby generators are generators that are wired into your home and automatically kick in if the power goes out. These units typically have higher wattages to power more devices and they require little effort or maintenance on your part. But all these benefits have a tradeoff in cost. You'll pay more for the unit itself and you will most likely need a professional to ensure that it's installed properly in your home.
Solar Generator
Solar generators are also known as portable power stations. These are not generators in the traditional sense that they use fuel to produce power. Instead, a solar panel charges a battery, which you can later draw upon to power your devices. These units are the most environmentally friendly and they're safe to use indoors, but they typically can't power as much as the other types of generators.
Fuel Type
Solar generators obviously use solar power, but the other types use other more common sources of fuel, like gasoline, diesel, propane or natural gas. The type of fuel you choose will not only affect the price of your generator, but also its life expectancy, size, and overall safety.
Gasoline
Gasoline generators are the most common type because gasoline is easy to come by and these types of generators are cheap to make. They're available in small sizes, which makes them ideal for those who require a portable generator. But gasoline is highly flammable and produces high emissions, so it's not your most energy-efficient option. These units are also a little more difficult to start in cold temperatures and usually don't last for as many years as diesel generators.
Diesel
Diesel generators are a little more expensive than gasoline generators, but they also have longer lifespans. Plus, diesel is the least flammable of any conventional fuel source on this list. These generators don't have the same issues in cold weather as gasoline generators, but they also produce more fuel emissions and are easily ruined by water in the fuel. If you live in a wet environment, consider purchasing emulsified diesel to avoid this. Biodiesel can help cut down on the emissions, but this is a little more difficult to come by.
Propane
Propane gas burns cleaner than gasoline or diesel and these generators have no issue with cold weather or water. Propane has a much longer shelf life than gasoline or diesel, so it appeals to those who use their generators infrequently. These units also have a long life expectancy, which helps make up somewhat for its higher upfront costs. Because propane is highly flammable and the fuel systems in propane generators are more complex than the other types mentioned here, you should have a professional install a propane generator in your home.
Natural Gas
Natural gas is typically only used in whole-home generators or other non-portable applications. This is because it taps into the existing natural gas lines, which give it an unlimited power supply that never needs changing. Natural gas also burns cleaner than gasoline or diesel and it runs well in all conditions. But they don't usually last for as many years and just like the gas lines in your home, if the gas lines going to your generator are damaged, it could cause a dangerous gas leak.
Bottom Line
There isn't a clear right or wrong choice when it comes to generators.
It depends on how often you expect to use the generator, how long you expect to be out of power at a time, and how environmentally conscious you want to be.
We recommend the Westinghouse WGen7500 Portable Generator with Remote Electric Start as a versatile choice for anyone, but explore all of the options listed here to see which is right for you.
Compare the 4 Best Generators for 2021