The quality of the air we breathe is essential to our well-being, and air purifiers ensure that that air is clean and free from common allergens that could make it difficult for you to breathe normally.
Whatever your environment throws at you, the best air purifiers will keep you healthy and be eco friendly.
There is a bit of a science to choosing the right one for you that depends on the size of your space and what you hope to filter out of the air.
Keep reading for a detailed guide to how to choose the best air purifier for you and in-depth reviews of our top 5 picks for the best air purifiers for 2021.
The Top 5 Best Air Purifiers for 2021
---
The Best Air Purifier Reviews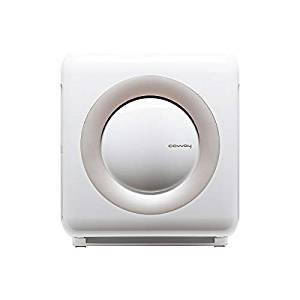 The Coway AP-1512HH Mighty Air Purifier might not have all the bells and whistles that some of the other air purifiers on this list do, but it earned the top spot because it did the best job of actually filtering the air. This compact unit might not look like much, but it received a 246 Smoke, 240 Dust and 233 Pollen CADR rating, which is pretty high for a home air purifier, especially one in this price range. It also covers 361 square feet, which is suitable enough for most small to medium-size rooms.
It has a four-stage filtration system that includes a High-Efficiency Particulate Air (HEPA) filter, which is a pretty standard feature among the top air purifiers. It also contains a built-in pollution sensor to help you determine when you should run your air purifier. Those who are worried about accidentally leaving it on too long will appreciate its built-in timer feature. That's not something most air purifiers have and it can help you extend the life of your air purifier by not running it unnecessarily.
While a few users have complained about faulty fans, the majority of customers who have tried the Coway AP-1512HH Mighty Air Purifier have praised its durability and efficiency. In the unlikely event that you do run into issues, Coway backs its air purifier with a three-year warranty from the date of purchase.
Learn More & Buy Now at Amazon
---
The tech-savvy reader will likely appreciate the LEVOIT Smart WiFi Air Purifier because of its advanced controls that enable you to turn it on and off or adjust its settings from virtually anywhere. Once you set the LEVOIT air purifier up, you can connect it to the VeSync app. This enables you to change its speed, turn it on or off, and check the filter's remaining life to see when it needs replacing. If you have an Amazon Alexa, you can also sync your LEVOIT Smart WiFi Air Purifier to this so you can control it this way as well.
It can cover an area up to 360 feet, which puts it on par with the Coway air purifier in terms of coverage. Its CADR ratings aren't quite as strong. The manufacturer merely says that all three of its ratings are 135+. This doesn't mean that it is any less effective at purifying the air in your space, but it may take a little longer to do so. If this concerns you, our top pick might be a better choice for you.
Despite all of the fancy tech features that come with the LEVOIT air purifier, most customers found it relatively easy to set up and use. They also appreciated how quiet it was when it ran and the virtually silent sleep mode makes it a great choice for bedrooms if you plan to have the air purifier on overnight.
Learn More & Buy Now at Amazon
---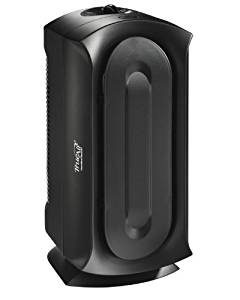 No other air purifier on this list can best the Hamilton Beach TrueAir Air Purifier in terms of quality for the price. This compact unit should fit comfortably into just about any space and budget. It performs well on most types of airborne allergens thanks to its built-in HEPA filter, but if pet dander is a particular problem for you, you can upgrade to its Pet Specialized model, which is only slightly more and works even better at removing this dander from the air.
The Hamilton Beach TrueAir Air Purifier is one of the rare air purifiers that offers a permanent HEPA filter that you vacuum clean, rather than a replaceable filter that you must change periodically. This makes this air purifier even more affordable because you won't have to pay for new filters every couple of months. But make sure you stay on top of the filter maintenance or else you could shorten the life of your unit.
The air filter's small size makes it a good fit for tight spaces where you don't have a lot of room for a standard-sized air purifier. But the downside is it's not powerful enough to adequately clean large spaces. It can only handle up to 160 square feet, according to the manufacturer, so you'll have to choose a different air purifier on this list if you have a larger space.
Learn More & Buy Now at Amazon
---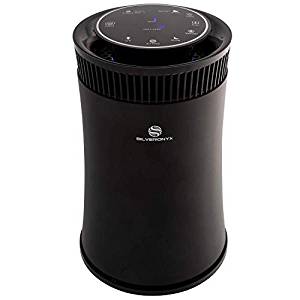 The SilverOnyx Air Purifier sits on the opposite end of the spectrum from the Hamilton Beach TrueAir Air Purifier. This unit can cover an impressive 500 square feet — more than most home air purifiers. So it's definitely worth considering if you have a large space and you're struggling to find an air purifier that can cover it adequately.
The unit contains five powerful levels of filtration including a UV light sanitizer and an ionizer to ensure that 99.7% of allergens of 0.3 microns or less are removed from the air. Users report that it is effective and they notice a change in the air quality and the absence of odors right away. They also say that the unit is surprisingly quiet and that it performs well, even when in use for extended periods of time.
The downsides of the SilverOnyx Air Purifier are all of the Hamilton Beach air purifier's strengths. It's a little more pricey than some of the other models on this list, though not unreasonable for a unit of this size. You'll also have the ongoing cost of replacement filters, but these are pretty reasonably priced as well.
Learn More & Buy Now at Amazon
---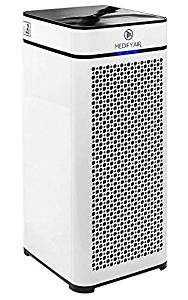 When air quality is of the utmost importance and nothing but the best will do, the Medify MA-40 Home Medical-Grade Air Purifier is your best bet. It contains an H13 medical-grade HEPA filter, which is one step above the typical HEPA filters you find in air purifiers. It can pick up bacteria and virus carriers as well, which are smaller than the typical allergens most air purifiers go after.
This heavy-duty unit was built with long-term use in mind. It's made with top-quality components and its control panel has tempered glass so it doesn't break easily. The unit also has several modes, including a sleep mode for use at night, and a child lock, which is a must for any homes with small children. It can cover an impressive 1,300 square feet in a single hour, so it's suitable for rooms of just about any size.
Of course, quality like this doesn't come cheap and the Medify MA-40 Home Medical-Grade Air Purifier is the most expensive option on our list. But it's worth the investment in quality if you plan to use it often. And should anything go wrong with the unit, you won't have to worry about paying for anything out of pocket because Medify offers a lifetime warranty on the air purifier.
Learn More & Buy Now at Amazon
---
How We Chose the Best Air Purifiers
We chose the five best air purifiers by focusing on their efficiency, cost, features, and noise output.
Efficiency
Obviously, the most important factor when choosing an air purifier is how well and how quickly it purifies the air. A lot of this depends on its Clean Air Delivery Rate (CADR) ratings. There are three of them — one for smoke, one for dust and one for pollen. These correspond to different sizes of particles. The higher an air purifier's CADR ratings, the more efficiently it removes particles from the air.
You also have to pay attention to the square footage that the air purifier can cover. Smaller units may cover less than 200 feet while most mid-range models cover at least 360. If you have a room that's 400 or more square feet, you will have a harder time finding options that will suit you. Also, air purifiers that can cover larger spaces are typically larger themselves, so you must think about how much space you have for storing the air purifier.
Cost
Air purifiers have an obvious upfront cost, but there's a long-term cost too. You're paying for all the electricity the unit is using while it runs and you might also have to pay for new filters periodically. If cost is a primary concern for you, do some investigating into the cost of replacement filters and how much electricity the air purifier you're interested in uses.
Some air purifiers offer washable filters, which may reduce how often you need to change the filter, so this is worth looking into if you don't want to buy replacement filters. You could also choose an Energy Star air purifier to help keep costs down. These models are more energy-efficient than traditional air purifiers so they use less electricity.
Features
A basic air purifier might just have an on and off switch and a sensor to tell you when the filter needs washing or changing. But some more advanced models include several speed settings, which can influence how noisy the unit is. They might also have remote controls so you can adjust your air purifier's settings without getting up. A few even connect to a smartphone app so you can control the settings from anywhere.
These features aren't as important as the actual air filtering capabilities of your air purifier, but they might help you decide between two comparable models with similar ratings and capacities.
Noise
Noise might seem like a minor concern, but if a unit is especially loud, it might discourage you from turning it on as often. If you think this might bother you, look for a unit that offers adjustable levels so that you can turn it down if it gets too loud. This is particularly important if you're going to use the air purifier in the living room where it could make it difficult to hear the television or in your bedroom where it might prevent you from falling asleep at night.
What You Need to Know About Air Purifiers
Here are a few things everyone should know before purchasing an air purifier.
Air purifiers remove most common pollutants and allergens in your home.
Air purifiers work to clean up the air so you can breathe better and avoid problems with allergens or smelly odors. They typically target pollen, dust, pet dander, mold, smoke, chemicals from household cleaning sprays, and other household odors. When you purchase an appropriately sized air purifier, it can reduce asthma and allergy symptoms and eliminate unpleasant smells from the surrounding area.
Home air purifiers typically don't go after bacteria or viruses as these particles are too small to be caught in the typical HEPA filter. If you're interested in a unit that can also help prevent the spread of germs throughout your home, consider a medical-grade air purifier like the Medify MA-40 Home Medical-Grade Air Purifier discussed above.
Room size and placement matter a lot.
Most air purifier manufacturers list a maximum square footage designation. It's important that you pay attention to this so you can choose an air purifier that's appropriately sized for your space. Otherwise, it might not adequately clean the area and you might not get the performance that you expect. Take measurements of the room's length and width to multiply them together to figure out the area. Use this as your baseline. Don't be afraid to purchase a unit that's a little bigger than you think you need, but avoid one that's too small.
When placing your air purifier, it's tempting to put it somewhere out of the way, like in a corner or under a table, but this could inhibit its performance. For best results, it should be two to three feet away from any walls or furniture. This might not be an option, depending on the configuration of your space. In that case, choose a more powerful air purifier to compensate for the poor placement.
Always follow your manufacturer's maintenance guidelines.
Before using your air purifier, read through the manufacturer's instructions to learn about how to change or clean your unit's air filter and how often you should do so. This will vary in part depending on how often you're running the air purifier and how dirty the air in the room is. You might have to check the filter periodically to see how it's doing or it might have a sensor that lets you know when it needs maintenance. Never ignore this. It will reduce the effectiveness of your air purifier and could shorten its lifespan.
It's best to purchase extra air purifier filters before you actually need them if your unit uses replaceable filters. That way, you can quickly change it out and you won't experience any interruption in the quality of your air.
The Bottom Line
Air purifiers can make a big difference in how your space smells and your own quality of life. But if you want results, you have to choose the right air purifier for your space. We recommend the Coway AP-1512HH Mighty Air Purifier for most small to medium-size rooms, but if you have special concerns, one of the other air purifiers on our list might suit you better.
Compare the Top 5 Best Air Purifiers for 2021