Water is one of the most important elements of life. Thankfully, there is a simple way to ensure that your water is safe to drink and tastes delicious, all you need is the right water purifier.
Water purifiers come in all shapes and sizes, so finding the best one for you may seem difficult. We have done our research and are ready to tell you all about our picks for the best water purifiers of 2021. We'll tell you all about how we chose them as well as what you should know in order to choose the right purifier for your home.
Top 4 Best Water Purifiers of 2021
---
Reviews of the Best Water Purifiers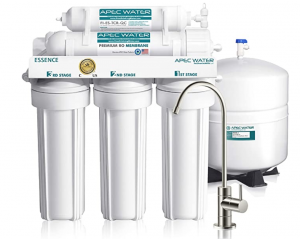 Quick Look: Under the counter tank water purifier. Five stage filtration system removes most contaminants. Easy to install, comes with a dedicated faucet and 2-year warranty.
Check Price at Amazon
APEC is a company that has been dedicated to providing clean water for people all over the world for more than 25 years. They specialize in designing easy to use systems that keep your water clean and fresh tasting. With the ROES-50 system, you can rely on your water to be safe and delicious.
The APEC ROES-50 Water System is a five-stage filtration system that removes 99.9% of contaminants including solid and dissolved contaminants alike. This system uses a sediment filter, carbon filters, reverse osmosis membrane, and refined coconut carbon filter to remove everything from dust and rust to TDS such as arsenic, lead, and fluoride.
This water purifier is easy to install with an under the counter tank and dedicated brushed nickel faucet. This system is designed and assembled in America and comes with a 2-year warranty. APEC prides itself in being a customer-focused company that provides plenty of customer service. They also donate part of their profits to charities that help to provide clean water to the underprivileged, so this is a product you can feel good about buying and using.
Learn More and Buy Now at Amazon
---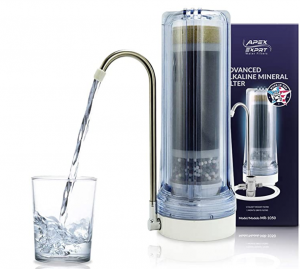 Quick Look: Sleek countertop design that comes in multiple colors. Removes contaminants and adds helpful minerals. 750-gallon filtering ability. Easy to install. Made in the USA. Comes with 1-year warranty.
Check Price at Amazon
Some people worry about using water purifiers because they are worried that the purifier will remove all the good minerals along with the unwanted particles. In some cases that is true, but with the handy Apex Countertop Water Purifier you can have clean water and minerals too.
This easy to use unit sits right on your counter and attaches to your faucet meaning you will not have to give up any space in your cupboard under the sink. It attaches to any standard faucet and only takes a few moments to install. The unit itself comes in six attractive colors, so you can choose the one that best fits your kitchen's style.
The filter is designed to last through 750 gallons of water. It removes 99% of harmful contaminants like lead as well as solid particles such as rust and dirt. It then adds healthy minerals like potassium, magnesium, and calcium. With this water purifier, you are safe from harmful chemicals but will still get the minerals you need.
Learn More and Buy Now at Amazon
---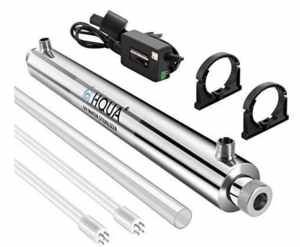 Quick Look: Kills 99.99% of bacteria and microbes. Low maintenance, easy to install. High-quality materials.
Check Price at Amazon
If your water is already pretty good quality, but you want to be sure that it is bacteria-free, then a UV water purifier is the way to go. The HQUA Ultraviolet Water Purifier has everything you need to ensure that your water is germ-free without having to use harmful chemicals.
Made with high-quality stainless steel and quartz glass, this unit is built to last, no matter how much water you use. The 25W 6 gpm bulb in this unit only has to be changed once a year, making this a great choice for those who are looking for low maintenance water purifiers.
The UV light is powerful enough to kill 99.99% of bacteria and microbes without altering the flavor of your water the way chlorine does. You also do not have to worry about the unit itself altering the flavor of your water since the only materials your water will come into contact with are stainless steel and glass. This means your water will be reliably crisp and clean.
Learn More and Buy Now at Amazon
---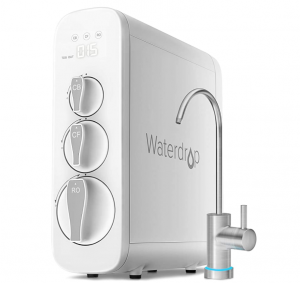 Quick Look: Seven-stage filtration system with easy to change filters. Removes 99.9% of over 1000 contaminants. Comes with smart faucet and 1-year limited assurance.
Check Price at Amazon
If you are looking for a high-performance water purifier that is sure to leave your water clean and clear no matter how hard initially, then the Waterdrop RO Water Purifying System is the unit for you. Waterdrop designed this seven-stage filtration system to provide you with the cleanest water possible.
Each stage of filtration removes a different type of contaminant from solid particles to TDS. It removes 99.9% of 1000 unwanted elements such as lead, limescale, fluoride, and heavy metals. All of this filtration is done by three easy to replace filters that can be changed in less than 3 seconds with a simple turn. The included smart faucet has a built-in filter indicator, so you never have to wonder about the status of your filters.
This water purifier has a sleek under the counter design that is tank-free. The slim unit is only 5.7" wide and is leak-resistant, so you can have ultra-clean water and still have lots of storage space under the sink. It also has a built-in pump which means no waiting for filtration. This unit is capable of filtering 400 gallons of water every day, so it is a great choice for bigger households or even small businesses.
Learn More and Buy Now at Amazon
---
How We Chose The Best Water Purifiers
Although there are many great water purifiers available today, there were a few features that set these models apart.
Quality Filtration
The first element we looked for in our search for the best water purifiers was quality filtration. We looked for purifiers that would remove all of the main contaminants often found in tap water as well as a few extras depending on the model. Since different households require different levels of filtration, we also looked for models that filtered in different ways.
Quality Materials
Some of the harmful chemicals commonly found in water end up there because of the low-quality materials used in pipelines and indoor plumbing. Although standards have changed over the years, these contaminants can still be found. That is why we looked for purifiers that were made out of only the highest quality materials so that you never have to worry about the unit itself contaminating your water. We looked for materials like BPA-free plastics, stainless steel, and glass. These purifiers are designed to remove harmful chemicals, so it is important that they do not add to the problem.
Ease of Use
As always, we also looked for units that would be easy to install and maintain. Each of the units we chose can be easily installed without the help of a plumber. Each unit is also simple to maintain with easily replaceable parts and filters. As we will discuss in a moment, proper maintenance is a vital part of water purification, so it is very important to have water purifiers that require minimal upkeep but still maintain high-quality filtration.
What You Need To Know About Water Purifiers
Upon first glance, the world of water purification can seem a bit daunting, but do not be intimidated. There are just a few key things that you should know before you go on the hunt for the best water purifiers.
TDS
When you start researching water purifiers, you will quickly become familiar with the acronym TDS, but what does it actually mean? TDS stands for Total Dissolved Solids, which are the particles in water that are not filtered out by regular filters. These dissolved solids can include everything from simple potassium and salt to pesticides and arsenic.
A good goal is to have your TDS levels at less than 500 ppm. Less than 300 is even better, but anything under 500 ppm is considered good. Your water should have some minerals in it, but no contaminates and that is where the best water purifiers come into play. High-quality purifiers remove the harmful chemicals but still leave healthy minerals. Some are even designed to add those minerals back into the water after it has been purified, but be aware that this can alter the taste of your water. You can get these important minerals by eating a healthy diet and taking multivitamins, but if you are concerned about maintaining these minerals in your water, this is something you will want to research a little further before making your purifier purchase.
RO Versus UV
There are several types of filtration systems that are used in water purifiers such as activated carbon, carbon, coconut carbon, and a few others, but the two most common types are reverse osmosis (RO) and ultraviolet (UV). Both RO and UV are equally effective at what they are designed to do, but they are not the same.
Reverse Osmosis: RO water purifiers use a semi-permeable membrane to remove unwanted molecules from the water. This membrane catches even the smallest molecules, leaving behind clean drinkable water. Of course, they are only 99.9% effective because there is always a chance that something could slip through, but it is unlikely. The benefit of RO water purifiers is that they truly purify the water by removing all unwanted particles. On the downside, this type of purifier also removes all the good minerals too, so that is something to keep in mind.
Ultraviolet: UV water purifiers do not filter particles out of the water, but they do kill bacteria and microbes with high doses of UV rays. It is usually recommended to use a UV purifier in addition to a traditional filtration system. The filtration system removes the particles and the UV purifier kills any residual bacteria.
Maintenance
As previously mentioned, timely maintenance is a vital part of proper water purification. Like all filtration systems, even the best water purifiers can only function if the filters are changed at the proper times. Thankfully, most modern water purifiers have easy to read indicators to notify you when it is time to change the filter. It is good practice to keep an extra filter on hand so you can change it immediately when the time comes. This will extend the life of your water purifier as well as avoid the chance of your water being less than pristine.
How to Choose The Best Water Purifier For Your Home
Now that you know all about water purifiers, it is time to discuss how to find the best one for you. Here is a simple list of things to consider before making your purchase.
Test Your Water Quality
The best place to start when looking into water purification is to test the quality of your water. The quality of your water will be the foundation of your decision. If your water is already good quality, but you want to be sure that it is bacteria-free, then UV models would be the best water purifiers for you. If your water contains impurities, then you will probably want to look for a RO water purifier. Testing your water is a fairly simple process. You can purchase water testing kits or you can have your water tested in a state laboratory. Simply visit the EPA's website to find a lab near you.
Size
Once you have determined which type of filtration you need, the next step is to determine the size of the purifier you will need. This will depend on the amount of water you use every day and what you are using it for. If you just want to purify your drinking water, then a countertop unit or faucet filter would work just fine. If you want all your water to be filtered, then you may want to look into a complete home filtration system.
Installation and Style
Last, but not least, you should consider the installation and style of the unit. If you are a homeowner, then installing a permanent unit would probably be your best choice. The under the counter style is the most convenient because it will not take up any of your counter space and it is easy to access for filter changes.
If you are a renter, be sure to take into consideration how easy the unit will be to remove if or when you move. Some under the counter units can be removed easily, so they are still an option for renters. Faucet units are the easiest to remove and they are also the most inexpensive, so they are also a good option if you need something temporary.
Bottom Line
Having reliably clean water is a vital part of living a healthy life. There is no reason you should have to worry about the quality of your water. The best way to know that your water will be consistently contaminate-free and delicious is to have a quality water purifier. Water purifiers come in all different sizes and styles so you are sure to be able to find one that is perfect for your needs. Once you know the type of water purifier you need, all you have to do is choose the size and style that works for you. Remember, water purifier maintenance is a very important part of maintaining high water quality in your home, so be sure to keep up with the necessary filter changes. We hope this information has given you the knowledge and confidence you need to choose the best water purifier for your home.
Top 4 Best Water Purifiers of 2021