Having easy access to clean drinking water is an important part of maintaining a healthy lifestyle. Unfortunately, the water that comes out of the tap isn't always as clean as we would wish. Although there are multiple ways to filter and purify your water, such as installing a full home filtration systems or an under the counter water purifier, not everyone has space or the capability to install a large system. For those of us who don't want to install a large system, there are still lots of quality water filtration systems available.
From faucet fixtures to countertop dispensers, we have done our research and compiled a list of the best water filters on the market. If you're looking for a full home filtration system, you may want to check our article about water purifiers.
If you are looking for an installation-free or nearly installation-free option, then read on. We will tell you all about our picks for the best water filters and how you can choose the best one for you.
Top 5 Best Water Filters of 2021
---
Reviews of the Best Water Filters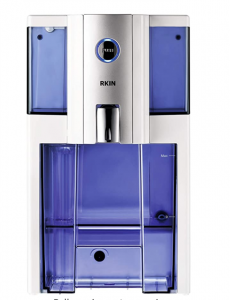 Quick Look: Narrow, stylish unit. Filters out all contaminants including heavy metals and chlorine. Filters 0.5 gallons in 15 minutes. Filters last up to 12 months.
Check Price at Amazon
The Rkin AlcaPure Countertop Dispenser offers everything you would need from a quality water filtration system. It uses a four-stage filtration system, including reverse osmosis, to remove up to 99% of contaminants, leaving you with pure fresh-tasting water. The AlcaPure also uses a post-filter to add important minerals, such as calcium and magnesium, back into the water, providing you with clean nutrient-rich water.
The unit itself is stylish and would look good in any kitchen. It comes in black and blue or white and blue, to match your style. The unit is only 9.5" wide and does not require any side clearance, so it will even work for those with limited counter space.
The Alcapure requires no installation, simply plug it in and start enjoying cleaner water. It uses a small pump to filter up to 0.5 gallons of water in 15 minutes. This unit is energy efficient, using less electricity than the average lightbulb. The main filters last up to 12 months and the reverse osmosis membrane lasts 24 months. There is easy-to-read indicator lights on the front of the unit to let you know when it is time to replace any of the filters.
Learn More and Buy Now at Amazon
---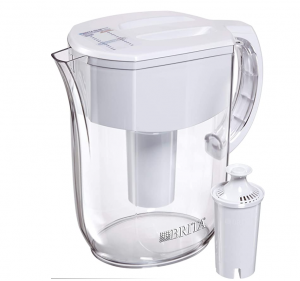 Quick Look: Easy to use. 10-Cup Capacity. Removes chlorine, copper, mercury, and more. Filter over 40 gallons of water per filter.
Check Price at Amazon
Looking for a simple way to make sure your family has clean drinking water every day? Then check out the Everyday Pitcher from Brita. Brita is a big name in the water filtration scene and there is a reason for that. Not only do they provide a wide variety of quality filtration options, but they offer them at prices that are accessible for everyone.
The Everyday Pitcher is as simple as it sounds. It is a dual-reservoir pitcher with a Brita filter in between the reservoirs. Simply pour water into the top reservoir and gravity will do the rest. The water is pulled down through the filter, leaving you with delicious clean water in the pitcher.
The pitcher itself comes apart for easy cleaning and is compact enough to fit into any fridge. Even though this is a larger capacity pitcher, it is designed for easy pouring, so no sloshing or dripping. The filter will last through 40 gallons, that's two months of average use. Replacement filters come in 4-packs and are also budget-friendly, so no need to buy a whole new pitcher like you would with other brands.
Learn More and Buy Now at Amazon
---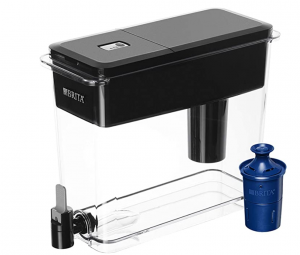 Quick Look: 18-cup capacity. Narrow design with spigot. Removes lead, copper, asbestos, mercury, and more. BPA-free design. Comes with Brita Longlast filter.
Check Price at Amazon
Although pitcher filters are convenient, sometimes you need something a little larger and that is where the Brita Ultra Max Water Dispenser comes in. This water dispenser can hold up to 18 cups, or 1.13 gallons, so you can have fresh drinking water for the whole family without having to wait.
The narrow design with front spigot makes this unit perfect for countertop or refrigerator use. With this unit, even younger children can get their own water without the potential accidents associated with lifting and handling a heavy pitcher.
The Ultra Max is compatible with both Brita's traditional and Longlast filters, but this unit comes with a Longlast filter. The Longlast filters last 3x longer than their traditional filters, meaning you can go up to 6 months without changing the filter. The handy filter-tracker on the top of the dispenser can be set for either type of filter and will light up when it is time for a replacement.
Learn More and Buy Now at Amazon
---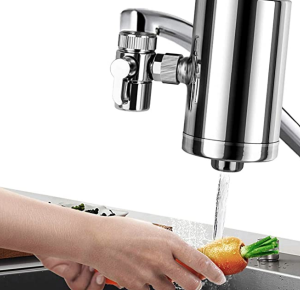 Quick Look: Easy installation. BPA-free, stainless steel design. 6-stage filtration, reduces lead, chlorine, and more. Will not slow water flow.
Check Price at Amazon
If you want filtered water for more than just your drinking water, but still don't want to install a water purifier, then you should try a faucet water filter. The Lelekey Faucet Mounted Water Filter provides 6-stage filtration without any wait time. This filter removes 60 different contaminants, including lead and chlorine, leaving you with clean safe water for drinking, cooking, and washing your fruits and veggies.
Although this unit isn't quite installation-free like our other picks, it fits most standard faucets and only takes a few minutes to install. The filter is recyclable and can be cleaned between changes to increase the life and efficiency of the filter. Lelekey recommends cleaning the filter once a month and replacing it every three months, depending on usage.
Speaking of usage, this unit gives you the options you need to use your filter the way you want to. It has an easy on/off switch, so you can save your filter for when you need it. The unit itself can be turned a full 360°, so you can turn your sink into a drinking fountain and skip dirtying a glass if you just need a quick drink.
Learn More and Buy Now at Amazon
---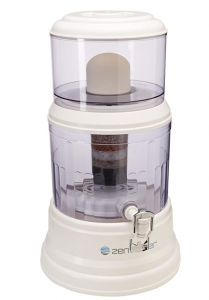 Quick Look: 5-stage filtration with two additional post-filtration mineral filters. Comes in two sizes. Gravity filtration, no electricity required.
Check Price at Amazon
The Zen Water Systems countertop filtration system gives you the ability to filter large quantities of water without the use of electricity. Using a ceramic filter and a 5-stage mineral filter, this unit will provide clean, mineralized water that is free of bacteria and other contaminants. The mineral filter will last up to 6 months, where the ceramic filter will last up to 12 months.
This unit is easy to assemble and even easier to use. The interesting design makes it a fun and helpful addition to your kitchen. It comes in two sizes, 4 gallons or 6 gallons, so you can have all the clean water you need. Since this unit requires no plumbing or electricity, you can even take it with you when you go camping.
The mineral filtration system on this unit helps to neutralize acids and create the perfect pH balance for healthy water. Many water filters remove micro-nutrients along with the unwanted contaminants. This unit uses mineral sand and stones to add those healthy minerals back into your water so you can maintain healthy hydration.
Learn More and Buy Now at Amazon
---
How We Chose The Best Water Filters
Having clean water is important, no matter where you are, so in our search for the best water filters we focused on finding options that could be used without costly installation. There were a few simple specifications that we looked for in order to choose quality products that anyone could use. These specifications include quality filtration, quality materials, and ease of use.
Quality Filtration
As you can probably guess, the most important element to look for in any water filter is quality filtration. We looked for filters that remove all the contaminants found in common tap water such as chlorine and lead. We also looked for filters that could go beyond that, such as those that filter out bacteria and TDS. We chose a variety of filtration systems so that you can match the product to your needs.
Quality Materials
Anytime you invest in a product that you are going to use every day, it is important to know that that product will last. That is why we looked for water filters that not only offered quality filtration but would last through longterm use. Depending on your water usage, some of these filters will last 6 to 12 months, meaning that you will not have to spend a lot of time and money replacing filters.
Ease of Use
The best thing about installation-free water filtration is that it is easy from beginning to end. You do not have to hire a plumber to install anything or worry about complicated filter changes. All of our picks offer simple, straightforward set-up and operation. Filter changes require no special skills and are done in just a few minutes. These are units that provide clean, contaminant-free water with hardly any effort on your part. You can't get much simpler than that.
What You Need To Know About Water Filters
When you look into purchasing a water filter, you should begin by understanding the types of filters available, so let's start with filters then we will move on to discussing the different styles of filtration systems.
Filters
There are three main types of filtration commonly used in the types of water filtration systems we're talking about in this article: activated carbon, ceramic, and reverse osmosis.
Activated Carbon: Carbon filters are made from a porous organic material that has a slight positive charge. These filters attract organic particles, removing them from the water. Basic carbon filters remove larger particles and chlorine, improving the taste and smell of the water. Other carbon filters are designed to remove even more contaminants, so it is important to read the specifications of the filter to see exactly what it is meant to remove.
Ceramic: Ceramic filters perforated with millions of tiny holes that allow water to filter through while blocking contaminants such as bacteria and heavy metal particles. These filters will not filter out chemicals though, which is why they are usually used in addition to other types of filters. The benefit of a ceramic filter is that they can often be washed and reused, making them last much longer than other filters.
Reverse Osmosis: Reverse osmosis uses a semi-permeable membrane to filter out any molecules that are larger than a water molecule. This is a very effective form of filtration, except it does not filter out chlorine and some organic substances. That is why reverse osmosis is often combined with an activated carbon filter so create a full filtration system.
As you may have noticed, most of our picks use at least two of these types of filtration to provide truly pure water. You may also find filtration systems that use distillation for filtration as well as UV purification, although none of the picks on this list use these types of filtration.
Styles
The main styles of water filters that require little to no installation are pitcher, faucet attachments, gravity-fed, and pump-fed water filters.
Pitchers: Pitchers use a dual-reservoir system in which you add water to the upper reservoir and gravity forces the water through a filter and into the lower reservoir where you can then pour it out like you would a normal pitcher. These filtration systems usually use a simple activated carbon filter, making them a good choice for those who do not need extreme filtration but still want cleaner tasting water. Pitchers are also convenient because they can be kept in the fridge, meaning that you can have cold clean water at any time.
Faucet Mounted: Faucet mounted units are more convenient for those who want filtered water for cooking and cleaning as well as drinking. Some of these units combine a ceramic or metal filter with a carbon filter to offer more effective filtration. These units simply attach to your faucet and use your home's water pressure to force the water through the filters.
Gravity: Gravity-fed systems work similarly to the pitcher units only on a larger scale with more filtration options. Instead of measuring water capacity in cups, these units can often filter gallons at a time. They usually use a combination of ceramic and activated carbon filters to remove common contaminants. Since these units rely on gravity to get the water through the filter, they can take a long time to process larger amounts of water.
Pump-fed: Pump-fed units are more expensive, but they are also faster and offer more filtration options. The use of a pump means that these units can use reverse osmosis along with activated carbon to remove 99% of contaminants, offering the best filtration.
How to Choose The Best Water Filter for You
Okay, now that you know all about the filters and system styles available to you, let's talk about the process required for finding the best unit for you.
Know Your Water
As you can probably guess, the first thing you need to know is what types of contaminants you need to filter out of your water. If you use a municipal water supply, chances are your water has already been tested and you can find the results on the EPA's website. If you want to have the water in your home tested separately, you can use the EPA's website to find a lab near you that can test your water and provide you with all the details you need.
Set Your Budget
Water filtration systems can cost anything from $20 to $500, so it is important to set your budget from the beginning. Since there are thousands of options to choose from, each one promising clean delicious water, setting a budget can help you to narrow your search to a reasonable number of options.
Remember to factor in the cost of replacement filters. Some companies will offer their units for a low cost, only to charge exorbitant amounts for replacement filters. Some are so expensive that it is cheaper to simply buy a new unit. Do not let the cost of maintenance sneak up on you, know the cost of the replacement filters before choosing your unit.
Choose A Style
Once you know the level of filtration you need as well as the price range you want to stick with, it is time to choose a style. As we mentioned, each style has its benefits, so it is important to choose the one that best fits your needs. If you just want to filter your drinking water then a pitcher style may be your best choice. If you want to filter all the water coming into your kitchen, then a faucet-mounted unit could be what you need. Maybe you need something bigger, like a gravity or pump-fed unit. The best thing to do is consider how much water you will need and how you want to use it, knowing this should make your decision pretty simple.
Bottom Line
Drinking plenty of water is a vital part of maintaining a healthy lifestyle and it is much easier to increase your water intake if you have easy access to delicious clean water. Even if you don't have the ability to install a water purification system, you can still have quality contaminant-free water by using a simple water filtration system. Water filters come in many different forms and styles, so you are sure to find an option that fits your lifestyle.
It's hard to go wrong with any of our top water filter options, but we recommend Rkin AlcaPure Countertop for its ease of use and quality filtration. Compare all of your options before making a final decision, though, to make sure that you're choosing the right model for your circumstances
Top 5 Best Water Filters of 2021