Flying a flag in your front yard is a wonderful way to show your patriotism, but did you know that there are certain rules you should follow when flying the flag? One of the most important rules in the U.S. Flag Code that you should know is that the flag should never be displayed in the dark. This means that you either have to take it down every night and replace it every morning or you have to install a flagpole light.
Flagpole lights are exactly what they sound like, fixtures specifically designed to provide lighting for your flag display. You can have traditional lights installed, but that involves running new wiring and using extra electricity every day. A much better option is to choose a solar flagpole light. These lights are easy to install and require nothing but the power of the sun to keep your flag display properly illuminated. Take a look at our list of the best solar flagpole lights of 2021, then keep reading for some helpful tips about how to choose the best solar flagpole light for you.
Our team has also reviewed the best solar flood lights if you are looking for other solar light options.
Top 2 Best Solar Flagpole Lights of 2021
---
Reviews of the Best Solar Flagpole Lights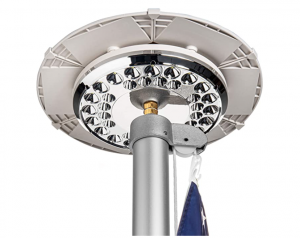 Quick Look: 36 LEDs with 6 solar panels. Mounts on the top of the flagpole. Fits most flag poles. Automatic light adjustments. Wider and brighter than most similar models.
Check Price at Amazon
You will never have to wonder if your flag display has enough light with the Deneve Solar Flagpole Light. With 36 LED lights set into a bright silver reflective fixture, it will provide all the light you need. Since the light shines out in a circle around the flagpole, your flag will be lit no matter which way the wind is blowing.
The unique daisy design makes the solar panels more compact and secure for shipping, but also provides easy assembly. Simply turn the panels into place and connect them using the provided clips. Once the panels are secure, just slip the light fixture onto the top of your flagpole and secure it with your flagpole ornament. This model will fit any flagpole with a 0.5" ornament spindle.
This model also boasts a three-day battery life. Once the battery is fully charged it will keep the lights going for three days without sunshine, making this a great choice for those who live in areas with fewer sunny days.
Learn More and Buy Now at Amazon
---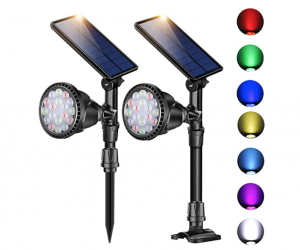 Quick Look: 36 LEDs. One solar panel and two adjustable light heads. Multiple mounting options and light settings. Lithium-ion battery with 8 to 10-hour battery life.
Check Price at Amazon
This ultra user-friendly light is a great option for those who can't or do not wish to attach their flagpole light to the flagpole itself. The Roshwey Solar Spot Lights can be mounted using the included stakes or brackets depending on whether you want them in the yard or on a wall.
This fixture comes with two light heads that each contain 18 bright white LEDs. Both the light heads and the high-efficiency solar panel are adjustable. It also comes with multiple light settings, making this unit a good choice for those who want to customize their flag display.
Roshwey designed these lights to be durable, able to withstand extreme weather conditions. They are water and dustproof and contain a powerful lithium-ion battery that will last 8 to 10 hours on a single charge.
Learn More and Buy Now at Amazon
---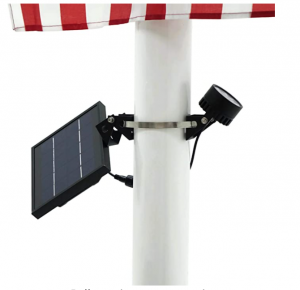 Quick Look: 6 magnified LEDs with one adjustable 3W solar panel. Pole mounted fixture with adjustable light. Weatherproof. Multiple light settings. Up to 15-hour battery life.
Check Price at Amazon
For those seeking a more simplistic option, take a look at the Solar Light Mart Solar Flagpole Light. This pole-mounted fixture takes only minutes to install and provides the perfect amount of light for a smaller flag display.
Both the 3W solar panel and the warm white LED light are adjustable, so you can position them to fit your situation. The light has three light settings, from dim to bright, allowing you to set the amount of light that best fits your display.
The included stainless steel ring will attach the light and solar panel to any flagpole with a diameter that is 2" to 5.5".
Learn More and Buy Now at Amazon
---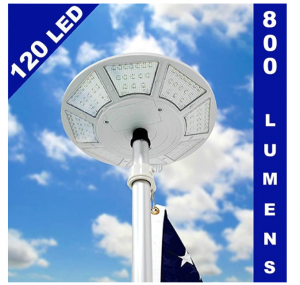 Quick Look: 120 LEDs with large circular solar panel. Offers 800 lumens. Mounts to the top of the Flagpole. Replaceable battery. Comes with AC adaptor and 6-month warranty.
Check Price at Amazon
The Telepole Manufacturing Inc. Solar Flagpole Light is an extra-large solar light that is the perfect choice for those who want to have a large flag display, but do not want to install multiple lights. This fixture comes with 120 bright LED lights that will be more than capable of keeping your flag well-lit throughout the night.
This unit comes ready to install and can be easily attached to the top of any flagpole that has a 0.5" ornament spindle. It comes with a large-capacity rechargeable battery that can last 10+ hours on a single charge.
If you live in an area where the weather will not always cooperate with your solar lights, this unit comes with an AC adaptor that you can use to charge the battery for prolonged gray days. The long-lasting lithium battery is also replaceable, so if it ever wears out, you can simply replace the battery instead of the whole light.
Learn More and Buy Now at Amazon
---
How We Chose The Best Solar Flagpole Lights
Choosing between so many great brands and models was a challenge, but we narrowed down the search by focusing on a few simple elements including illumination, battery power, and ease of use.
Illumination
Since the purpose of a flagpole light is to keep your flag well-lit all night long, we looked for lights that were bright enough to provide illumination on even the darkest night. We looked for high-powered LED lights in a variety of styles to fit every situation. We also looked for models with adjustable lights and multiple mounting options for those situations when you need something a little more customizable.
Battery Power
These lights need to stay on for long periods of time without sunlight, so we looked for models that had extended battery life. We also looked for models with batteries that were easy to replace so that if the battery wears out it can simply be replaced instead of having to replace the entire light fixture.
Ease of Use
Everyone knows that using solar power is great for the environment and even better for your wallet, but in the case of these solar flagpole lights, solar lights are great all around. These lights are easy to install and maintain. There is no extra time or wiring required, simply mount the light, turn it on, and let the sun do the rest. These long-lasting LED lights are designed to stay bright through years of daily use, meaning you can install them and forget about them.
What You Need To Know About Solar Flagpole Lights
Solar-powered flagpole lights work exactly the same way as all your other solar yard lights by converting the power of the sun into electricity to power the lights. For that reason, it is important to make sure you look for quality lights with durable solar panels. That being said, there are a few specific things that you should consider when choosing a flagpole light.
Power
Many solar yard lights are powered by a small rechargeable battery that charges during the day and then powers the light for a few hours at night. With flagpole lights, you need to look for something with a larger battery. Since the U.S. Flag Code requires the flag to be lit all night, you will need enough battery power to keep the lights on for 10 hours or more.
Some flagpole lights offer multiple light settings such as dem, medium, or bright. If you're looking at a light that has multiple settings, double-check the battery power to ensure that it is powerful enough to last all night at the setting you plan on using.
Style
There are three main types of flagpole lights: units that attach to the top of the pole, units that attach to the pole itself, and lights that can be mounted on the ground using stakes.
Top-mounted lights are usually circular and shine down on the flag. These lights are easy to install, simply slip it onto the pole before attaching the pole ornament at the top. The nice thing about these lights is that since they are on the top of the flagpole, they automatically have better access to sunlight. Having the light at the top of the flagpole also helps to evenly distribute the light over your display.
Pole mounted lights attach to the flagpole with a circular clamp and shine directly up at the flag. These units usually have the light on one side and the solar panel on the other. This style is convenient if your flagpole is a permanent fixture, making access to the top somewhat difficult.
Ground-mounted lights are mounted on stakes and can be installed anywhere around your flagpole with the lights shining up at the flag. The nice thing about this style is that they offer versatility. You can have one light or you could have ten depending on the amount of illumination you want.
Accessories
One important thing to note about flagpole lights is that most models only come with the light. It may seem a bit odd to mention this, but many advertisements and product descriptions show the lights the way they look on the flagpole or attached to the pole with a flagpole ornament, but the ornaments are usually separate. So, if you are installing a new flagpole, plan on purchasing all the accessories separately.
How to Choose The Best Solar Flagpole Light For You
Now that you know what to look for in a quality light, choosing the best solar flagpole light for you is very simple. There are only two elements that you need to consider, size and style.
Size
The size you need depends on your flagpole and flag size. For obvious reasons, a smaller unit with only 6 LEDs is not going to provide enough illumination for a 10' x 15' flag, but it would be perfectly sufficient for a 5' x 3' flag.
If you have an extra-large flag, you may want to consider using multiple lights to provide illumination from multiple angles. For example, some people choose to use a top-mounted light as well as ground-mounted lights. Not only will this keep the flag well-lit, but it also offers an attractive aesthetic.
Also keep in mind that the light should be able to illuminate the entire flag, no matter which way the wind is blowing. This means that if your flag is 5' long, your flagpole light needs to provide enough light to cover a 5' radius around your flagpole.
Style
The style that works best for you will depend on a couple of elements including how you want the flag display to look as well as how your flag is mounted.
Lighting from different angles can impact the look of your flag display, so if you're going for something a bit dramatic and eye-catching, you may want to try the double-lighted method mentioned above. If you want something more simplistic, then a top-mounted light should do the trick.
If your flagpole is already a permanent fixture and getting to the top is a challenge, then a pole-mounted or ground-mounted light will be a better choice. If you decide to have the lights shining up at the flag, just make sure you choose units that are powerful enough to shine light up to the height of the flag.
If you display your flag from a wall-mount flagpole, there are still many solar flagpole lights that will work for you. Many of the ground-mounted units come with brackets so that you can attach them to the wall near the flag for simple and effective lighting.
Bottom Line
Many people love to show their patriotic pride by flying a flag at their home or business. If you fly a flag, it is important to recognize and follow the proper flag displaying etiquette, which includes either removing the flag at sunset or keeping it illuminated all night. Thankfully, with the help of a solar flagpole light, you can display your flag properly and still use clean renewable energy.
You can't go wrong with any of our top picks for solar flagpole lights. However, we do recommend the Deneve Solar Flagpole Light for its battery power and illumination.
Top 4 Best Solar Flagpole Lights of 2021