The best solar flood lights are easy to install and provide clear, bright light.
The best solar floodlights are long-lasting, bright, and extremely easy to install. For most of these lights, all you'll need to do is put a screw or two in your wall. It's that easy.
Solar flood lights are self-contained and run off clean renewable energy. They don't need any additional wiring, so they're a great option if connecting to your home's wiring is simply too difficult or expensive. The exterior of your house, your driveway, or your shed are all perfect candidates for solar flood lights.
Installations don't get easier than with our top pick for Best Overall Solar Flood Light, the Licwshi 48 LED Solar Light. This all-in-one light is a little more powerful than a household light and incredibly simple to use. Customers love the easy installation and bright, clear light it provides.
Prices for solar flood lights range from just $5 or so for the cheapest options all the way up to $150 or more, though most fall around $30 to $50. Most solar flood lights provide about 800 to 1,500 lumens of brightness and include a motion sensor along with a couple different lighting settings. Some also include a remote control so you can change the settings without pulling out the step ladder.
We've chosen the five best solar lights on the market today. All of the options below enjoy excellent reviews and offer some special feature that make it stand out from the crowd, whether its durability, brightness, or value. If your yard or driveway is a bit too dark at night, solar flood lights are an easy, cost-effective fix.
5 Best Solar Flood Lights of 2019
We've chosen the five best solar flood lights on the market in 2019. There are dozens, maybe hundreds, of solar lights available, but you really can't go wrong with any of these lights.
Licwshi 48 LED Solar Light: Best Overall Solar Flood Light
Buy this if: You want a bright, simple LED that is easy to install and easy on the wallet
Specs: 900 lumens, remote control, fully integrated unit
Licwshi's 48 LED Solar Light is about as simple as it comes. It's a single unit that you bolt to the wall with two screws (included). It weighs just over a pound, so any wall can easily withstand the addition.
With the included remote control, you can turn the light on and off as well as change the lighting mode. The remote is RF as well, so it can work through walls, though some buyers reported it can be a bit finicky.
Licwshi says the light can illuminate 540 square feet, so it's strong enough for a driveway or small backyard. If you want to illuminate more than that, you'll either need to purchase a couple lights or move up to a stronger option, like the Westinghouse Solar Light below.
The light comes in warm white or white. Both the arm and the solar panel rotate, so you can pinpoint exactly your target area. Some buyers noted the extendable arm is long enough to extend the solar panel past the shadow of your gutters as well, a nice feature if you want to install the light on the side of your house.
The light's brightness is comparable to a standard indoor light bulb and so more than enough to light up a decent area. The battery is large enough to last all night, even with lots of foot traffic continually turning it on and off. This light also has more lighting options than the other lights on our list, including:
3 brightness settings (low, medium, and bright)
Low, then full brightness when motion is detected
Off, then full brightness when motion is detected
Dim, no motion detection
Manual, with full brightness for 30 minutes
The Licwshi 48 LED Solar Light is easy to install, has several useful modes to dial in your preferred setting. It is also well priced, making it our top pick for best overall solar flood light.
Check Price on Amazon
---
Westinghouse Solar Lights: Most Powerful Solar Flood Light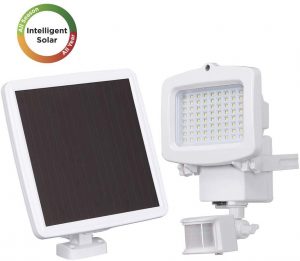 Buy this if: You want the brightest solar flood light available, or you want a separate solar panel and light fixture
Specs: 2000 lumens, 130 degree angle, separate solar panel and light
With 80 LEDs and 2,000 lumens, the Westinghouse Solar Lights are the brightest solar flood lights we've found. It's more than twice as bright as most lights on our list and can light up 700 square feet – the footprint of a small home. This light also has the most powerful motion sensor of any on our list and can detect movement from 39 feet away.
The fixture is made of cast aluminum, making it one of the most durable lights on our list as well. However, it's only rated at IPx4, so it's not as water resistant as many of the others, like the YQL Solar Street Light, our top pick for most durable solar spot light.
With such a powerful light, you'd think it would be more expensive than our other top picks, but you'd be wrong. The Westinghouse actually comes in on the lower side in terms of cost.
Unlike other lights in which the solar panel and light are integrated into a single unit, Westinghouse actually separates the two into separate parts, connected by a wire. This means you'll have to install two pieces of equipment instead of just one, but also allows you to install your light in a shady or dark area without interrupting its power supply, which you can't do with any of the others on our list.
The light doesn't have as many settings as many our other picks, only offering auto on for either 30, 60, or 120 seconds, but you can choose between a white or black finish.
With its high lumen count and durable aluminum body, the Westinghouse Solar Light is our top pick for the most powerful flood light available.
Check Price on Amazon
---
LITOM Original Solar Lights (2-Pack): Best Reviews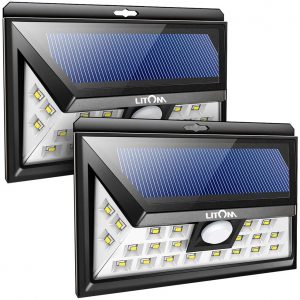 Buy this if: You want a basic, trustworthy, easy-to-install solar light
Specs: 2-Pack, 270 degree angle, 526 lumens
If you're looking for the best reviewed lights available, check out LITOM's Original Solar Lights. Customers rate these lights close to perfect, calling out their durability, brightness, and value. These lights have over 10,000 positive reviews online, so they're the most popular light on our entire list!
At 526 lumens, LITOM's solar lights aren't as bright as the other options. The Licwshi Lights above, our top choice for best overall solar flood light, come with 900 lumens, so they're about 70% brighter than the LITOMs. However, LITOM notes the lights can comfortably illuminate 150 square feet, so they're more than enough to light up your small driveway, deck, or parking area.
These lights also illuminate 270 degrees around the fixture, so it can easily 'flood' a space with light in all directions. The motion sensor can sense motion up to 36 feet away.
Like the similar Vivii lights below, installing the LITOM lights are super easy: all you need is a single screw to hang the fixture on. Unlike some of the other lights on our list, these don't come with a remote control, but do offer three different lighting modes:
Low light, with no change when motion is detected
Low light, then bright mode when motion is detected
Off, then bright mode when motion is detected
The lights are IP65 waterproof, so can handle rain and snow easily. With thousands of excellent reviews, the LITOM Original Solar Lights are perfect if you want a time-tested light that you don't have to worry about.
Check Price on Amazon
---
YQL 100W Outdoor LED Solar Street Light: Most Durable Solar Flood Light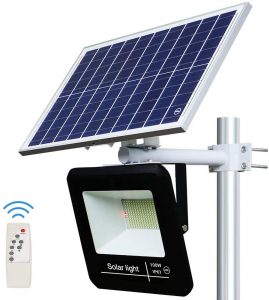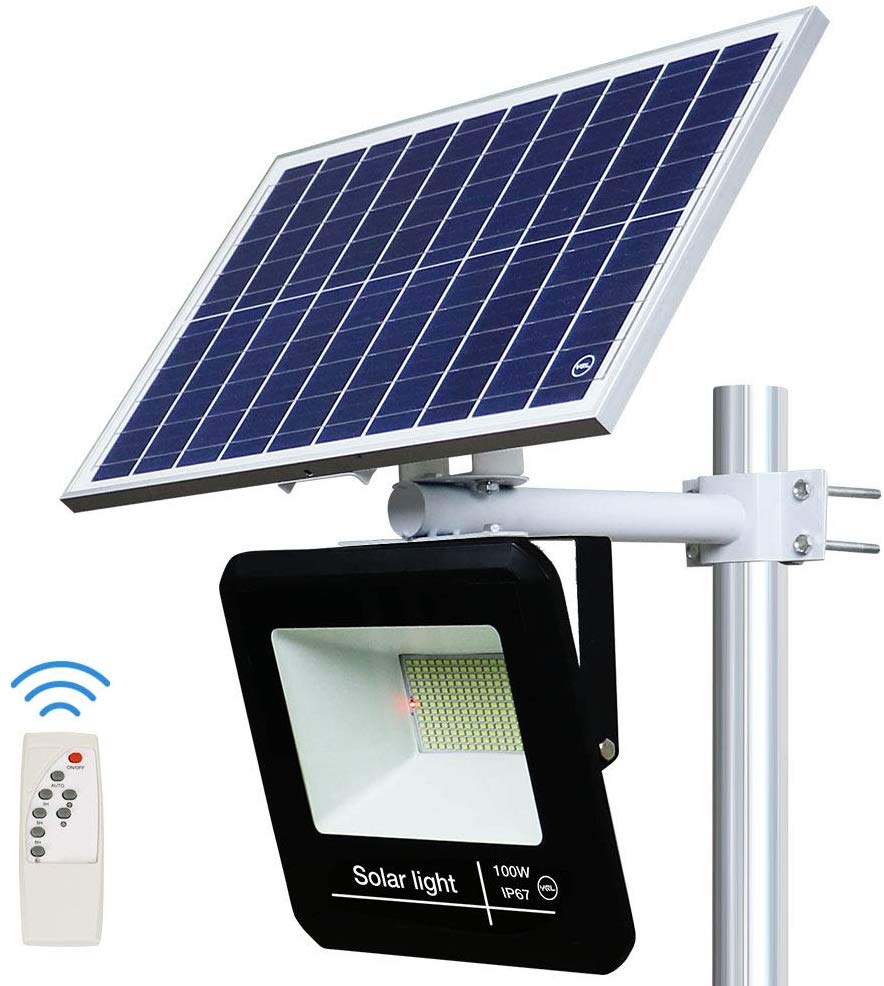 Buy this if: You want a long-lasting, durable street light
Specs: IP67 waterproof, 25 to 100 watt options, remote control, designed for pole attachment
If you're looking to light up your parking lot-sized driveway, the YQL LED Solar Street can handle it. Available in 25 to 100 watt options, the largest size can comfortably illuminate 1,800 to 5,000 square feet – making it the most powerful light on our list (though most expensive as well).
Like the Westinghouse above, the YQL light fixture features an aluminum body and the separate solar panel is wrapped in an aluminum frame and covered in tempered glass, so it's built like a tank. And with a rating of IP67, it's 100% waterproof – you can even safely submerge the fixture in water!
It's probably best to consider this option as simply a light attached to a solar panel, since that's exactly what it is. The monocrystalline panel looks strikingly similar to a small version of your home rooftop solar panels and connects to the light fixture via a 16.4 ft power cord. It's a more industrial, bare bones option than others on our list, but with that lack of styling comes serious durability.
It's not completely devoid of extra features though. It also comes with a remote control and several lighting modes.
Buyers have installed it on carports, in backyards, and even at welding shops, saying it provides a large amount of clear light, stays on for hours throughout the night, and includes a motion sensor that is quite sensitive. Overall, the YQL Outdoor LED Solar Street Light is an excellent option for those who are looking for the most durable, utilitarian light out there.
Check Price on Amazon
---
Vivii Solar Lights (4-Pack): Best Value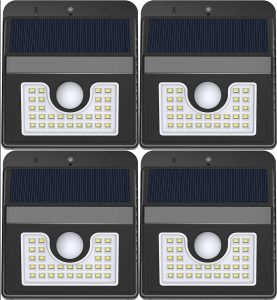 Buy this if: You want a budget option that still gets excellent reviews
Specs: 4-Pack, 80 lumens per fixture, extremely easy to install, value-priced
Vivii's Solar Lights are our top pick if you're looking for a budget-conscience solar flood light. Each light costs less than ten bucks in total, making it the cheapest option on our list by far. But even at this low price, these little lights are one of the best reviewed options on our list! Customers praise the light quality and brightness and report the fixtures are well built and durable.
At this price though, there are a few trade-offs. First, each fixture in this 4 pack produces 80 lumens of light, which is about 1/10 the brightness of the other lights on our list. However, buyers report they're actually quite bright and illuminate an area 25 to 30 feet from the fixture.
Along with the lower lumen count, these lights offer no lighting modes or remote control. If the motion sensor is tripped, the light will turn on for 20 seconds, then turn off afterwards. You can't change the brightness or length of time the light stays on.
On the flip side, because the lights aren't as bright as others, the Li-ion battery can last a full 12 hours at night, so this a good option for high-traffic areas. Buyers also note the motion sensor works well, picking up any movement within 25 feet. The light illuminates a 270 degree angle, so it also offers one of widest ranges on our list.
Like the LITOM lights above, these are extremely easy to install. If you can attach a single screw to the wall, you can mount these lights. The fixtures are IP65 waterproof, so they're safe to leave outside 24/7.
If you're looking to buy multiple lights without spending too much cash, the Vivii Solar Lights offer the best value on the market.
Check Price on Amazon
---
Everything You Need to Know About Solar Flood Lights
What's a lumen? What does IP56 mean? Let's take a look at factors to consider when purchasing a solar light.
Solar Lights Need Full Sun
Solar lights typically need about 5 to 7 hours of sunlight to fully charge the battery each day. You want to install your solar light in a sunny area that is unobstructed by trees, shrubs, houses, or anything else that can shade the solar panel.
If the area you want to illuminate is shady most of the day, consider purchasing a solar light with a separate solar panel, like the YQL Solar Street Light above. These lights allow you to install the panel in full sun, but then run the wire and light fixture to another area. It's a little more work, but a great option if you want to light up the north side of your home.
If your solar light doesn't seem to last very long at night, it might mean your solar panel isn't receiving enough light. Make sure your solar panel is receiving full sunlight in the morning, noon, and afternoon. If not, you might want to consider moving it somewhere else.
What Are Lumens and Wattage?
Manufacturers use both lumens and wattage to denote the brightness of the their lights. Wattage is probably what we're all most familiar with, but it actually only denotes a light's energy usage. It's not very helpful, as more efficient lights (like LEDs) can produce the same amount of brightness as less-efficient lights like incandescents, even with much less wattage! Just consider that a 9 watt LED produces the same brightness as a 60-watt incandescent.
Instead of focusing on wattage, focus instead on lumens. Lumens is the actual brightness of a light. A standard indoor lightbulb is 800 lumens, while bright security lights typically fall around 1,000 lumens or higher. Headlamps and flashlights come in at 200 lumens or less.
Most manufacturers will also note the square footage each light can illuminate. If you've already chosen a solar light, take a minute to walk around your driveway or yard to get a rough size measurement. If your light isn't strong enough, consider buying a couple or moving up in lumen count.
What are IP Ratings?
IP ratings measure the waterproofness and dustproofness of the light fixtures. You'll notice that each rating contains two numbers, like "IP67". The first number denotes the dustproofness, measured between 0 and 6. The second number denotes the waterproofness and is measured between 0 and 9.An 'x' means it has not been tested. A light rated IPx4, for example, is not rated for dustproofness, but is moderately water resistant.
If you live in a very rainy or stormy area, you'll probably want to go for a waterproofness rating of at least IPx6, which can withstand high pressure jets.
Flood Lights vs Security Lights vs Spot Lights
On Amazon, you'll see dozens of solar flood lights, solar security lights, and solar spot lights. What's the difference?
Floodlights 'flood' the area with light, often providing up to 270 degrees of lighting. These are useful for lighting up your driveway when you come home late at night or take out the trash at the last minute. Many manufacturers use the term flood light and security light interchangeably.
Spot lights however, provide a narrow beam of light that pinpoints a specific area. These lights usually light up about 25 degrees or less of range and are perfect for lighting up an accent tree or the front of your house.
Solar Flood Lights
Solar Flood lights are a quick, easy fix when you need to light up an area that doesn't have electricity nearby. They're the perfect option for driveways, yards, sheds, or patios. And with most falling between $20 and $40, they're cost effective too.
Our top pick for best overall solar flood light, the Licwshi 48 LED Solar Light, offers all those benefits, and comes with a remote control and multiple settings to dial in your lighting preferences. But any of our top picks should provide you with years of use:
And beyond the ease of installation and low cost, solar flood lights also run on clean solar energy, so you're helping keep your local environment clean as well – that's a win-win!