Two and a half years ago, the Army began a process aimed at delivering it six net zero pilot installation, part of a wider U.S. military initiative to make its outposts and operations more energy secure. Now one of the most high-profile of those targeted installations – the U.S. Military Academy – has a draft plan for public consideration.
The U.S. Army Garrison West Point already has a 10-kilowatt wind turbine, one 45-kW rooftop solar array and another PV installations that can produce 200 kW. But the Army says it will need a lot more to become net zero at West Point – more production and more conservation and efficiency.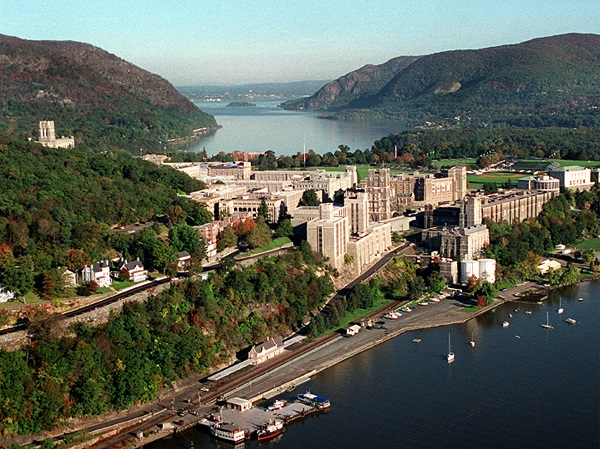 "As an Installation, USAG West Point currently derives less than 0.02 percent of its energy from
renewable sources, with most, if not all of that amount from on-site energy production sources," the net zero plan states. "In addition, USAG West Point is far from achieving optimal energy performance from its facilities, which must be retro-fitted and enhanced to reduce energy consumption."
So what sorts of things is the Army looking to do? Here are some of the possibilities:
The construction and operation of ground-source heat pumps (GSHPs) to provide heating and cooling to on-post buildings.
More solar – the plan envisions as much as 3 megawatts of PV, which could go on rooftops or the ground (a closed municipal solid waste landfill is a possibility for 1 MW) or a combination of the two.
Use of solar hot water collectors on buildings with hot water tanks – which is good to see, as this is a too-often ignored technology.
Use of solar thermal for space heating, using transpired collectors on south-facing walls.
Use of river water cooling technology. ("For USAG West Point, the water body to be utilized would be the Hudson River. The cold water would be pulled in from the river, run through flat-plate heat exchangers, and returned to the river at a slightly elevated temperature. The Installation's chilled water loop would pass through the heat exchangers, reject the heat contained in the water to the river water loop, and return to the Installation as chilled water that could be used to cool buildings."
A new combined heat and power plant, or plants – a 3-megawatt CHP plant fired by natural gas is one option.
Construction and operation of a natural-gas central chiller plant that would provide more efficient cooling by consolidating cooling production into a central location.
Construction and operation of combined heating, cooling, and power plants. This is a lot like CHP, but adds a district cooling plant that uses the waste heat from the CHP plant.