The building-efficiency focus often gets put on office buildings. Hey, it makes sense: This green push comes with lots of dazzling design work that's fun to look at.
But less-sexy industrial plants also represent an opportunity to reap energy savings, and the Obama administration is highlighting progress done by Alcoa – in particular at an aluminum recycling plant it opened this year in Ohio – as part of a program called the Better Plants Program, an offshoot of the Better Buildings Challenge.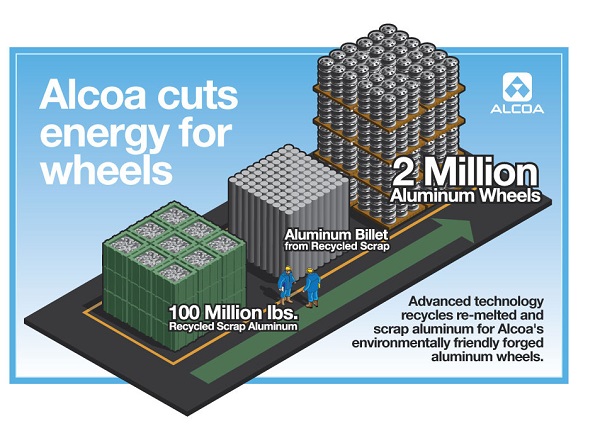 According to the U.S. Department of Energy, Alcoa has committed to trimming its energy intensity – that's the amount of energy used per unit of output – at 29 plants by 25 percent by 2020 from a 2005 baseline.
One big step Alcoa took to get there: A new 50,000-square-foot aluminum melting and recycling plant in Barberton, Ohio. The plant take scraps from wheels forged in Cleveland and finished in an adjacent Barberton facility and converts "them back into aluminum billets – large cylinders of aluminum, which are subsequently processed into intermediate or final products," according to the DOE.
Alcoa says the plant can help it turn 100 million pounds of recycled scrap aluminum into 2 million new Alcoa forged aluminum wheels With temperatures over 1,100 F needed, the recycling plant in Barberton employs 30 people in shifts that run 24/7 in order to avoid inefficient up and down cycling.
"As part of the Better Plants Challenge, Alcoa set a goal in 2011 to reduce the energy intensity of 29 of our plants by 25 percent by 2020 and we're already nearly halfway there, having improved our energy performance by about 12 percent," Kevin McKnight, chief sustainability officer and vice president of EHS at Alcoa said in a statement. "Our partnership with DOE complements our existing sustainability work and provides additional tools to continue to increase our energy savings."
According to the DOE, organizations participating in the Better Plants Challenge "receive technical assistance from the Department and share best practices on industrial energy efficiency with other Challenge partners." The DOE said 120 manufacturers operating 1,750 plants are participating in the program.