The old firehouse in the Finger Lakes village of Skaneateles, N.Y., vacant and apparently headed for demolition, has new life. Spectacular new life.
After much work, the building was unveiled this month as Skaneateles Village Hall, the first municipal net-zero energy building in the state of New York. That's right: It took a tiny village (population 2,450) to do net-zero at the municipal level in New York.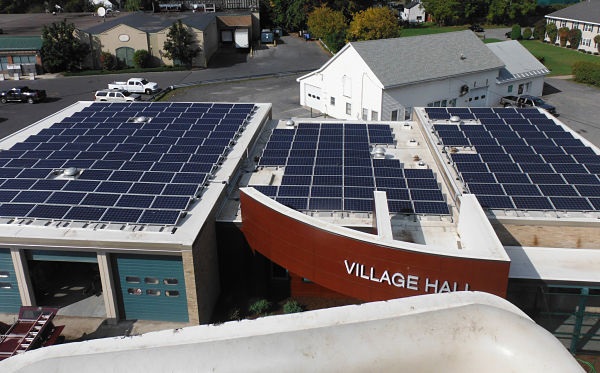 This is a project that cost $1.5 million, no small chunk of change, but Skaneateles sold off its old village hall for more than $800,000, and also won a $546,000 state grant for the project.
Plus, the new building will apparently be way cheaper to operate: For one thing, it will use 62,000 kilowatt-hours less electricity every year, thanks in part to a 54-kilowatt solar power system on the roof. And, according to the HVAC contractor TAG Home Performance, "vertical inverter water source heat pumps provide heating and cooling of the facility as part of a geothermal system."
A complete building envelope renovation, increased insulation, energy efficient windows and LED lighting were also cited as contributing to the building's net-zero status.
"This project makes economic sense," Senator John A. DeFrancisco said in a statement. "It will allow the Village of Skaneateles to significantly reduce its overall operating costs, while serving as a model of environmental stewardship."
The state grant came from a the New York State Energy Research and Development Authority (NYSERDA) through Governor Andrew M. Cuomo's Regional Economic Development initiative.