As one of the country's oldest nature-based day camps, the Kalamazoo Nature Center has introduced a lot of kids to the joys of being outside. As attendance has grown over the years, however, it became obvious that the camp's facilities needed a makeover and expansion in order to function in a safe and effective manner.
They could have just drawn up plans for a new building and plunked it down in the middle of the property, but in their quest to show respect for nature in every aspect of camp operations, the Kalamazoo Nature Center decided to recycle instead. The focal point of the $1.1 million makeover is the rehabilitation, adaptive re-use and expansion of a 5,000-square-foot timber-framed barn, formerly housing farm animals and now serving as the program center for the Nature Camp.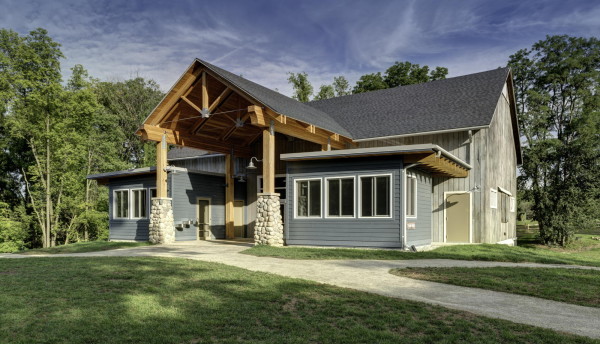 Before the makeover, campers had spent most of their time in a renovated residence that was adjacent to a noisy roadway. Ever had 30 kids over to your house at once? Yeah, that's about what it was like when the boisterous campers all gathered under that roof.
"Rehabilitating the existing barn structure, located in the heart of the 1,100-acre nature center, allowed us to experience cost savings by reusing an available existing structure located where campers would be immersed in nature," said Jim Nicolow, a principal and the director of sustainability at architecture and planning firm Lord, Aeck & Sargent, which led the design Nature Center's design effort.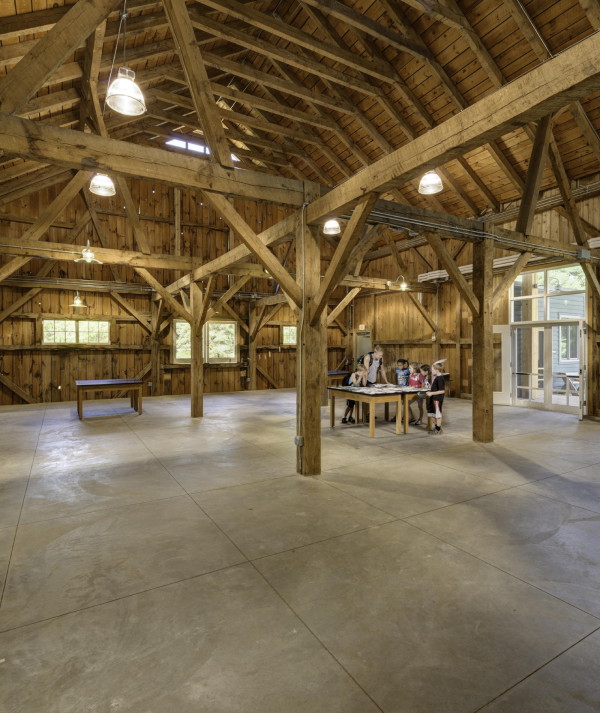 To further educate and inspire campers about living in harmony with nature, the re-design incorporates a host of green products and strategies, including natural cross-ventilation, daylighting, radiant heating and the use of local and recycled materials.
The new addition is clad in composite siding made from a durable recycled wood and cement matrix, and the base of the supporting columns making the front entry is clad in local river rock, reinforcing its connection to the local surroundings.
The barn is now called the Timber-Frame Barn and houses the camp administrative office, catering kitchen, meeting and storage spaces, restrooms and an art studio/ecology lab to allow campers, ages 3-18, hands-on nature study experiences.