For just a moment, however, let's forget how far behind America has fallen when it comes to the adoption of renewable energy technologies. Instead, let's focus on the fact that city governments have picked up the Fed's dropped ball and are championing change in some of the country's biggest urban areas.
Not convinced? Take a look at the 2013 City Energy Efficiency Scorecard released this week by the American Council for an Energy-Efficient Economy (ACEEE). The report catalogs, the efforts of America's most populous on policies to advance energy efficiency. In addition to saving money, the rankings show that cities which are pro-active about energy-efficiency enjoy a healthier environment and growing economy.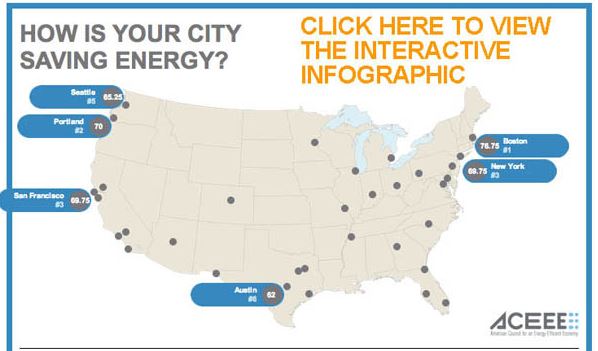 "The report is the first to rank cities exclusively on energy efficiency efforts," explains a press release. "Cities are evaluated on what actions they are taking to reduce energy use in five key areas: buildings; transportation; energy and water utility efforts; local government operations; and community-wide initiatives."
In all, 34 cities were assessed in the report, but here's a peek at the top 10 with their respective scores (out of 100):
Boston (76.75)
Portland (70)
New York (69.75)
San Francisco (69.75)
Seattle (65.25)
Austin (62)
Washington, D.C. (56)
Minneapolis (55.25)
Chicago (54.75)
Philadelphia (54.5)
Although Boston took the top spot, they weren't necessarily the clear and away leader in all categories. "Portland scored highest in transportation and local government operations. Seattle ranked first in building policies. San Francisco tied with Boston for first in utility public benefits programs, and Austin is the city furthest ahead of its state on energy efficiency policy," states the release.
Also, only 11 cities scored more than half of the possible points (Denver was 11th), which indicates that there is plenty of room for improvement across the board.
"Our report shows that cities are laboratories of innovation for energy-saving solutions that directly benefit people where they live, work and play," said Eric Mackres, ACEEE's local policy manager and the report's lead author. "Local governments have great influence over energy use in their communities and many have initiatives that result in significant energy and cost savings."