A return to local agriculture and artisan foods is vital to reinvigorating local economies through thriving small business. When people know their farmers, they eat better food and develop a deeper understanding of the time, effort, and resources needed to produce it. When people eat local food, they also begin to understand just how important protecting the environment is to a healthy life.
These idealistic concepts are brought down to Earth by the Healdsburg SHED project. Founded by Cindy Daniel and Doug Lipton, both local food producers, the SHED is a place where the community can celebrate and nurture the connection between good farming, good cooking and good eating. Part cafe, farmers market, and community learning space, the SHED building was designed by San Francisco-based studio Jensen Architects to be versatile, efficient, and quick to assemble.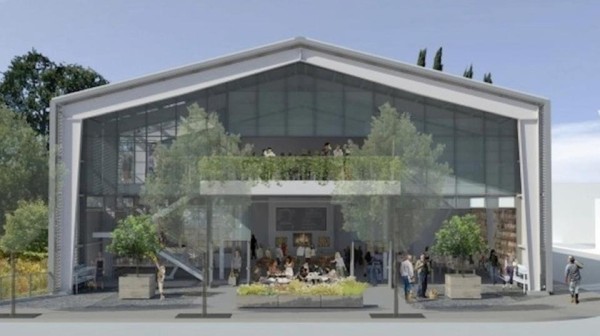 For the SHED, Jensen Architects chose to draw their inspiration from a traditional barn design. Large and open, it has plenty of room to divide into smaller, customized spaces.
"SHED's architecture is authentic and honest, resonating with Healdsburg's past while also engaging in its present-day culture," write the architects. "With the help of the region's many environmentally-minded manufacturers, consultants, and artisans, the building and grounds share SHED's embrace of community, sustainability, and place."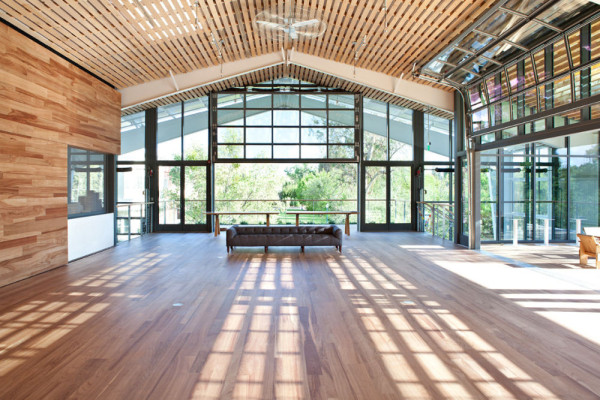 Using mostly locally-sourced, recycled materials, Jensen was able to create a contemporary take on the traditional 'grange' building, complete with open kitchen, coffee and fermentation bar, and both a communal table and quieter seating area where visitors can enjoy their purchases in-house. Upstairs, the floor is almost completely open, leaving a flexible space for workshops, talks, exhibitions, films and private events.
" The [pre-engineered] metal panels that make up the walls and roof of the form are insulated with a core of impervious, closed-cell polyisocyanurate foam and sport a Zincalume exterior finish and painted white interiors," explain the architects. "Photovoltaic panels on the building's roof provide 1/3 of its energy demands while 9 roll-up doors employ natural ventilation systems to cool the interior volumes without relying on artificial techniques."
The entire structure was assembled in just five weeks.