Eyes bigger than your stomach? Not loving the entree you ordered? Typically, restaurant workers simply scrape that perfectly edible food into the trash can. In Massachusetts, government officials have proposed a new law that could require that food waste be diverted to fulfill an eco-friendlier destiny.
Last week, Gov. Deval Patrick's administration announced a proposal to outlaw disposal of commercial food waste starting July 1, 2014. If passed, the law would require any entity that disposes of at least 1 ton of organic waste per week to donate or repurpose the food. Officials say the food waste ban would help Massachusetts reach its goals to reduce the waste stream by 30 percent by 2020 and 80 percent by 2050.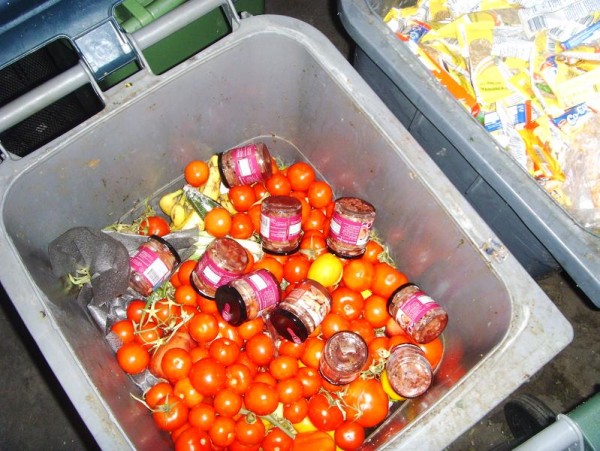 Food waste and organics make up 20-25 percent of the current waste stream going to landfills and incinerators in Massachusetts. To combat this unnecessary disposal, the State has proposed a law that would require large restaurants, hotels, hospitals, and universities (among others) to donate or re-purpose the useable food. That which can't be donated or composted would be shipped to an anaerobic digestion facility, a composting operation or an animal-feed operation.
It's no surprise then that the State also proposed several million dollars in new funding for private companies interested in anaerobic digestion, the process whereby organic wastes can be transformed into renewable energy.
"To harness the energy in organic waste, the Patrick Administration has made $3 million in low-interest loans available to private companies building AD facilities. The low-interest loans will be administered by BCD Capital through MassDEP's Recycling Loan Fund, with monies provided by the Department of Energy Resources (DOER)," reads a press release. "DOER is also making $1 million available in grants for anaerobic digestion to public entities through MassDEP's Sustainable Materials Recovery Grant Program."
"Many grocery stores and environmentally conscious businesses across the state currently divert their food waste, saving money in the process," said MassDEP Commissioner Kenneth Kimmell in the same release. "Diverting food waste to AD facilities creates value by reducing the waste stream, tapping into the energy within food wastes, reducing greenhouse gases, and producing a byproduct that can be resold as fertilizer or animal bedding."