Voting members of the U.S. Green Building Council's Leadership and Environmental Design (LEED) Certification program recently met to decide what changes would be made to LEED Version 4, which officially launches in November.
Most notably, the members voted overwhemingly in favor of upgrading LEED V4 to include the Cradle to Cradle Certified Program, a materials and design philosophy advanced for 25 years by American architect William McDonough and German chemist Michael Braungart. USGBC feels that inclusion of the groundbreaking program will help to solidify its mission to build healthier buildings with greener materials.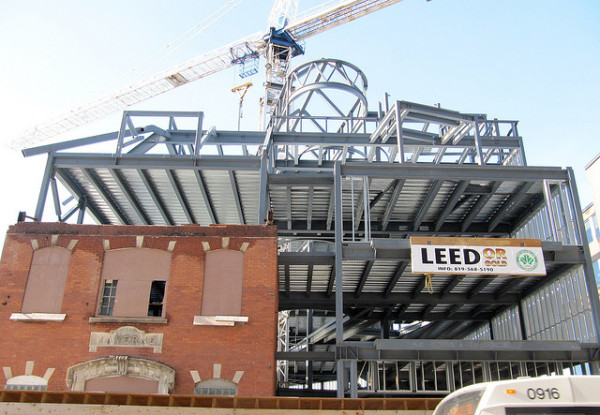 The Cradle to Cradle Certified Program was created by McDonough and Braungart in 2005 as a way for building companies and design organizations to improve their performance across five categories: material health, material reutilization, renewable energy use, water stewardship and social fairness.
Interestingly, all five of those categories closely resemble goals of the USGBC, as well as criteria for LEED certification. "My firm was a charter member of the U.S. Green Building Council, and I have been supportive since LEED's inception," stated McDonough in a press release. "Many of McDonough's pioneering architectural projects predate LEED, including the Adam Joseph Lewis Center at Oberlin College—a building that harvests more energy than it uses, cleanses its own water, and even produces food," the release continues.
As a result of the collaboration, LEED V4 will now offer Materials and Resources Credits for building product disclosure and optimization and purchasing. Buildings using a minimum of 20 different products that have been Cradle to Cradle Certified at or above the Basic level (V2) or the Bronze level (V3) can earn one point.
An additional point is awarded for the use of optimized products that are Cradle to Cradle Certified at or above the Gold level (V2) or the Silver level (V3) and equal a value of at least 25 percent by cost of permanently installed products.
Since 2007, buildings have been awarded Innovation in Design Credits for the use of Cradle to Cradle Certified Products that total at least 2.5 percent of the cost value of all permanently installed building products.