One of the key ways to help working people in developing nations rise out of poverty is to provide access to affordable housing with a true sense of permanence. Few materials convey this permanence better than reinforced concrete.
A South African firm called Moladi has developed a low-cost construction method that can build a one-story home at minimal cost, using mostly local materials and unskilled labor, sometimes in as little as a single day. Under the award-winning Moladi system, interlocking modular casting forms are used to mold monolithic walls made of a lightweight, stone-free concrete mixture.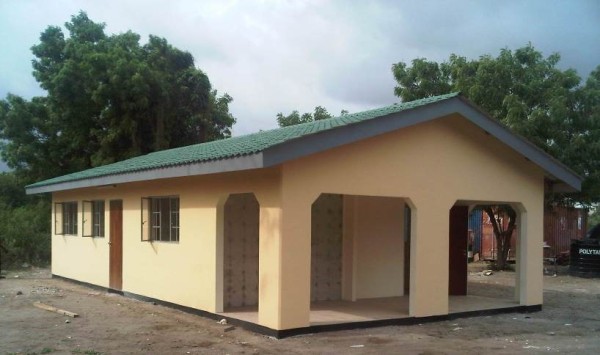 The formwork panels of the Moladi system can be reused up to 50 times, which enables communities to build entire neighborhoods quickly and cost-effectively. Because the molds are modular and easy to use, they don't require a lot of instruction. At the end of their useful lives, the molds are also fully recyclable.
The injection-molded concrete slurry includes a chemical additive that speeds up the curing process, allowing work crews to remove the forms quickly and use them to build another house. The material is certified by the South African Bureau of Standards as an approved lightweight aerated mortar, under Agrément Certificate 94/231. The reinforcing steel that is inserted into these high-quality concrete walls helps the homes stand up well to strong storm winds and earthquakes, Moladi says.

The full-scale molds of the Moladi houses come designed with access for plumbing and electrical systems, and are cast in situ to help reduce construction waste.  The monolithic process also eliminates the need for the chasing, beam filling and plastering that is required in a traditional brick structure, Moladi says.
According to Moladi, the system addresses the six greatest challenges that are faced by low-cost housing projects: Lack of sufficient funds, the shortage of skilled labor, lack of resources, poor work flow control, time constraints and construction waste.