Sometimes building green houses seems to be a purely First World Problem. Housing, however, is a huge problem for the world's poor. A number of architects do spend time drawing up designs for very low-cost small houses—and thinking up clever names for them. We recently covered the iShack and Hut-to-Hut concepts, which are design frameworks offered to slum DIY builders.
The Abod and the Habihut are panelized prefab designs that have now been put up in numbers qualifying as small villages. They favor a business model of getting non-profit charities to raise the money for multiple houses for a particular charitable destination, and shipping them there from factories in the US heartland.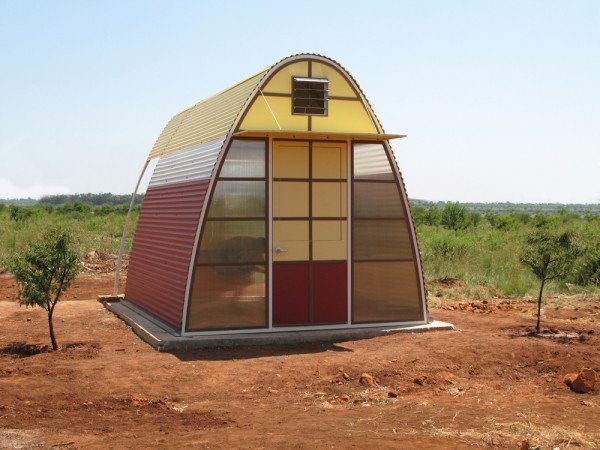 Ten Abod Shelters (pronounced abode) were installed on a Blessman Ministries campus for single mothers and numerous children in Makopane, South Africa.
Produced in Bondurant, Iowa, Abods are catenary-arched roofs of corrugated metal installed on rectangular concrete slabs or recycled rubber mats. Light streams in through translucent plastic corrugated panels that fit in place a a few of the metals ones. Modular end walls rigidify the shape, which is identical from one Abod to the next; but a wide variety of interior options have been worked out, as well as double-long and triple installations. All are tall enough to accommodate a cozy sleeping loft for the children. Quarter-twist fasteners hold them together, and can easily be undone so the shelter can be packed up and moved.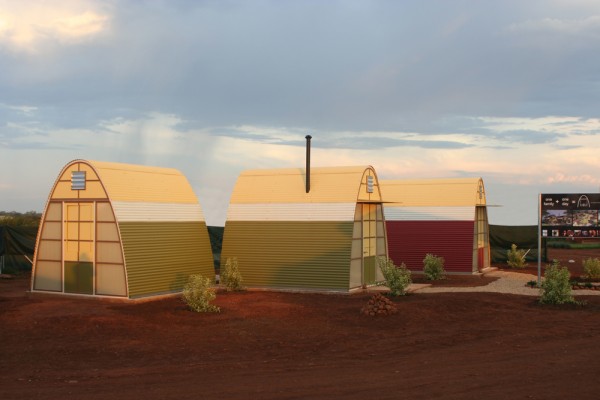 A 120-square-foot Abod costs $4,900, or $3,500 in orders of 50 or more.
Fascinating geometric exercises from Bozeman, Montana, called Habihuts, have been shipped to Kenya and to Haiti. The Habihut website features a "Village In a Box" including Habihuts as water kiosks, a battery-charging solar kiosk, and several outhouses.
The floor plan is a perfect hexagon while the roof is three squares at right angles to each other. Figure it out if you can. It's a strong shape, and facilitates combining units as modules in larger buildings, beehive style. The translucent polypropylene walls and roofs come in 14 stock colors. The company takes great pride in their strength and durability, beating on them with baseball bats in their video and warrantying them for the first 5 years of their stated life expectancy of 10 to 15 years.
A 118-square-foot Habihut costs $2,500, or $1,995 in orders of 20 or 40. I have not found full spec sheets for either of these products, but I see that Abod photos show built-in features, and Habihut photos do not—possibly explaining much of the price difference. Both take less than a day to assemble or disassemble.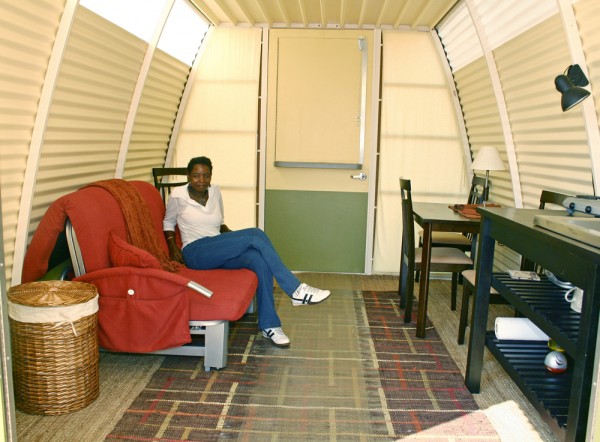 For perspective, consider that in 2011, Jovoto and Ingersoll-Rand sponsored a contest for global slum house designs buildable for $300. On that kind of budget, designers favored small rectangles with single shed roofs, site-built from locally available materials—basically, the shanty most slum dwellers have been building for decades, but with improvements. The winner was not a floor plan but a grand schema exploring how this basic sloped cube can best be adapted to each of the third world's difficult climates and circumstances.