You might not expect the town wastewater (aka sewage) treatment plant to feature nature trails, forty acres of salmon habitat, lots of art, and a LEED Platinum public building with a beautiful views. But what better place to show off sustainability? That's what King County, Washington, is doing with the Environmental Education and Community Center (EECC) at its Brightwater plant.
King County is dominated by Seattle. Brightwater is actually across the line in Snohomish County. The building, designed by Seattle architecture firm Mithun, opened in late 2011 and won LEED certification a year later. Mithun has a strong record on sustainable design, and a recent book on the subject.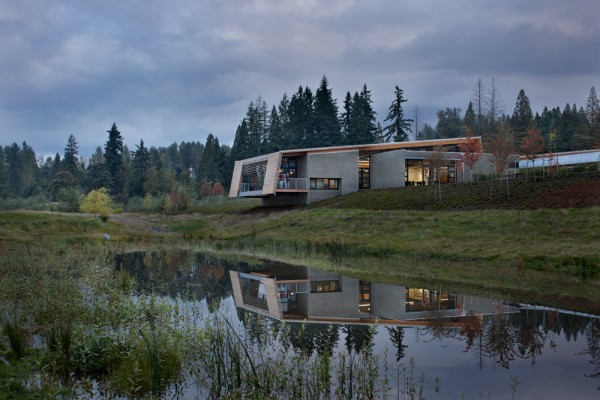 Green building features include extensive reclaimed wood, insulated concrete, and solar hot water. Since the building is only open between 10:00 and 4:00, it can rely heavily on the sun for light and heat, and on thermal mass to help keep it cool in summer. Methane captured from the decomposing sewage also helps heat the building.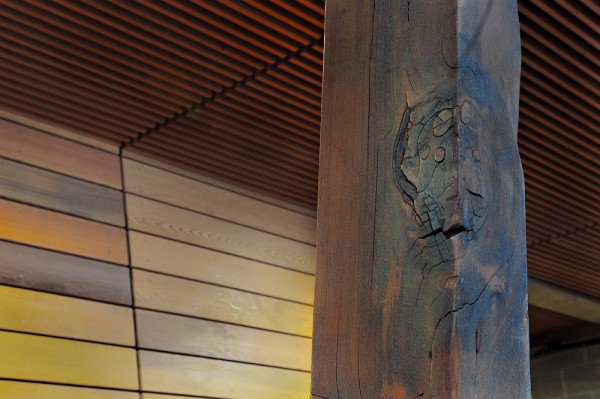 The toilets and irrigation systems use "reclaimed" water. I suspect that means treated wastewater. The roof undoubtedly sheds plenty of rain for those purposes—up to 5,000 gallons in 24 hours during the heaviest storms—but using wastewater instead saves the expense of storage, and also supports the themes presented in the educational displays. Teaching about how they're making wastewater clean again is the whole point of this building.
Rainwater from the roof is used instead to activate some of the art. Sculptor Cris Bruch made two big pieces entirely out of off-the-shelf pipe fittings. Both are dendritic patterns dividing roof drainage water into ever-smaller pipes before sprinkling it onto cobbles. One is irregular in form, like tree roots, and the other is all right angles, like plumbing (probably including parts of the wastewater treatment system itself).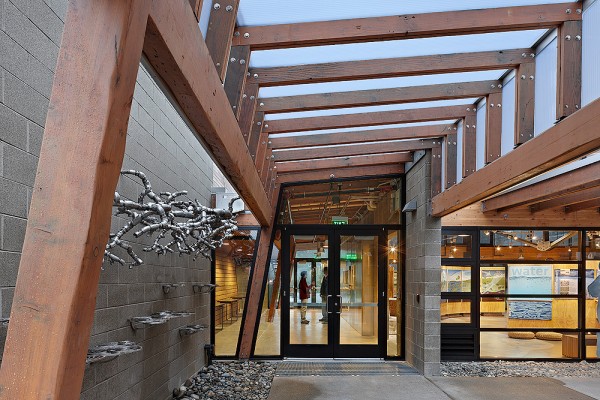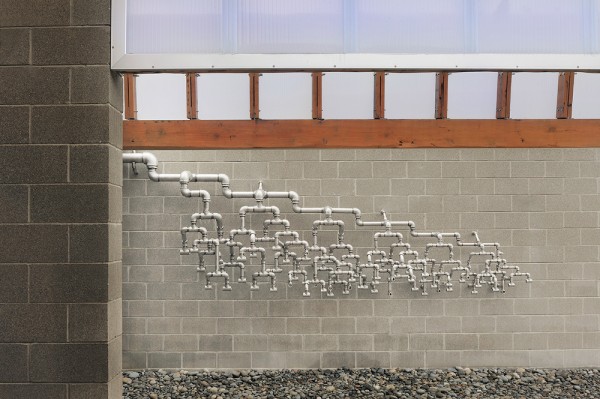 Other commissioned artworks are by Ellen Sollod, Jim Blashfield, Claude Zervas, Buster Simpson, and Andrea Wilbur-Sigo.
The cobbles in drainage troughs throughout the structures are the egg-shaped, fist-sized rocks typical of those lining hundreds of miles of Puget Sound waterfront. They're a resource the region is blessed with, a beautiful mix of granitic and metamorphic rocks mostly from British Columbia's Coast Mountains. The Puget Lobe of the Cordilleran Ice Sheet delivered them 16,000 years ago. The plant's ultimate (clean) output goes into Puget Sound.