China has joined the passive house (PH) movement with a 46-unit apartment complex. The Bruck Passiv Haus, in the southern city of Changxing. The hot, humid southern climate poses distinct challenges for PH design. The building's owner, Landsea, planned this building specifically to allow families to try out living in a PH, to alleviate concerns that it will not be comfortable. With 1,000-and-some employees, Landsea intends to be China's leader in green building technology.
The big triple-glazed windows on the south facade are framed with deep fixed awnings to restrict solar heat gain. The rest of all four facades is covered with variably tinted vertical terra cotta rods. On the south side these shade solid walls, but on the north they shade unwalled hallways and stairwells, which are essentially breezeways.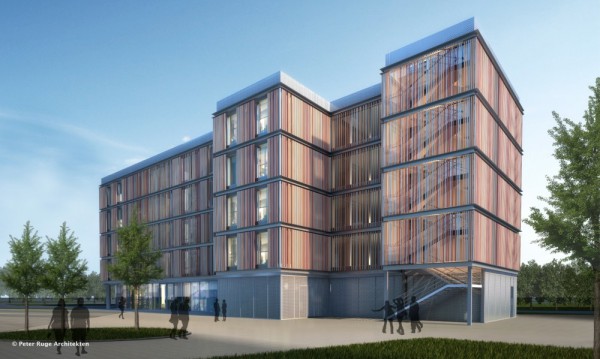 Further details about energy features are unavailable, but German Passivhaus Institut participated in the engineering, so we can infer the insulation is thick, the building envelope airtight, and the windows high-tech. The resulting Haus ("building" in German) is expected to use only one-twentieth the energy that the average similar-sized new Chinese apartment building needs.
The model apartments, at the east end of east end of each floor, are palatial by Chinese standards, with windows on three sides, three bedrooms, and two full baths — his-and-hers lavs, even! The top floor has five three-room apartments of around 400 square feet, and the lower floors have 36 studio apartments half that size (considerably smaller than San Francisco's SmartSpace 2 "microhousing").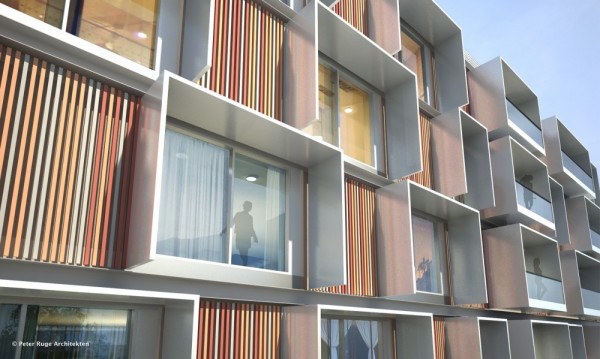 Construction commenced in 2012 and should finish this year.
From offices in Berlin and Hangzhou, architect Peter Ruge has worked extensively in China. In Germany, he is professor of sustainable archtecture at the Bauhaus. Yes, that Bauhaus. Well, sort of. The Dessau Institute of Architecture occupies the same building as the original Bauhaus, but unfortunately there was no institutional continuity between the pre-war and post-war Bauhaus schools there.