Lots of people want to start growing their own vegetables or herbs, but few have the time and space necessary for a successful garden. That's why kitchen gardening kits have become so popular over the past few years. A quick Google search will reveal scores of different  automated gardening tools, like the Click and Grow or the popular mushroom growing kit from Back to the Roots.
Now Nikhil & Alejandro, the two creators of Back to the Roots, have a new project in the works. The pair recently launched a Kickstarter campaign to put a miniature aquaponics operation into the hands of anyone who's curious about this simple and sustainable style of producing food. The campaign has already blasted through its $100,000 goal, proving that a big yard is no longer necessary to grow food at home.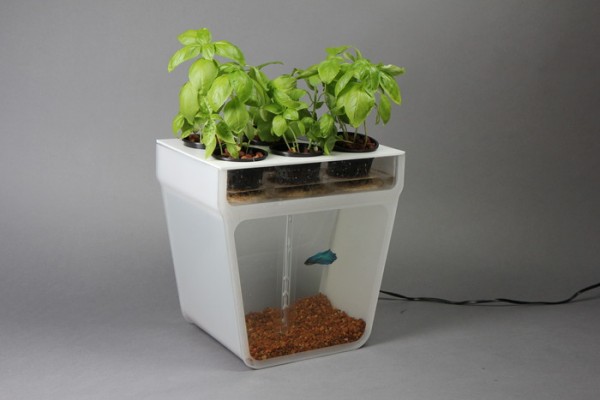 The simple design of the home aquaponics kit allows kids and curious adults to understand exactly why these closed loop growing systems are so desirable. The fish poo and they pee as they've always done, and all that waste-water gets broken down by beneficial bacteria into nutrients. The waste-water from the fish is then pumped up and upcycled as an awesome organic fertilizer for the plants. The plants take up the nutrients and, at the same time, clean the water which then falls back down for the fish. There's no need for chemical fertilizers for the plants, and the plants make it unnecessary to ever clean the tank. It's a win, win!
Although the campaign has already reached its goal, there are eight days left for funding. That means a pledge of $50 will pre-order you a home aquaponics kit–33% cheaper than the planned retail price!