A trip with the kids to a casual family restaurant chain may not seem like the most environmentally friendly activity. Soon, however, New Yorkers will only feel guilty about calories when they visit the newest Applebee's franchise, the first restaurant in New York City to be awarded LEED Gold certification.
The appearance of the restaurant will be radically different from most other Applebee's franchises. Fast-growing and easily renewable bamboo will be used as a general motif throughout the interior, appearing at the bar, on the countertops and in the chandeliers. The main dining room will be dominated by a living wall, a patchwork of hundreds of plants that will be hung vertically and watered for 15 minutes each week with an automated sprinkler system.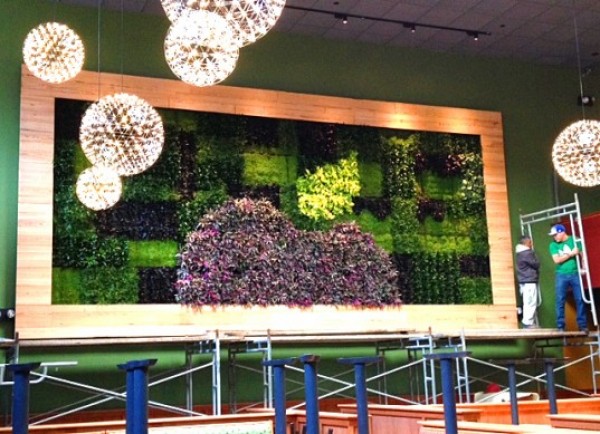 Located at East River Plaza in the Harlem neighborhood, the new Applebee's will feature more than 40 green building elements, including a rainwater harvesting cistern, a rooftop greenhouse, a white-painted roof to reflect sunlight and an automated sun shade system to regular temperature. To conserve energy, the restaurant is also installing Energy Star appliances, waterless urinals and LED lighting, and is using reclaimed wood wherever possible.
Currently, the building is under wraps—literally—with a holiday-themed tarp boasting of its LEED Gold certification and featuring a huge U.S. Green Building Council seal. On December 10, the restaurant will be unveiled and open to the public.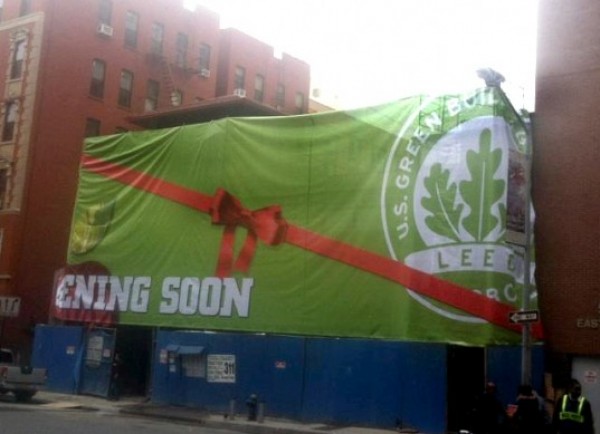 Upon completion, the 350-seat Applebee's will include an interactive Green Education Touch Screen near the entrance to explain the various environmental benefits of the restaurant.
According to Zane Tankel, founder and CEO of the chain's operating company, Apple-Metro, the Harlem franchise will cost a total of $4 million to build, compared to the $2.5 million it takes to complete a conventional restaurant. These costs, however, will be recouped quickly via energy savings.
"It's about being a good neighbor, both locally and globally," Tankel said. "We are focusing on green practices and are on a regular schedule of renovating and remodeling our existing restaurants to ensure that Applebee's in New York City is becoming more environmentally-friendly."
The Green Building Council said that, to date, only 11 restaurants nationwide have earned the rigorous LEED Gold certification.