Is it possible to live large in 800 square feet? One couple's not-so-big timber framed home in the River Road area of north Eugene, Ore., suggests that the answer is yes. Designed by architect Nils Pearlson and built by Six Degrees Construction, this home features a host of green bells and whistles designed to make it easy on the earth, along with all the comforts of home.
This home is actually the 2.0 version of the tiny home that originally existed on the site, which weighed in at 620 square feet. While owners Rob Handy and Julie Hulme knew they needed a little more room to move, they didn't want to lose that super-efficient small home footprint. And so — inspired by The Not So Big House and other books by Sarah Susanka, FAIA — they deconstructed the old home and built a new one that met their needs without adding a whole lot in terms of square footage.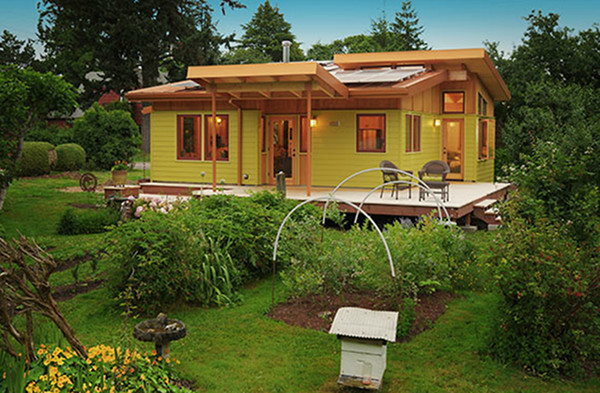 Jetson Green reports that the home's sustainable systems include earthen plaster walls (for both breathability and improved indoor air quality), a double-insulated envelope, and an irrigation system  that makes use of reclaimed greywater from household functions and rainwater collected from the roof. A mini-split heat pump helps to ensure the efficient operation of HVAC system, as does a heat recovery unit. On the south-facing roof, a 3.36 kilowatt-capacity solar power system provides electricity courtesy of the sun, which also heats the home's hot water via a solar thermal collector.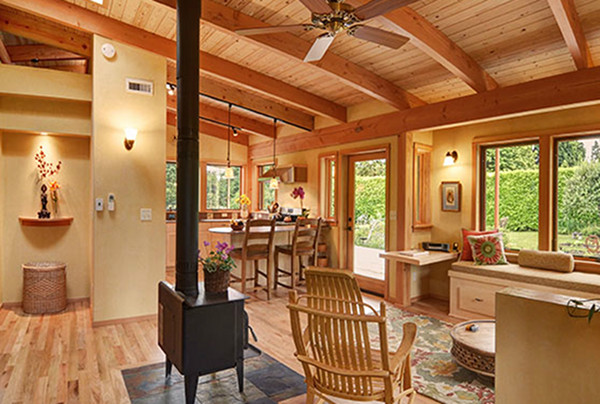 In terms of feel and general amenities, the home makes extensive use of exposed wood, and was designed around open, connected spaces filled with natural daylighting via clerestories, skylights, and windows. It features a copper-penny metal roof (which helps to ensure that collected rainwater is free of pollutants), and plywood and HardiePlank siding.