It wasn't so long ago we brought you word of the Plantagon, that ingenious Swedish innovation designed to bring large-scale urban agriculture to new and existing buildings on the vertical axis. Brandon Martella appears to have designed something along those lines for the city of San Diego, in the form of a mixed-use vertical farm (which comes to us via eVolo).
The project, designed for the city's historic Gaslamp district, was conceived of to address the growing issues of population growth and food supply — San Diego's in particular. With the majority of the city's produce arriving from the Imperial and Central valleys, as well as neighboring states and other countries, this building-integrated vertical farm was designed to help alleviate dependence on these sources of food for the 30,000 plus residents of San Diego's central urban core, via architecture that addresses food sustainability.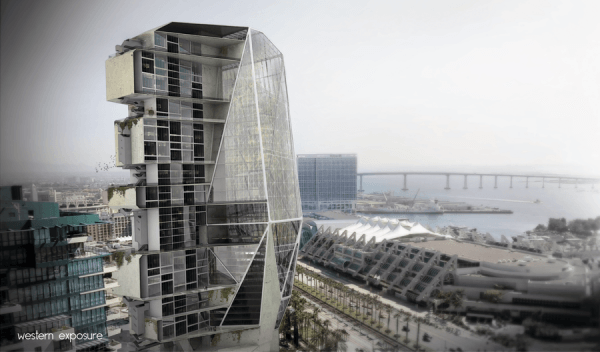 This "farm tower" accomplishes many things at the same time. It exists, first, as a residential high-rise, adding to the city's housing stock. Second, it acts as a tourist attraction, attracting greenies, urban planners and curious passersby alike. And third — of course — it produces vegetables, via vertical crops grown hydroponically, providing local residents with homegrown food.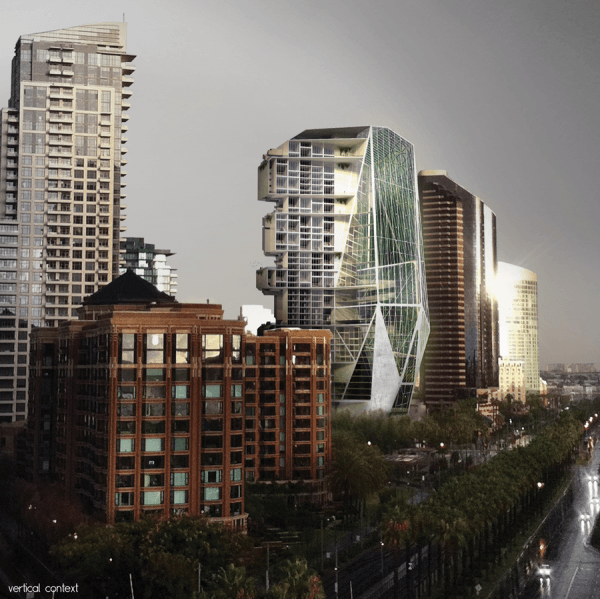 Martella's design calls for the reclamation and recycling of the residential tower's gray water and black water — the former via gray water-infused aquaponics, and that latter through compact combustion that creates thermal energy. The development would take the motto of the adjacent Children's Museum — Think, Play, and Create — and change it in a way that embraces "a new level of social interface" in engaging the community with its urban farm-to-market model: Live, Share, and Grow.