When the ground around you is mostly limestone, storms tend to roll off down the gutters. In a city like Austin — subject to severe thunderstorms — that means a whole lot of rainwater burdening city sewer systems with the brew of pollutants typical of city streets. Greensource notes one notable architectural response to the problem of excessive run off, the West Lake Pool House.
Designed by Murray Legge, the Toronto-born principal of Austin-based LZT Architects, this 650-square-foot structure serves the function suggested by its name: it provides residents of the home and their visitors a place to change in and out of swim gear, and to lounge out of the eye of the sun. But both this structure and the infrastructure surrounding it serve another purpose in enhancing the absorptive capability of the local environment.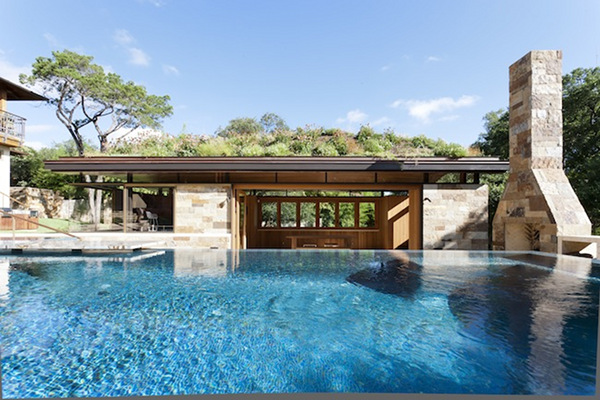 The pool house does so via its green roof, which represents a bit of a daring move for the city of West Lake. That's because in between those severe thunderstorms, the Austin area tends to get hit with long, hot dry spells that can spell the end of the kind of sedums and moss found on your typical green roof in, say, Portland. But Legge was unfazed, collaborating with American Hydrotech — the consultant behind the huge green roof on the California Academy of Sciences in San Francisco — to develop a solution. That solution includes a moisture retention layer and a mesh system that geotechnical engineers tend to rely on in constructing steep roads for the military — just the thing for keeping plants moist and secure during those long dry spells.
The surrounding environment does its part to retain rainwater as well. The solar heated pool, instead of sitting atop the typical concrete pad, is surrounded by a Hadrian limestone terrace constructed like a wood deck or catwalk in which the frame is galvanized steel. Plastic pedestals were mounted to this frame, and pavers set on top of them. This allows storm water to percolate through eighth-inch joints, accommodating the slow absorption of water through the soil.