Looking for a (relatively) cheap place to stay in Spain? Consider this high-class home built out of old shipping containers, located just a few minutes from the city center of Palma, available for rent through Airbnb.
Airbnb made a name for itself as a startup by allowing individual homeowners to offer their own spots to rent by the night, and to connect with prospective guests online. But this rental option looks to be a far cry from the old spare bedroom in a nice retired couple's home, or your average college-student sublet. This one-bedroom, one-bathroom house comes complete with a kitchen, Japanese garden, washer/dryer, outdoor deck and pool, the use of which comes included in your rental fee of around $113 per night.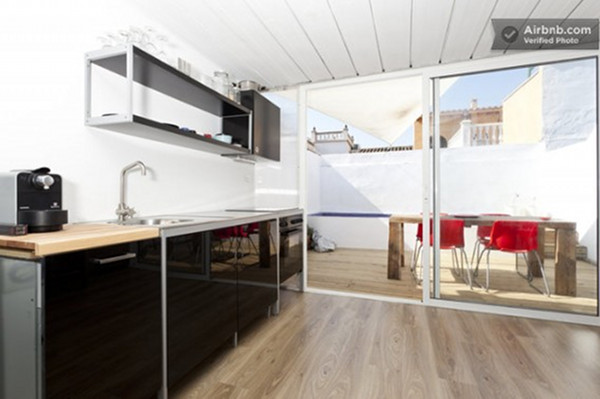 Shipping container homes come in more shapes and sizes than you'd imagine, considering the fact that they make use of boxes of standardized dimensions. For instance, we've seen some awesome tiny homes that rely on a big front porch for extended living quarters. We've seen larger homes consisting of multiple shipping containers stacked on top of each other, like Legos — and even offices-within-warehouses constructed in the same way.
But the way this little shipping container home makes use of both a lovely terrace with a little shaded swimming pool distinguishes it, in our eyes. We're also rather fond of the way whoever designed this home apparently tackled the issue of what to do with an otherwise-awkward bit of space left over via the predefined dimensions of the container with a little indoor/outdoor Zen garden, complete with its own tree.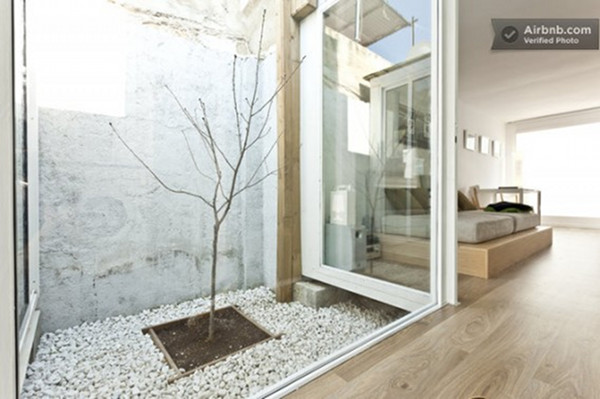 The owners of this space advertise it as a quiet setting, lacking in any noises louder than the singing of birds, despite its close proximity to the cinemas, restaurants and major tourist attractions of Palma. The home is also located just off a bike lane, should you choose to rent bikes, and in close proximity to mass transit.