Heineken has stated an ambitious goal: to become the greenest international brewer in the world. According to Heineken USA's recently release 2011 Sustainability Report, it has indeed made some moves in that direction.
Chief among the US division of the beverage giant's green accomplishments is the fact that 10 percent of its delivery fleet now consists of hybrids (chosen at the behest of its drivers, who were offered a hybrid truck as an option), which has improved overall fuel efficiency. The company has also taken steps to lessen its US water footprint, having installed water efficient fixtures in restrooms and filtered water for ice makers and coffee machines in its US buildings.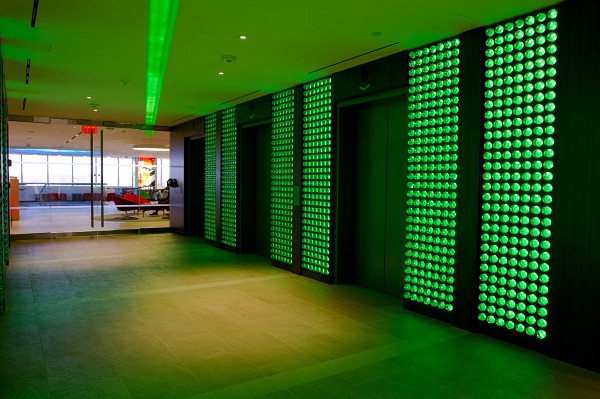 The most major accomplishment, however, is Heineken's recent LEED Gold renovation of its US headquarters in White Plains, New York.  The project took LEED certification for Commercial Interiors in part for its use of recycled materials, including beer bottles. (The elevator lobby walls, which GreenbuldingsNYC noted as "extensively branded," are decorated with old Heineken bottles.) The renovation made use of green building materials, including materials containing post-consumer recycled content and sourced within 500 miles of the building.
Non-toxic, low- or no-VOC adhesives and finishes were used to help ensure a healthy indoor environment for employees, and natural daylighting — supplemented by LED lighting tied to motion sensors — was incorporated to keep electricity needs to a minimum. During construction, 85 percent of the waste generated from the renovation project was diverted from local landfills.
These steps, while significant, are still a long way from any major strides toward lessening the overall environmental footprint of the big green bottle. Still, it's good to see them being taken, and we, like Triple Pundit, look forward to seeing more along these lines from Heineken.