With its green-building focus, abundant annual rainfall, and vested interest in preserving the water quality of the Willamette River, it's not surprising that Portland, Ore., is a leader among cities when it comes to green roofs. But developers in other areas of the country have yet to be sold on the benefits of such roofs, according to Archinect's Sherin Wing, who writes,"Trying to persuade a client about the benefits of relatively inexpensive, passive, more sustainable building strategies is difficult enough, and honestly, a green roof is anything but."
So when it comes to getting more greenery on the nation's rooftop's, it's the numbers that need to do the talking — specifically, about how much energy a building stands to save by incorporating a green roof. That's where Portland State University's (PSU's) online Green Roof Energy Calculator comes in. The product of PSU's Green Building Research Laboratory — developed via a collaboration involving researchers from the University of Toronto, and Green Roofs for Healthy Cities — this free tool allows users to compare the annual energy performance of a building with a vegetative green roof to the same building with either a dark roof or a white roof.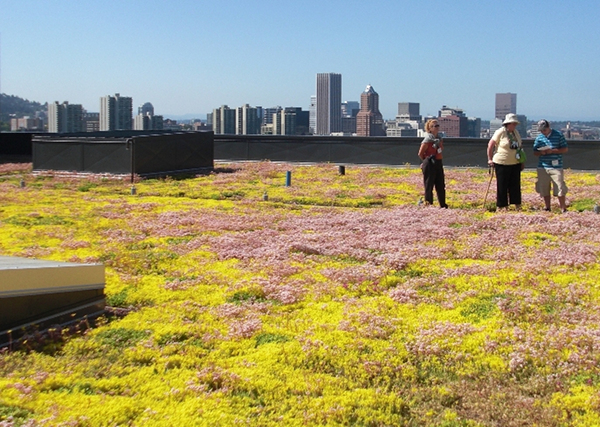 The tool works via either in US or international SI units of measure , and offers present-time simulations for new construction (ASHRAE 90.1-2004) and old construction (pre-ASHRAE 90.1-2004) office and residential buildings driven by typical precipitation and weather data for the area in which the building is located. The team that maintains the website also provides answers to questions as best they can, which means that architects and building planners can count on support when using to the Green Roof Energy Calculator to sell their clients on the benefits of including a green roof.
The research behind PSU's Green Roof Energy Calculator (and the online tool itself) was funded by the US Green Building Council with additional financial and in-kind support from the University of Toronto, Portland State University, GRHC, and Environment Canada.