The question of what to do with abandoned retail spaces is not a minor one in many areas of the country, and in no case is it more difficult to answer than that of the ubiquitous big box. After all, what else fits inside a big box store, but, well — a big box store? The border town of McAllen, Texas, chose a novel re-use solution in the case of an abandoned Super Walmart by turning the entire building into a library.
In accordance with its super-sized origins, the new main branch of the McAllen Public Library weighs in at a whopping 123,000 square feet. It is believed to be  the largest single floor public library in the nation, (with the Johnson County Central Resource Library in Overland Park, Kansas, coming in a not-so-close second at 90,547 square feet). With all that space to fill, clearly, the interior design of this place was going to be a super-sized challenge. A challenge big enough, in fact, to win the project's interior designer, Meyer, Scherer & Rockcastle, Ltd. of  Minneapolis a Best Of Award in the 2012 Library Interior Design Competition offered by the International Interior Design Association.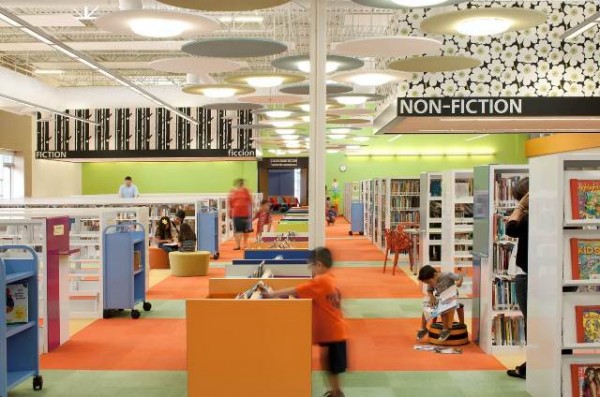 The local architects at Boultinghouse Simpson designed the building's exterior.
As cities increasingly face the question of what to do when giant retailers leave the abandoned husks of their giant stores behind (in this case, for an even larger store location), this smart remodel could help to set a precedent for how to turn a cavernous warehouse space into the a hub for community activities. Still, we wonder if anything was done here to address the giant utility bills typically associated with big box stores.
Recently, we've seen IKEA making some great green strides in big box world to increase efficiency  via good green practices, such as white, reflective roofs. Considering the fact that this library is supported by tax dollars (and already wound up costing taxpayers around $9 million more than they were expecting), perhaps the new McAllen Public Library may want to do the same.