The United Nations established its Green Climate Fund in order to get some financial muscle behind the urgent objectives of the United Nations Framework Convention on Climate Change (UNFCCC).  Toward that end, it provides support to developing countries to limit or reduce their greenhouse gas emissions and to adapt to the impacts of climate change, taking into account the needs of those developing countries most vulnerable to the adverse effects of climate change.
All of which is to say, this is a deep green organization, established by some of the world's best minds focused on sustainable development. It only makes sense, then, that such an organization would be headquartered in a deep green country–such as Germany–and in a deep green building, such as this one, designed by the Laboratory for Visionary Architecture (LAVA).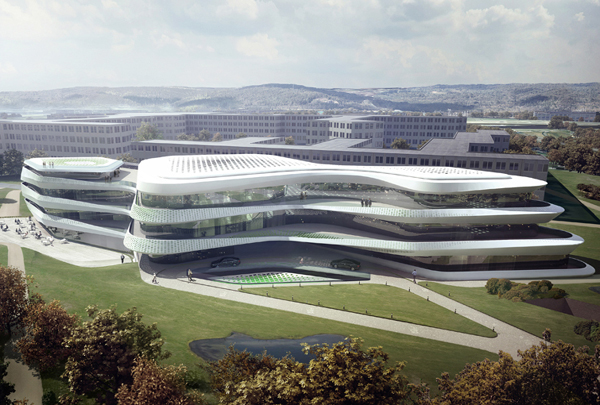 This building, slated for the banks of the Rhine River in Bonn, constitutes Germany's bid to become the Green Climate Fund's world headquarters. It was conceived of as an "ecological model project,"  with curvilinear forms, natural light wells, rooftop gardens and a large, sunken terrace. Encompassing three levels, the structure will feature the cutting-edge, comprehensive sustainable design necessary to meet the highest level of green building certification from the German Sustainable Building Council (DGNB).
In order to take Gold Certification from the DGNB, a building must satisfy a catalog of 60 criteria points in six categories: ecological quality (including how much water and energy it uses, and how much waste it produces); economic quality (including its life-cycle costs and expected longevity); sociocultural and functional quality (including its thermal comfort and indoor air quality); technical quality (including its durability, building envelope tightness and ease of recycling during dismantling); process quality (including evidence of quality control throughout the building process, and awarding of tenders to green-minded contractors); and site quality (including the building's relationship to the surrounding built environment, as well as the surrounding microclimate).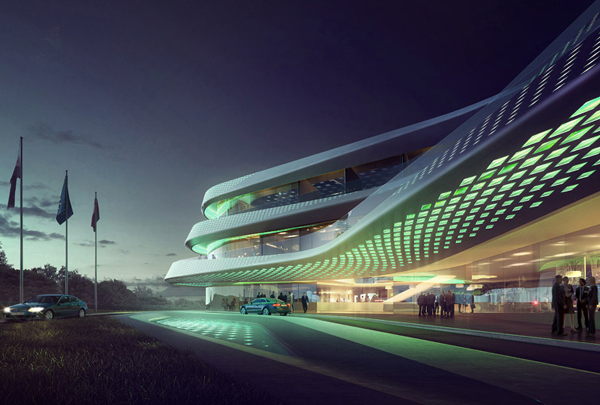 Needless to say, plenty of thought and careful planning has gone into LAVA's proposed Green Climate Fund headquarters in Bonn. eVolo reports that the building will be situated within walking distance of several Federal ministries, including the Federal Ministry for the Environment, Nature Conservation and Nuclear Safety and the Federal Ministry for Economic Cooperation and Development. The site also features excellent public transportation options.
The building will feature offices with state-of-the-art tech, as well as an access and logistics area with security controls and a visitor reception zone, an auditorium, a conference room, a cafeteria and an underground parking lot. Should Bonn's bid to host the headquarters be accepted, the Green Climate Fund will provide input on the functional division of areas for optimum operations.