Talk about survival of the fittest. Students from the UC Irvine have embraced both fitness and the environment with a little healthy competition. During the three-month beta testing period of a new project from Fit for Green, eight student teams at the UCI Rec Center have generated 100 kilowatt-hours of clean, green energy with nothing but the sweat off their backs.
The competition is a first-ever concept from Fit for Green to turn a trip to the gym into a social competition to create renewable energy. By partnering with companies that retrofit gym equipment to create energy, Fit for Green installs kinetic power generation kits on the existing stationary bikes and elliptical machines at gyms. After members of the gym have completed their workouts, they can then log in to to the Fit for Green social networking application to compete across social groups, based on how many calories they've burned and how many watts they've generated.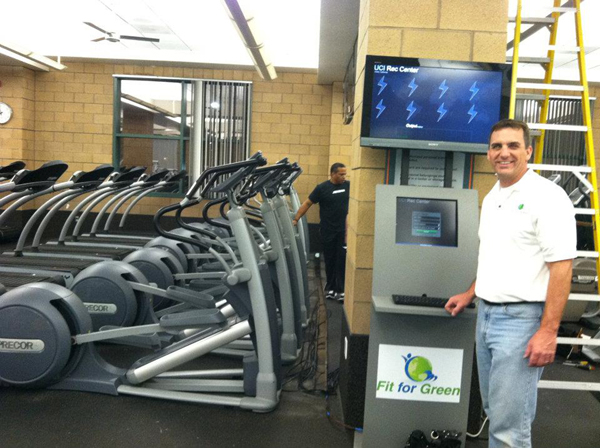 Blending the concepts of sustainability, fitness and social media, Fit for Green is the brainchild of Executive MBA and Ph.D. graduates from UC Irvine's Paul Merage School of Business, including founder and CEO John Spirko. "Our goal is to make working out on ordinary gym equipment more
interactive and rewarding by returning energy to the grid and competing with peers through modern social networking," he said in a statement. "This new return on investment model will be a catalyst for renewable energy machines in all gymnasiums replacing calories burned with watt-hours created as a measure of fitness accomplishment."
Spirko said the project is not just about burning calories and generating watts, though — it's about raising public awareness regarding the need for conservation.
"When people understand what they have to do, workout-wise, to create a kilowatt-hour of power, they will have a better appreciation for the burden that wasting a kilowatt-hour, by not conserving when possible, puts on their planet," he said.  The idea here being that, if it takes an hour on that dang treadmill to produce even a fraction of a kilowatt-hour, it'd be a shame to waste that much energy on standby power, or leaving the light on when you leave the room.
The company is currently seeking gyms interested in adopting this model of renewable energy generation and friendly, green competition.