You know a building is energy efficient when anyone who walks in can visit a kiosk in the lobby and a few finger taps later be monitoring the energy features of the building. That kiosk is just one of the many features of the Peter Irving Wold Center on the Union College campus in Schenectady, New York. The building just earned its Leadership in Energy and Environmental Design (LEED) Gold certification from the US Green Building Council.
The three-story, 35,000-square-foot research and education facility building was dedicated last May. It features state-of-the-art laboratories, electronic classrooms, an advanced computing lab, study spaces and faculty offices. As much as 35 percent of the building's energy comes from renewable energy sources, including an on-site three kilowatt (KW) photovoltaic array. A special covering for the building's roof allows for more than 50 percent of the roof's surfaces to minimize summer heat build up. And a special building envelope provides thermal resistance.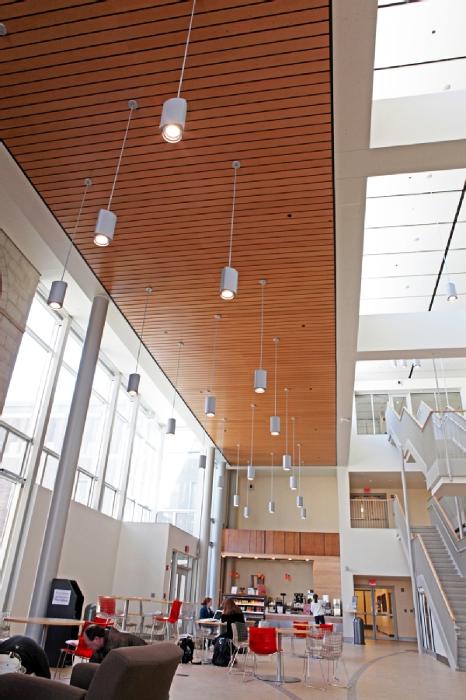 Inside the building, LED light fixtures are dotted throughout and many low volatile organic compound (VOC)-containing materials, such as paints and carpets, were used in the construction of the building. Much of the materials used for construction include a high percentage of post-consumer and post-industrial recycled  content. Real-time metering for electric systems, steam, chilled water, gas and building service water is tracked and available for visitors to view whenever they check out the information kiosk in the lobby.
"Achieving LEED Gold was a guiding design criterion from the very beginning of the planning process," J. Douglass Klein, the Kenneth B. Sharpe Professor of Economics and chair of the Wold Steering Committee said in a statement. "Among other programs, Wold houses labs and teaching spaces for the study of energy and the environment, and Wold is the campus home for U-Sustain.  It was our intent that the building itself become an important teaching tool and laboratory."