McGraw-Hill Construction likes to keep track of the ups and downs of the construction market, and green builders should like the findings of its latest SmartMarket Report: "New and Remodeled Green Homes: Transforming the Residential Market." Based on current building trends, the report projects that the market for green homes will grow between 29 and 38 percent  by 2016.
The report estimates green homes' share of the national construction market at 17 percent in 2011, constituting $17 billion. By 2016, potentially, the market could add up an additional $114 billion in business, based on a five-year forecast for overall residential construction.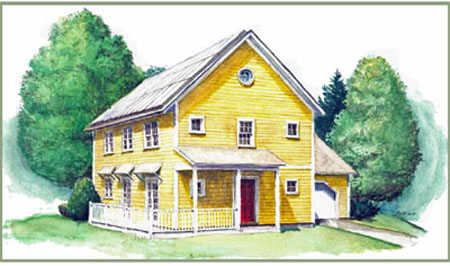 So what's driving the burgeoning market for green homes? Two key factors, according to the report: the fact that green homes are seen as being higher quality, and that they are known for saving homeowners money. "In the current residential market, there is an enormous need to differentiate your homes for consumers," said Harvey Bernstein, vice president of Industry Insights and Alliances at McGraw-Hill Construction, in a statement. He goes on to note that in this value-driven residential market, builders who can offer higher quality with lower monthly overhead costs are, increasingly, the ones closing deals.
Some other interesting tidbits from the report: higher upfront costs for building green are now noted by a much lower percentage of builders as an obstacle than they were reported in 2008, and indoor air quality is a growing focus for home builders. (Sixty percent of all home builders surveyed by McGraw-Hill believe that efforts to improve indoor air quality make homes greener than they were two years ago, and 95 percent of high-volume home builders report including features that impact air quality.)
This report was produced by McGraw-Hill Construction in conjunction with the National Association of Home Builders and Waste Management and was designed to give builders and associated green building professionals insights into product and market opportunities in the single-family home building and remodeling industries. The report is backed by proprietary research surveys as well as statistics generated by McGraw-Hill Construction Dodge database.