Live in a cramped apartment with no room for a garden? Now you can take the greenery with you, anywhere you go, with tiny pendants, brooches, and even bike appliques with room for just a smidge of dirt and one little (almost indescribably cute) live plant. Just don't blame us when everyone you know wants to know where you got it.
About that: Wearable Planter is an art and design studio in Atlanta that believes the world would be a better place if people appreciated nature a little more. Toward that end, the folks who run this place have committed themselves to helping you carry a little plant close to your heart (or, you know, your bike). Their jewelry designs are produced via an emerging technology known as 3D printing that allows them to create items on demand, and in more complex forms than older manufacturing techniques allowed. And while the plastic used in this process is not currently recycled, you'll be happy to know that 3D printing, as a manufacturing process, creates very little waste.
Created in part to show that items of "heirloom quality" could be made from plastic, each Wearable Planter pendant is made from 3D printed acrylic, and most are appropriate for a wee planted succulent or a small flower with a bit of water. (No plants are included with the jewelry, though, so you'll have to hit up someone with a green thumb to fill your pendant if you don't have access to an appropriate plant.) You can also choose a lovely brooch — more appropriate for an air plant — or, if you can't decide between three different plants, you can go for the set of all three Wearable Planters for your bike (provided they hold up well in wind).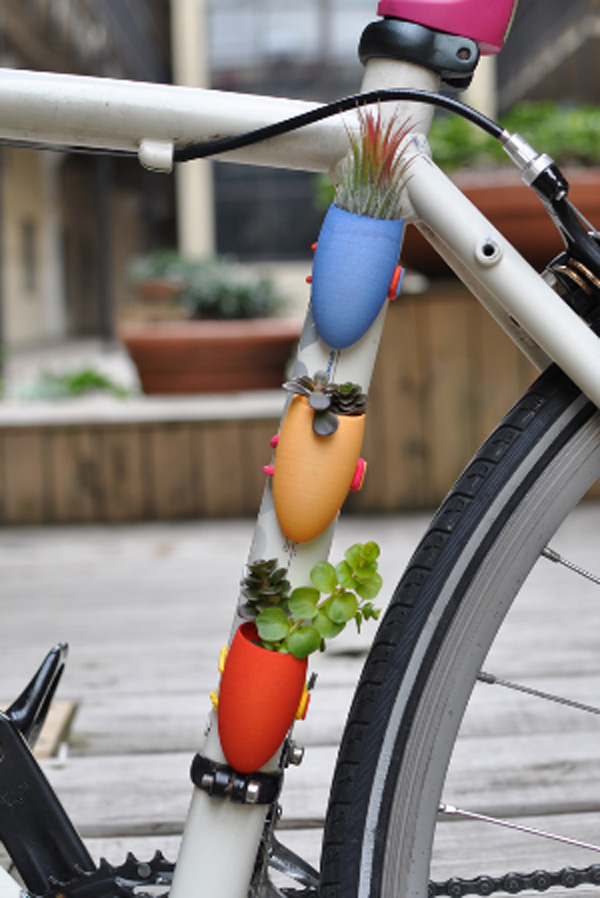 Touted as a way to "bring your plants with you" as well as clean the air beneath your very nose, Wearable Planters are watertight and built to last. (They are, after all, made of plastic.) They run from $20 (for a mini-pendant) up to $45 (for the bike-mounted variety).