More and more studies are beginning to show the correlation between the 21st century's sedentary lifestyle and the rising incidence of obesity, diabetes and heart disease. But a Green Dot Award winner in the transportation category shows how to reverse the process, and it's as simple as sitting down and pedaling. Gently.
Called the WeBike, the sleek ergonomic design encourages socializing while exercising via its center-table facing seats, and the sockets encourage pedaling to charge electronic devices or simply to light up all the buttons on the LED strip. Either way, easy does; according to WeBike—citing a study by the Dutch firm, TNO—riding at about 30 percent of maximum potential improves physical health and mental health. In fact, WeBike said, on average people will read 30 percent faster while pedaling.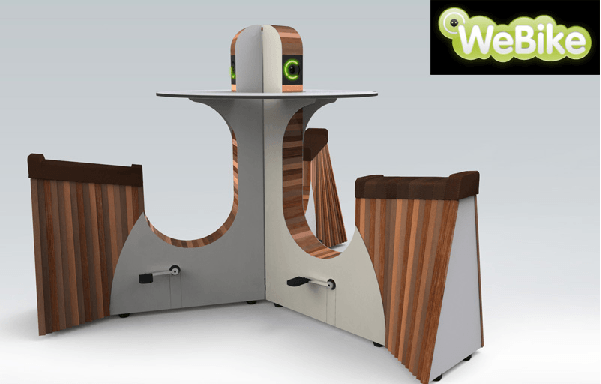 From Pilipili (product design and engineering), the WeBike is, according to its designers, fully sustainable under the 3P concept: people, planet and profit.  The "Made in Flanders (Belgium)" label highlights that area's substantial biking tradition and thus expertise in manufacturing same. Made from Programme for the Endorsement of Forest Certification-sourced cedar, from lengths which failed the cut as architectural exteriors, with a seat or saddle made from leather waste from the upholstery industry, the aluminum frame offers a lightweight, easily transported exercise solution that would look good anywhere, even outside the Ritz Carlton in London.
Of course, WeBike isn't the first energy-generating, electronics-charging invention using bicycle wheels. All one has to do is look at the Energy Harvesting Open Access Data Repository, the kinetic energy-capturing Copenhagen Wheel which helps bikers make that next big hill, or the cool Kinesis, a three-wheel tricycle powered by a one kilowatt battery pack powered by pedal power!