Could doing business in a green building generate more revenue for a company? Those are indeed the findings of a surprising new study from University of Notre Dame management professors Edward Conlon and Ante Glavas. Specifically, the pair looked at Leadership in Energy and Environmental Design (LEED)-certified bank branches.
In their study, "The Relationship between Corporate Sustainability and Firm Financial Performance," they looked at 562 PNC bank branches. Of those, 93 were LEED-certified and 496 were not. Conolon and Glavas concluded that the employees who worked in the LEED-certified banches were "more productive and engaged in their work."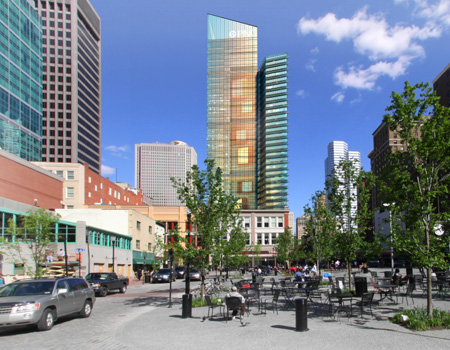 "It's a significant finding, and it surprised me," Conlon, an associate dean and Sorin Society Professor of Management said in a statement. "We compared the amount of money deposited at LEED and non-LEED branches, and we found more money has been deposited in the LEED branches. We divided the amount by the branches' total number of employees to come up with a per-employee dollar amount."
That per-employee dollar amount was nothing to sneeze at either. Conlon and Glavas found at LEED bank branches $461,300 per employee more was deposited, after controlling for other variables that influence performance (such as: consumer net worth, employee demographics, market demographics, size and age of branch, marketing spend). The researchers were not  certain if it's because LEED buildings are more attractive to visit or because their employees are more satisfied, and consequently providing better service.
The researchers say their study supports a growing body of research that shows social responsibility and sustainability don't have to be sacrificed for the sake of profitability. In fact, companies increasingly are finding just the opposite: they can achieve revenue or job growth while maintaining a high environmental and social impact.