It's a streetlight! No, it's an exercise machine! In fact, Citylight, a Green Dot Award winner in the Professional Concept Category, is comfortable in both worlds, content to act both as a sleek and rather stunning overhead light for city streets and public spaces and a chance for a passersby to trim his waistline and improve his cardiac health.
The lamp portion of this concept is a pure white LED (light-emitting diode) that is the most miserly of lighting technique in terms of wattage consumed versus light delivered. It can run off the grid, taking dainty sips of energy to keep shining. When a cooperative pedestrian mounts its exercise equipment – a treadmill, a rowing machine, or a stair-stepper, depending on what city planners choose – however, the power becomes human power, and an interactive light running up the outside of the light pole, or stanchion, goes into human-power mode, advising users how many calories they have burned and how many minutes, or hours, the streetlight can operate electricity-free as a result.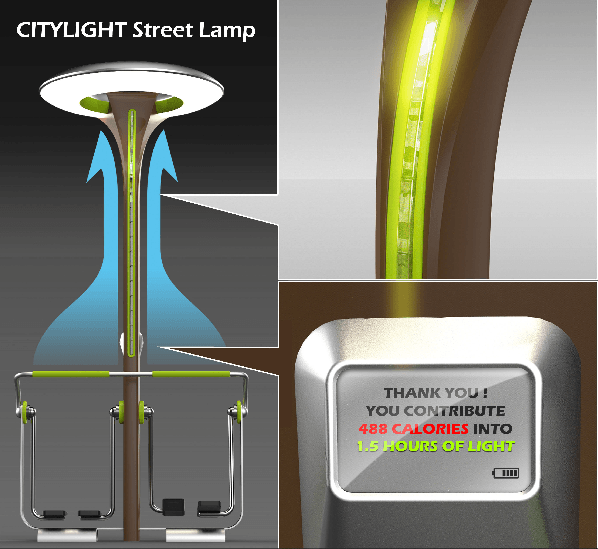 Designed to motivate city dwellers to adopt a healthier lifestyle, the Citylight Led Street Lamp (its official title) is an entry from the United States, the nation which could best use a public exercise program. One in three Americans is officially obese, and 25 percent of kids are overweight, leading to record statistics for Type 2 Diabetes among juveniles. Among adults, this epidemic of unhealthy fat is leading to more than 400,000 deaths a year, from heart disease, stroke, colon and breast cancers, and diabetes. In fact, in the next few years obesity will leap ahead of smoking as the leading cause of preventable death among U.S. adults.
The concept is clearly a case of the right solution at the right time in the right place, and beats out even the Copenhagen Wheel we reported on recently, at least in terms of fitness incentives and deliverables. It's also serendipitous that Citylight is a prime example of one of IBM's "5 in 5" – five emerging technologies that will rock the world within five years. And that technology is personal energy harvesting, which can be used for various purposes from public lighting to reducing the incidence of heart disease.