Thousands of Californians now have at least one new, energy-saving appliance in their home, thanks to the state's Cash for Appliances rebate program that recently drew to a close. The program, which started two years ago and ended last month, resulted in 178,000 household appliances, water heaters and cooling systems being recycled and replaced with high-efficiency models, the state said.
Funding to assist people in swapping out their old energy hogs came from the State Energy Efficient Appliance Rebate Program, part of  the American Recovery and Reinvestment Act of 2009. Funds were awarded proportionate to population, so California received more than any other state, $35.2 million, all of which went to consumers save for the $1.7 million it took to administer the program.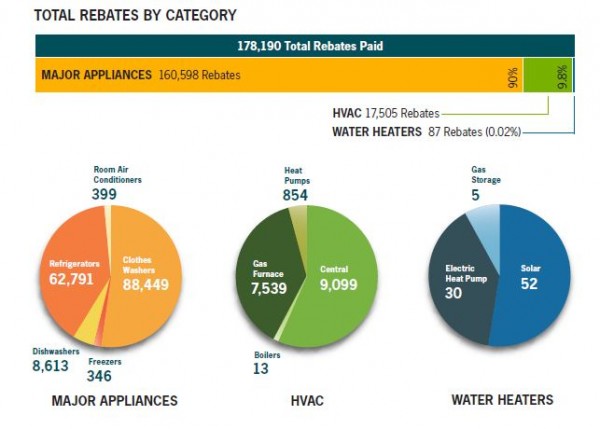 "Strong demand in this first-ever program resulted in our ability to ensure that every dollar from the federal government got into the pockets of Californians and into our statewide economy," California Energy Commissioner Karen Douglas said in a statement. "When consumers replace their old, tired appliances with new energy efficient models, they will see savings on their utility bill almost instantly."
A total of 182 California retailers, businesses and utilities partnered with the Energy Commission to provide more than $5.5 million for in-kind services to promote the program. Ninety percent of the rebates resulted in purchases of major appliances including: refrigerators, clothes washers, room air conditioners, freezers and dishwashers. Heating ventilation and cooling systems (HVAC) received nearly 10 percent of the program's share and less than 1 percent went toward water heaters.
The state said that compared to non-Energy Star models, the new ones consumers bought are saving more than 6 million kilowatt-hours per year, about the amount of power that 1,000 homes use annually. Clothes washers were the most popular home appliance to be recycled and replaced. More than 88,000 were purchased through the program.
Rebate amounts were up to $50 for room air conditioners, $50 for freezers, $100 for clothes washers and dishwashers, $200 for refrigerators and $300 to $750 for water heaters. HVAC rebates ranged between $300 and$1,300. More information on the program's results is available on an info sheet from the state energy commission [PDF].