A winner in the Spark: Concept-Fall-Winter design contest, the GiraDora—a pedal-powered clothes washing and drying system—is the collaborative result of innovative design and implementation at the user level. By Designmatters, Art Center College of Design, Safe Agua Projects, the concept—originated by students Alex Cabunoc and Ji A You—was fleshed out in field trials by the women of Cerro Verde, a 30,000-strong slum on the hills surrounding Lima, Peru.
For these women, clean clothing was not merely a status symbol but a necessity if their children were to do well in school and their spouses to get jobs in Lima's public sector. Unfortunately, getting those clothes clean on a washboard took up to six hours a day, as often as five days a week, leaving little time left over to find part-time work to supplement meager family finances, let alone cook and clean and perform all the other tasks that fall to a wife and mother.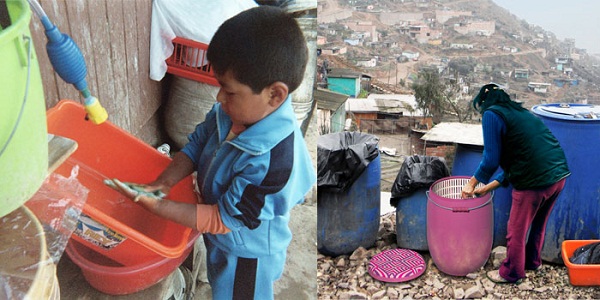 When Cabunoc and You showed these women their washing and spin-drying machines, the women of Cerro Verde came up with an improvement: combine the two operations in a single machine, thus allowing even the smallest women to use the muscles in their legs (the strongest in the female body) to agitate, rinse and spin-dry a load of laundry.
The solution was pure genius, and the result is an off-grid, affordable ($40), water-saving laundry machine that uses centrifugal force and ergonomic principles (seated, with legs flexed) to reduce the back pain and injuries that result from squatting over a wash basin, as well as the hand and wrist strains incurred from repeatedly rubbing clothing on a ridged board placed below waist level. The GiraDora also has the advantage of being usable indoors, in rainy weather, or outdoors, next to a water source (rather than hauling water back to the shelter).