As every presidential election season goes to show, a whole lot can change over the course of four years. But no matter who gets elected this year, there's good news for the environment, as a new study from McGraw-Hill predicts that the market for green homes will increase five-fold by 2016.
The company has released findings based on a new Green Home Builders and Remodelers Study showing that green homes comprised 17 percent of the overall residential construction market in 2011 and are expected to take over between 29 percent and 38 percent of the market by 2016. By value, this works to a five-fold increase, from $17 billion in 2011 to $87-$114 billion in 2016, based on the five-year forecast for overall residential construction.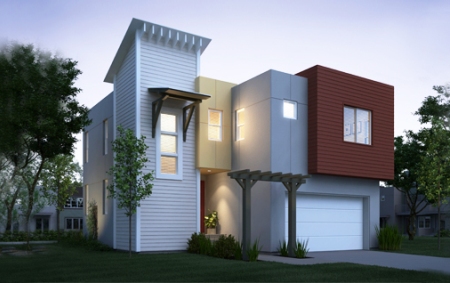 Construction industry professionals are calling for an even steeper increase in green home remodeling, as 34 percent of those in the field expect to be doing mostly green work by 2016, a 150 percent increase over 2011 activity levels. In keeping with an economy that has put the brakes on new home construction, many home builders have shifted to remodeling work, and 62 percent of the builders who do both new and remodeling work verified that current economic conditions have increased their renovation work.
Forty-six percent of builders and remodelers survey also found that "building green" made it easier to market themselves in a down economy, and an overwhelming 71 percent of firms dedicated to green home building reported the same.
What's driving the market for green homes in a cash-strapped economy? Among those surveyed, keywords like "higher quality" and "increases in energy costs" were the top responses, indicating that today's green homebuyers aren't just green consumers (i.e., dyed-in-the-wool treehuggers), but consumers in general. This indicates that American homebuyers across the board seem to have gotten the memo that green homes come with lower utility bills due to their increased energy efficiency.
The study reports another hopeful sign: those in the residential construction industry report that the costs of building a green home have also gone down significantly, with the costs of greener construction now weighing in at just 7 percent higher than the costs associated with building a conventional home, as compared to 10 percent in 2008 and 11 percent in 2006.