Whatever your feelings regarding the U.S. government's leadership on the environment, one thing is for certain: the federal mandate that all new government buildings attain LEED certification — and existing buildings green their operations — has had a real impact on green building. The case in point: According to the U.S. Green Building Council (USGBC), the District of Columbia currently leads the nation in LEED certified building space per capita.
Granted, the District doesn't have a huge population, but that alone doesn't account for the whopping margin by which it beats its closest competitor for this honor, weighing in at 31.5 square feet of LEED-certified building space per person (almost enough to house each person in the district, provided they lived a Spartan existence). Compare that to Colorado, which came in first among the 50 states in the Union with 2.74 square feet of such space per person — barely the space requirements of a functional kitchen counter.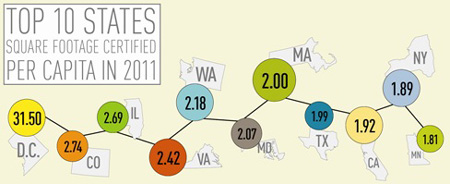 In announcing these results, the USGBC highlights "the tremendous leadership from the government" in D.C., going on to cite that nearly 30 percent of all LEED projects are government-owned or occupied LEED buildings and the fact that the federal government alone owns and operates some 500,000 buildings. Another factor: D.C. has a low residential population in comparison to the number of buildings it contains, on account of its small size and high commuter rate from Virginia and Maryland.
Not to deny any of the states a place in its top ten rankings due to D.C. 's outlier status, the USGBC's top ten list actually includes ten states ranked below the District. Those states are Colorado, with 2.74 square feet of LEED-certified space per capita; Illinois, with 2.69 sq. ft.; Virginia, 2.42 sq. ft.; Washington, 2.18 sq. ft.; Maryland, 2.07 sq. ft.; Massachusetts, 2.00 sq. ft.; Texas, 1.99 sq. ft.; California, 1.92 sq. ft.; New York, 1.89 sq. ft.; and Minnesota, with 1.81 sq. ft. per capita.
Among the more notable recent green building projects highlighted by the USGBC in each of these states are the LEED-Platinum Casey Middle School in Boulder, Colo.; the Wrigley Building in Chicago, Ill.; Frito-Lay in Lynchburg, Va., which earned LEED Gold for the operations and maintenance of an existing building; the LEED Silver Hard Rock Café in Seattle, Wash.; Anne Arundel Medical Center in Annapolis, Md.; Yawkey Distribution Center of The Greater Boston Food Bank in Mass.; the LEED Gold Austin Convention Center in Texas; SFO's LEED Gold Terminal 2 in San Francisco; the LEED-Platinum Hotel Skylar in Syracuse, N.Y.; and the LEED Platinum Marquette Plaza in Minneapolis.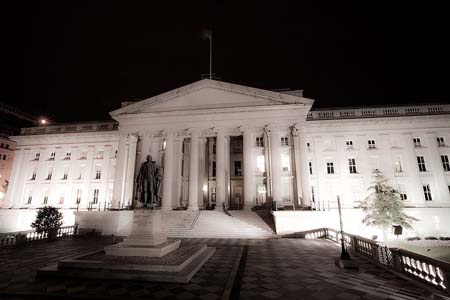 Also noted was the federal government's LEED revamp of the U.S. Treasury building (above) in Washington, D.C., the oldest building to receive such certification, covered here on EarthTechling.