Students at State University of New York College of Environmental Science and Forestry (SUNY ESF) learn about sustainability and live sustainability, quite literally. The college's first dormitory, Centennial Hall, has been awarded a Leadership in Environmental and Energy Design (LEED) Gold certification from the U.S. Green Building Council.
The dorm at the Syracuse, N.Y., school is home to more than 400 students each semester. The building was designed by Holmes King Kallquist and New Energy Works Timberframers provided sustainably harvested Douglas fir, western red cedar and other timber frame elements for the project. Perhaps the most notable is the 55-foot glulam posts that make up the dorm's observation tower.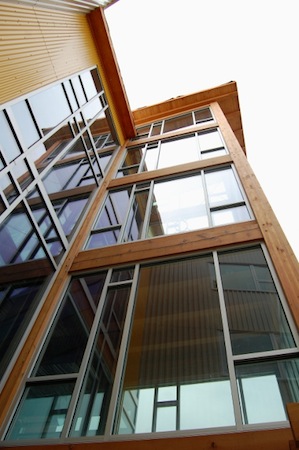 "We had a natural partnership with SUNY ESF as we share a common goal – to construct with a focus on sustainability and environmental stewardship," said Brian Mosch, general manager at New Energy Works Timber Framers, in a statement. "With sustainably harvested timbers and our own LEED AP staff members we were able to craft a truly environmentally friendly and efficient structure. We're excited that Centennial Hall has achieved LEED Gold status."
Some of the building's green features include: storm water management, locally harvested and manufactured materials, native and adaptive vegetation, extensive bicycle storage, construction waste management and low VOC materials. Outside, there is also a charging station for electric cars. Inside, heating and cooling is provided by a water-source heat pump system. Those energy-efficiency measure alone are expected to trim energy use by 21 percent compared to a typical building of the same size.
But the new dorm is just one more element in a long list of sustainable features incorporated into the makeup of the campus. The college has pledged to reach net zero carbon emissions by 2015, and currently is getting 20 percent of its energy from renewable sources. In 2007, the school formed the Campus Climate Change Committee. Over the last few years, the committee has inspired a wide range of energy reducing installations on campus. They include one of the country's first 250 kilowatt molten carbonate fuel cells, a wind turbine, a biomass boiler, a green roof on Walters Hall, and solar arrays on Baker Laboratory, Waters Hall, Moon Library and the Adirondack Ecological Center.
And as if all that wasn't enough, the campus also boasts alternative fuel fueling stations for campus and community vehicles and a self-serve bicycle maintenance station. Additional sustainability-related initiatives include the installation of below-ground storage to collect storm water from parking areas, a rain garden and water-saving faucets. Sounds like SUNY ESF gets an A+ in practicing what they teach.