Chicagoland residents, rejoice — if you buy produce distributed by Testa Produce, it now comes with an (officially) lower carbon footprint, as per recent LEED Platinum certification for the company's distribution center in the Chicago Stockyards Industrial Park by the U.S. Green Building Council (USGBC).
As we reported back in May, the company's 91,000-square-foot warehouse distribution center makes use of a 750kW wind turbine, as well as a partially vegetated roof, solar panels that provide for 100 percent of the building's hot water needs and a sophisticated water reclamation and treatment system. These systems, combined with other energy efficient features,  save the company 60 percent of the energy that would normally be consumed by a facility of this type and size.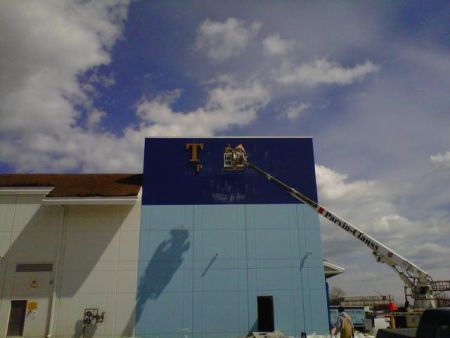 The Testa distribution center was designed by Epstein Architects, with Summit Design + Build as the construction manager and WBS Equities as owner's project consultant, and construction and permanent financing was provided by MB Bank — all of which are based in Chicago, reflecting Testa's long history in the area (100-plus years).
Why pursue LEED certification? "We wanted to raise the bar on sustainable operations in our industry to the highest level and this certification confirms that we succeeded," said Peter Testa, President of Testa Produce, in a statement. According to Rick Fedrizzi, President, CEO & Founding Chair, USGBC, that's exactly what this project has done. "Testa Produce's LEED certification demonstrates tremendous green building leadership," he said. "The urgency of USGBC's mission has challenged the industry to move faster and reach farther than ever before, and Testa Produce serves as a prime example of just how much we can accomplish."
Testa's is said to be the first refrigerated food distribution facility in the nation to be certified LEED Platinum.