Just in time for winter, new home energy management tools are available aimed at making sure Connecticut residents have "Snugg" homes. A partnership between Snugg Home, Mobile Genius and Neighbor to Neighbor Energy Challenge in Connecticut, the new interactive website and mobile functionality is said to provide homeowners tools to increase their home's energy efficiency, cut utility costs and provide an all-around more comfortable home.
The Snugg Home software starts with an online home energy assessment. Residents can see how much energy and money they could save by investing in an energy upgrades or making certain lifestyle changes. Then, homeowners get their own dashboard that displays their progress in the program. Information like past utility bills and even energy saving comparisons to neighbors can be viewed.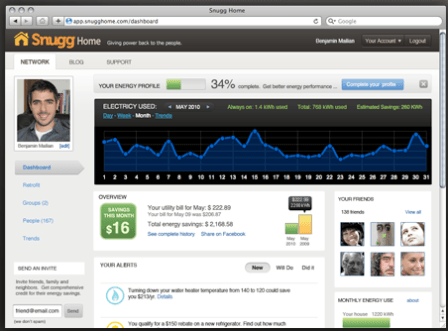 The company says it will soon add more features, including iAudit Pro, an iPad-based energy assessment application. The app lets homeowners work with auditors and contractors to discuss upgrades. Then it can provide instant estimates showing the average monthly savings that could accrue from making the upgrade.
For those who like to share, the Web platform can be integrated with social media sites like Facebook and Twitter, so homeowners can tweet their progress and have their friends "like" it. For competitive types, the integration means homeowners can compare their energy use to others and have community and personal challenges.
The Connecticut Neighbor to Neighbor Energy Challenge is a community energy savings program that helps residents in 14 Connecticut towns to reduce their home energy use by 20 percent. As residents join and take actions, they earn points that can be redeemed for community rewards. It is made possible by a $4.17 million competitive grant from the U.S. Department of Energy as part of the Better Buildings initiative, whose mission is to create a self-sustaining building energy improvement market. Mobile Genius, meanwhile, describes itself as a developer of "innovative mobile strategies enabling clients to translate their concepts into successful mobile-ready products and services."